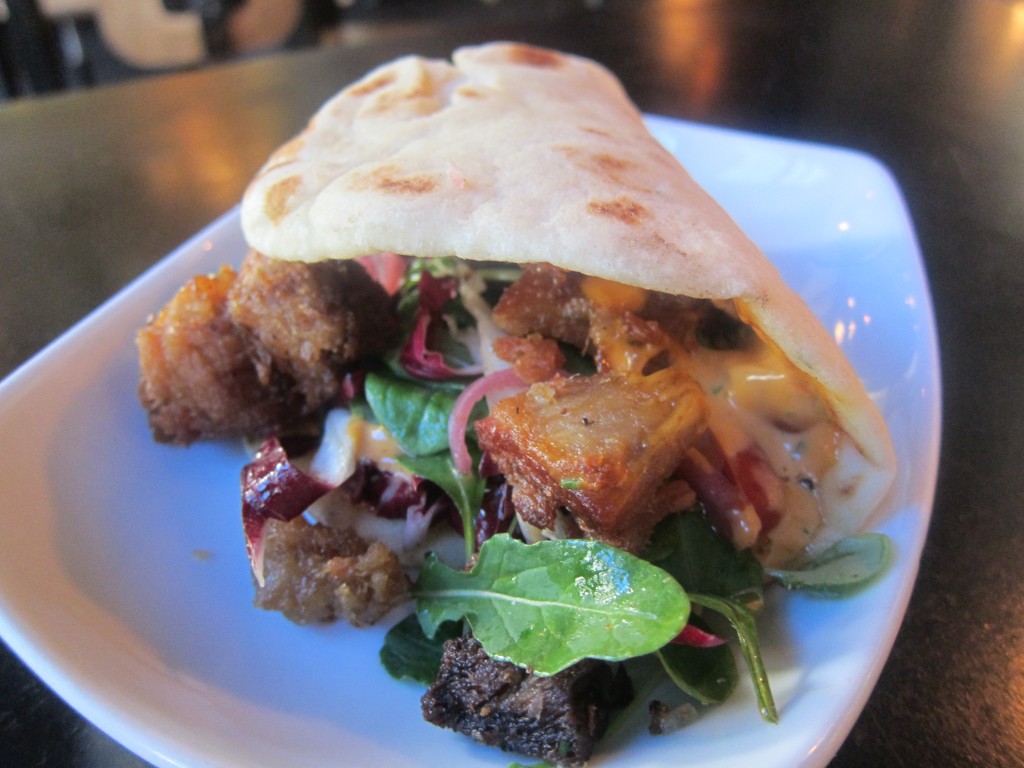 I cannot stop thinking about Bäco Marcat, an awesome new Downtown restaurant from Josef Centeno, the super-talented chef of Lazy Ox Canteen. I think it's the quintessential LA restaurant. Like Los Angeles, it's not formal; it's cool and laid back with a rustic industrial chic interior that feels very 2012. The cuisine defies classification and is incredibly original. Like the population here, the food is an eclectic mix of cultures including Asian, Latin American, Middle Eastern and Moroccan. Most of all, Bäco Marcat is fun! They make and bottle their own "Bäco Pop," an orange ginger juniper soda and they have an amazing bar serving super cool and inventive cocktails with names like the "Gin-Pop!" and the "Black Mint Spritz."
There are so many great things on the menu, it's hard to know where to start. First of all, there are the "Bäcos," inventive and scrumptious sandwiches prepared with the chef's signature flat bread. I highly recommend "The Original" Bäco with pork belly, beef carnitas and salbitxada (a savory sauce similar to romesco), as well as "The Touron" Bäco with oxtail hash, pickles, crispy potatoes and cheddar. I also recommend the Bäzole Soup, which is kind of cross between a Japanese Ramen and a Mexican Pazole, made with house-made noodles, pork-chile broth, pork and beef carnitas and a fried egg. There are also delicious "Cocas," crispy flat breads with a variety of toppings including one with house-made Merquez sausage, harissa and goat cheese. Bäco Mercat has several yummy specialty salads and vegetable dishes including my favorite dish on the whole menu, Kabocha Squash with brown butter. I've had pureed squash a million times before, but never like this; it is outrageously good! If you have room for dessert (or even if you don't have room for dessert!), order the Pistachio Semifreddo Dark with pine nuts, caramel and sea salt. This sweet and salty dessert completely blew me away. If I lived or worked Downtown, I would probably eat here everyday.
Bäco Mercat is located at 408 S. Main St., Los Angeles (Downtown).