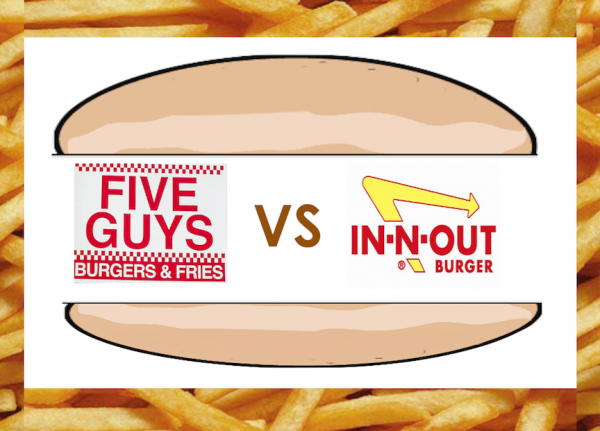 In case you haven't heard, Five Guys Burgers and Fries, a hugely successful national chain which started in Washington DC, has come to conquer LA. In the world of fast food hamburgers and fries, Five Guys occupies the same space in the market that In-N-Out Burger has locally dominated for many decades; super-fresh, never frozen ingredients, fries made from potatoes cut in the restaurant and fried in trans fat-free oil, and burgers which are all cooked to order. As we all know, In-N-Out is a Southern California institution. It's the object of many late-night cravings, the home of an awesome "secret menu" and hidden biblical verse references, as well as the place most frequently visited by LA vegetarians when they're ready to start eating meat again for the first time. Is Five Guys better than In-N-Out? No, it's not. But it is better than most other fast food burger restaurants.
The burgers at Five Guys, like In-N-Out, are really good. Five Guys even has several more choices for toppings than In-N-Out, including bacon, jalapenos and sauteed mushrooms. Five Guys also gives you free peanuts to munch on while you're waiting for your food to be cooked. While I like both burgers a lot, I slightly prefer the burger at In-N-Out mainly because In-N-Out has much better buns. I love the fries at In-N-Out, but Five Guys also has great fries, and you can order Five Guys' fries with cajun seasoning generously sprinkled on top! Unfortunately, I found the service at Five Guys to be less than stellar. They are not staffed with the uber-efficient yet exceedingly friendly, clean-cut kids that one always encounters when going to In-N-Out. The last time I was at Five Guys, after waiting about 20 minutes after ordering, I was given our burgers and unapologetically informed that they ran out of fries and we would have to wait another 20 minutes while they prepared a new batch. This would never happen at In-N-Out! Also, Five Guys in notably more expensive. So while Five Guys is definitely worth trying, I think In-N-Out has nothing to worry about.
Five Guys currently has locations in Culver City (at the Westfield Culver City Mall), Valencia, Carson (at the Southbay Pavillion) and Thousand Oaks; more locations are opening soon including Northridge, Mid-City and Downtown. In-N-Out is all over Southern California. UPDATE 12/10/11: Five Guys now also has locations open in Cerritos, El Segundo, Northridge, Whittier and Downtown. UPDATE 5/25/13: Five Guys now has additional locations in Long Beach, West Covina, Lakewood, Westwood, West Hollywood and Studio City.