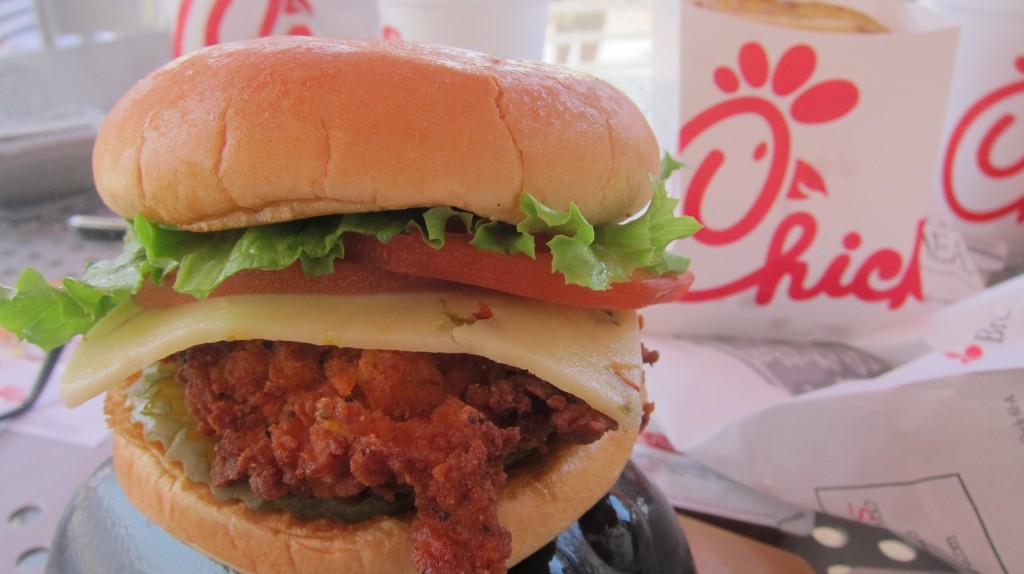 I've heard a lot about Chick-fil-A and their famous fried chicken sandwiches over the years, but had never been to one of their fast food restaurants. So when they opened their second LA location a few weeks ago in Hollywood, I was there in line with hundreds of other people who were either already fans or curious as to whether the food would live up to the hype. Chick-fil-A started in Georgia in 1946 and has the kind of loyal following and reputation, especially in the South, that In-N-Out Burger has here in Southern California. They offer a menu that features inexpensive and much lauded sandwiches made with super fresh, high quality ingredients; fast food that transcends the genre. But Chick-fil-A also has some detractors who call for a boycott of the chain due mainly to Chick-fil-A's political contributions to groups that campaign against gay marriage. The owners of Chik-fil-A, much like the owners of In-N-Out, are Christian conservatives with traditional Christian values. But unlike In-N-Out, which simply puts tiny references to biblical verses on the bottoms of cups without further explanation, Chick-fil-A is a lot more vocal about its Christian values and is even closed on Sundays.
Putting aside politics and marriage equality (which I support), what did I think of the food at Chick-fil-A? I loved it! They have basically perfected the fried chicken sandwich. Crispy, superbly seasoned batter on the outside, juicy and flavorful white meat chicken on the inside. You have your choice of spicy or regular chicken; both are spectacular. The chicken is freshly battered and fried in each Chick-fil-A location and the bread and everything else in the sandwiches are also super fresh. I liked the waffle fries (although I hear they don't fare as well if not eaten right away), but what I really loved were the seven different dipping sauces, with my favorites being the Honey Mustard, Polynesian and Chick-fil-A sauces. I highly recommend the shakes, which include Vanilla, Chocolate, Strawberry, Peach and my favorite, Cookies & Cream. They also have great cole slaw and carrot-raisin salad, which are made fresh at each location. If you have room for dessert (or a second dessert if you've ordered a shake and consider a shake a dessert), I recommend the lemon meringue pie. For breakfast, which is only served until 10:30 am, the chicken sandwiches are served on biscuits (which was the only thing I was disappointed in; too soft and mushy).
Chick-fil-A is located at 6750 W. Sunset Blvd, Los Angeles (in Hollywood) and 3758 S. Figueroa St, Los Angeles (Downtown near USC). There are also locations in Torrance, Cerritos, Lakewood, Santa Clarita and City of Industry. UPDATE 5/26/13: Additional locations are now in Northridge, Long Beach and Azusa.