My New Year's resolution is to post more in 2023, but for now please enjoy my annual year-end list. Here are the 10 best things I consumed and posted about this year. Have a happy, healthy and delicious New Year!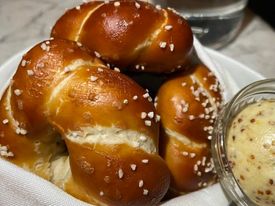 10. Pretzel Bread with Mustard Butter at Catch LA in West Hollywood. These incredible rolls are served hot-out-of-the-oven with a sweet mustard butter, and prove that sometimes the best things in life really are free (or, at least, complimentary with your meal).
9. Borekas at Bo-re-kas in Sherman Oaks. These savory Sephardic Israeli pastries with fillings such as potato & brown butter and cultured cheese & za'atar are one of the best things you can nosh on in the Valley.
8. Bahn Mi at Bahn Mi My-Dung in Chinatown. This perfect version of the classic Vietnamese sandwich is made and sold in a tiny, unassuming grocery store.
7. Barbecue at Moo's Craft Barbecue in Lincoln Heights. It's hard to pick just one menu item for this list from my new favorite Texas-style barbecue joint in town, so I'm just going to recommend all of them.
6. Green Slice at Pizzeria Bianco in Downton. Believe the hype.
5. Double Cheeseburger at The Win-Dow in Venice and Silver Lake. Smashingly delicious!
4. Prime Beef Bulgogi at Woo Hyang Woo in Koreatown. This Korean BBQ staple is elevated to a whole new level at a great, new-ish, high-end eatery in the heart of K-town.
3. Cacio e Pepe Bagel at Belle's Bagels in Highland Park. Jewish meets Italian and the result is possibly the best bagel ever.
2. Lobster Hand Roll at Kazunori in Westwood, Studio City, Downtown, Mid-City, Santa Monica, Downton and Marina del Rey. Shello, uber-delicious hand roll. You are clawsome!
1. Banana Leaf Flan at Damian in Downton. Upscale Mexican restaurant Damian is one of my favorite new places and this dessert is flan-tastic! It's the best thing that I consumed and posted about this year!
If you enjoy Consuming LA, please subscribe (it's free!), like me on facebook and follow me on instagram @consumingla, and forward to your friends!