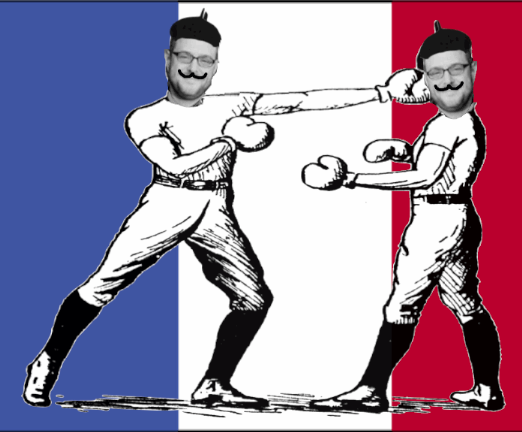 Philippe's vs. Cole's. The rivalry rages on. These two faux Frenchmen (and no, I don't mean French Canadians) have been duking it out for almost a century. Both claim to have invented the French Dip, a sandwich of thinly sliced meat on a French roll, served au jus ("with [its own] juice"). Both restaurants opened in downtown LA in 1908 and each are the subject of different versions of the French Dip origin story. Is it true that Philippe's invented the French Dip in 1918 when a hungry patron offered to eat a sandwich with a roll that had been accidentally dropped in jus left in a hot roasting pan? Or is it true that Cole's was the first to dip in order to soften a sandwich for a customer with sore gums? We will never know the answer to these questions. But we can decide who currently makes a better French Dip. And with this in mind, my friend Josh and I did a back-to-back taste test at the two legendary restaurants.
We started at Philippe's and had the roast beef French Dip. Philippe's is a fun atmosphere. There is sawdust on the floor, cool vintage decor and communal tables. You order at a counter and the server prepares and dips your sandwich for you. Just tell them what kind of meat you want (beef, lamb, pork, turkey or ham), what kind of cheese you want, if any (I like the tangy bleu cheese) and whether you want a single or a double dip. You can add Philippe's special spicy mustard at your table; it's really great but super-hot. They also have great pickles, coleslaw, potato salad, macaroni salad, purple pickled eggs and pickled pig's feet!
We then moved on to Cole's. At Cole's, there are waiters and waitresses and you order at your table. While Philippe's has a bright, chaotic atmosphere and is great for people watching, Cole's is a cooler, hipper scene. The decor is very old school; antique lights, dark wood and red leather booths. At the back of Cole's is a door leading to The Varnish, a very hip speakeasy. Since we wanted to compare apples to apples, we also ordered a roast beef French Dip at Cole's (they also have lamb, turkey and pastrami). Instead of dipping the sandwich for you, Cole's gives you a cup of jus for you to dip as much as you want. Cole's sides include fries, bacon potato salad and awesome spicy pickles. Cole's also has mixed drinks (Philippe's only has wine and beer). If you have room for dessert, the Bourbon Pecan Pie is amazing!
Which French Dip did we prefer? We both thought Cole's was slightly better. Plus I liked the fact that you can do your own dipping at Cole's. Also the desserts are better at Cole's. However, I preferred the atmosphere at Philippe's. It was a lot more fun. Plus parking at Cole's is a challenge. Philippe's is located at 1001 N Alameda Street in downtown Los Angeles. Cole's is located at 118 E 6th Street in downtown Los Angeles.