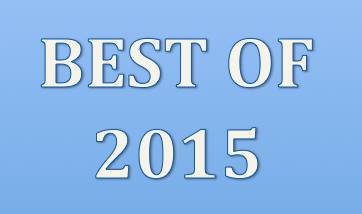 2015 was a year of surprises. Caitlyn Jenner, Rachel Dolezal and the gold and white dress that some people saw as blue and black; things were not always what they appeared to be. The food scene in LA was no exception, as I discovered many unexpected pleasures this year in unlikely places. Here is my annual list of the ten best things I consumed and wrote about in the past year.
10. Gyoza from Beni Tora.
Beni Tora is not the most popular restaurant in Sawtelle Japantown, but their excellent gyoza, which comes in nine different varieties, is reason alone to dine there.
9. Peanut Brittle Brownie from Beverly Hills Brownie Company.
I love
peanut butter
more than almost anything. So when I met this dark chocolate brownie made with chunky peanut butter and peanut brittle from See's Candies, it was love at first bite.
8. Rabbit Baklava with Bing Cherries, White Beans, Pistachios and Carrots from Birch.
"Rabbit" and "Baklava" are words that you usually don't see paired together on a menu. The combo though is surprisingly great, especially when prepared by the talented chef of one of my favorite new restaurants.
7. Spicy Tuna Poké from Sweet Fin Poké.
Poké is a food trend that exploded in LA in 2015 and something that I can't get enough of. My favorite of the new raw fish joints is Sweet Fin in Santa Monica and my favorite thing to order there is creamy Spicy Tuna Poké with avocado and spicy chili marinated oranges.
6. Patty Melt from Cassell's Hamburgers.
This year I went in search of the
best burgers in LA
. The winner was Cassell's in K-town. But as much as I love the burgers at Cassell's, their Patty Melt is even better.
5. Milk Bread Focaccia from Orsa and Winston.
I'm a sucker for hot-out-of-the-oven bread and it doesn't get any better than this fusion of Japanese milk bread and Italian focaccia topped with parsley, parmesan and speck.
4. Sushi from Sushi Zo.
Los Angeles is the sushi capital of the United States and the best of the best here is Sushi Zo. Their omakase is pretty much a religious experience.
3. Blood Orange "Trifolo" with Semolina Cake and Fruit Compote from Maré.
My favorite dessert of the year came from a clandestine hot spot which was full of surprises. Served in a mason jar, this unusual layered desert is tart and sweet and truly incredible.
2. Marinated Kurobuta Pork Belly from Hanjip.
I'm not sure what "Hanjip" means in English, but I wouldn't be surprised if it was Korean for "pork belly to die for."
1. Ike's Vietnamese Fish Sauce Wings from Pok Pok LA.
Earlier this year, I wrote about my food adventures in Portland, Oregon, where my favorite restaurant was a creative Thai eatery called Pok Pok. As luck would have it, Pok Pok just opened an LA location in Chinatown, where they serve their incredible signature chicken wings, which I like to refer to as "meat candy." It is my favorite thing that I consumed and wrote about this year.
If you enjoy Consuming LA, please subscribe, like me on Facebook and/or follow me on Twitter at the top right of this page. Also you can now follow me on Instagram @ConsumingLA. And please forward to your friends!