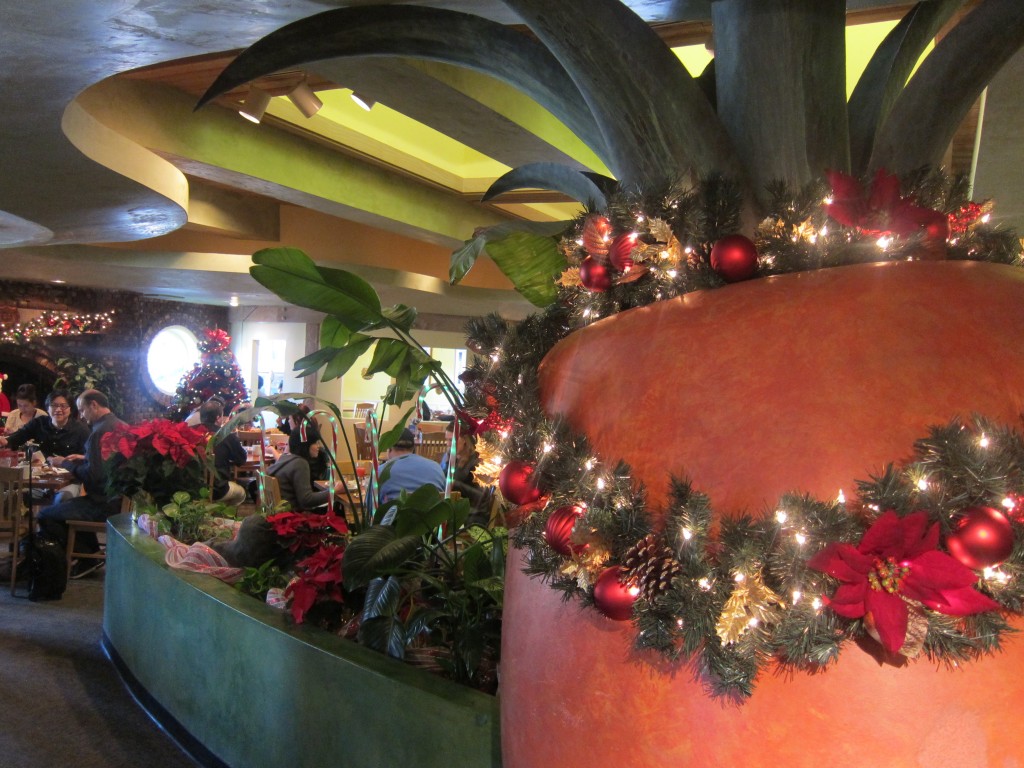 I love King's Hawaiian Bread, especially their irresistibly sweet, soft and buttery rolls. I used them all summer as the buns for my signature barbecue sliders. So when I discovered that King's has a Hawaiian retail bakery and restaurant in Torrance, I hightailed it down to the South Bay to check it out. The restaurant reminded me of places I'd been to in Hawaii. It was very large, diner-ish and somewhat kitschy (in a fun way); a great place to take kids. There is an aquarium, a giant pineapple and right now it's totally decked out for Christmas.
While I'm not sure King's would appeal to hardcore foodies, I thought most of what I ordered was really good, and some things were great. All lunches and dinners begin with a basket of King's famous Hawaiian rolls with butter. Their extensive menu features all of the typical Hawaiian comfort foods including Poke (Hawaiian marinated sashimi, which is really good here), Spam Musubi (basically a sushi roll with slices of spam instead of fish), Kalua Nachos (tortilla chips topped with Kalua Pork, black beans, cheese and sour cream, and served with guacamole and spicy pineapple chutney), Portuguese Bean Soup, Grilled Mahi Mahi, Huli Huli Chicken, Kalbi Ribs and great fried rice. There are several holiday specials which are on the menu until the end of the month, including a really yummy pork chop stuffed with King's Hawaiian bread and Portuguese sausage, drizzled with guava glaze and served with "Hawaiian mashed potatoes" (which have cabbage in them and are really good), baby bok choy and fried onion strings.
The best part of the meal were the desserts. King's most celebrated baked good is its Hawaiian Paradise Cake, a colorful and delicious three layer (guava, passionfruit and lime) cake with a whipped cream frosting and a fruit glaze. It was thankfully not too sweet and totally lived up to the hype! They also have an awesome Macadamia Nut Cream Pie. Make sure to stop at the bakery on the way out for Hawaiian bread, malasadas (Hawaiian doughnuts), delicious cookies (I highly recommend the snowball cookies) and other sweet treats. The cakes (especially the Hawaiian Paradise Cake), pies and cookies make great holiday gifts. Just write on the card "Mele Kalikimaka" (Merry Christmas).
King's Hawaiian Bakery and Restaurant is located at 2808 W. Sepulveda Blvd. in Torrance.