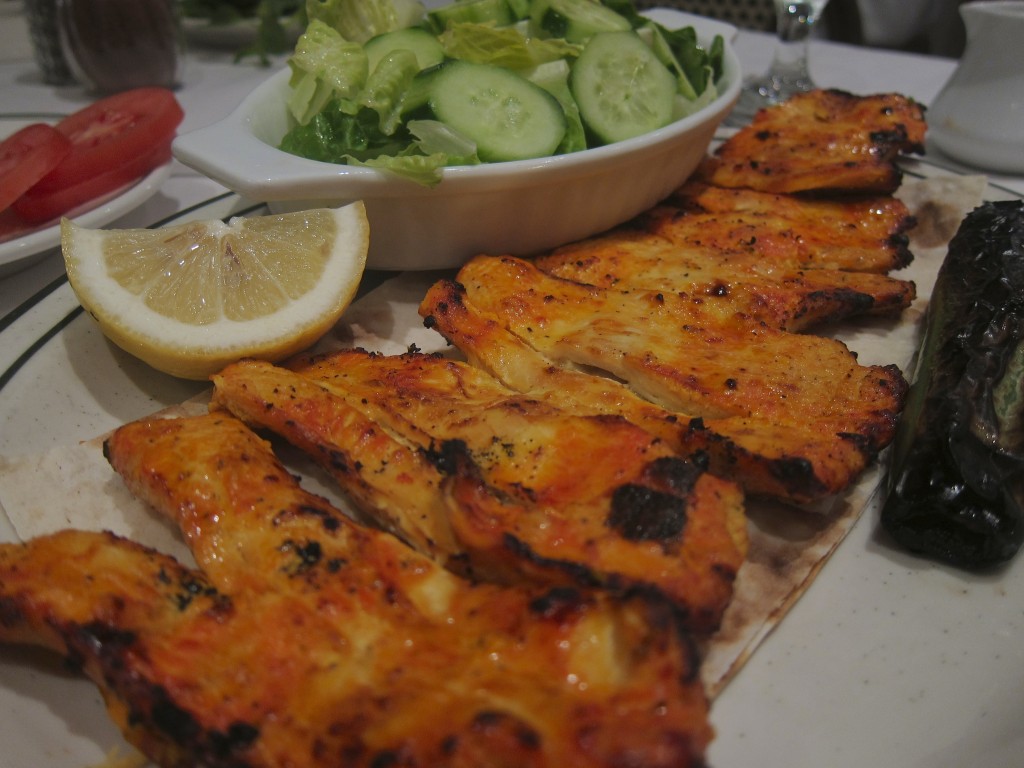 Everything about Raffi's Place is big — the space it's in, the portions, the flavors, and the wait for a table on weekends. Located a couple blocks from The Americana in the heart of Glendale, Raffi's Place is a palace of Persian-Armenian delights. First there are the Persian stews, Gheimeh Bademjan with chunks of beef, split peas, fried onion and eggplant, and its cousin Ghormesabzi with sautéed parsley, leek and fenugreek leaves, beef chunks, kidney beans, and pierced dehydrated limes. Both are excellent and served on delectably crispy and chewy "rice crusts."
Then there are the kabobs. It would not be an exaggeration to say they're the best in the city. There are beef, lamb, salmon and mahi mahi kabobs, but my favorites are the Chicken Barg (pictured above) and the Chicken Koobideh (also known as luleh or ground meat kabobs), which are expertly seasoned and charbroiled to perfection along with roasted tomatoes and Anaheim peppers. With Persian food, it's all about the rice and all entrees are served with heaps of fluffy basmati rice with saffron and your choice of either fresh herbs, barberries, lima beans or my favorite — sweet and tart black cherries. You can end big was a piece of sticky, buttery Baklava and a sweet fragrant scoop of Rosewater Ice Cream.
Raffi's Place is located at 211 E. Broadway in Glendale.