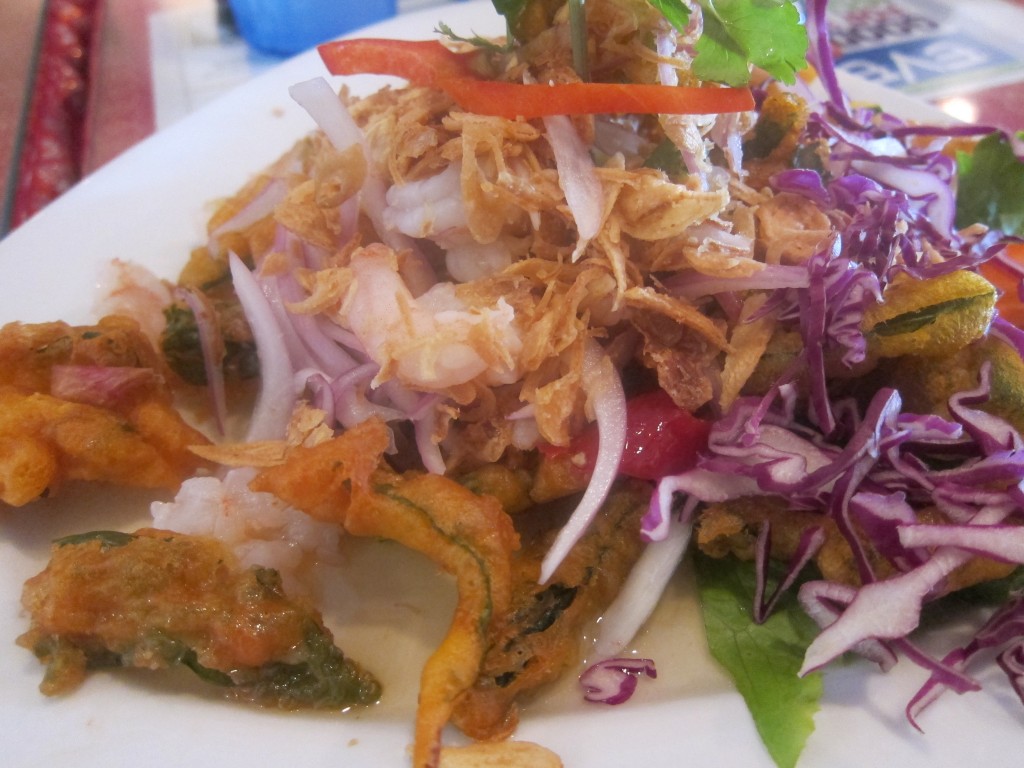 Some like it hot and I, for one, love spicy food, the kind that makes my mouth burn a little, my heart race and my forehead perspire. My favorite Thai restaurant in LA, Jitlada, does not disappoint when it comes to turning up the heat. Jitlada specializes in exotic Southern Thai food, not the typical Pad Thai Noodles and Chicken Satay with Peanut Sauce that you find in most American Thai restaurants (although you can get these dishes at Jitlada if you so desire). I recommend focusing on the Southern Thai portion of the extensive menu. There you will find extrordinary treasures; complex and unusual dishes, many of which pack a punch with their level of spiciness.
Any visit to Jitlada should start with the Crying Tiger Pork appetizer; juicy pieces of deliciously salty and sweet pork with a very spicy sauce served on the side. I also love the Crispy Morning Glory Salad (pictured above), an amazing salad of deep fried Chinese watercress, shrimp, red cabbage, onions and cilantro with a spicy citrus dressing. Be careful if you order the Papaya Salad; it is one of the spiciest things I've ever had there.
My favorite dish at Jitlada is the Soft Shell Crab Noodles; broad noodles with an amazing Thai sauce and battered and fried pieces of soft shell crab. If you want to go more exotic, try the Basil Frog Legs or the Green Curry Dragon Eggs, which are fish balls stuffed with duck egg yolks in a green curry sauce; very unique and delicious. To wash it all down, you could get a Thai Iced Tea, but I recommend a Mango Smoothie and because this is Jitlada, you can even order the smoothie spicy (I always do).
A word of warning about Jitlada: the service can often be very slow. But this is a small price to pay for such incredible Southern Thai Food. As is any suffering in the bathroom after your spicy meal.
Jitlada is located at 5233 W. Sunset Blvd., Los Angeles (in Hollywood).