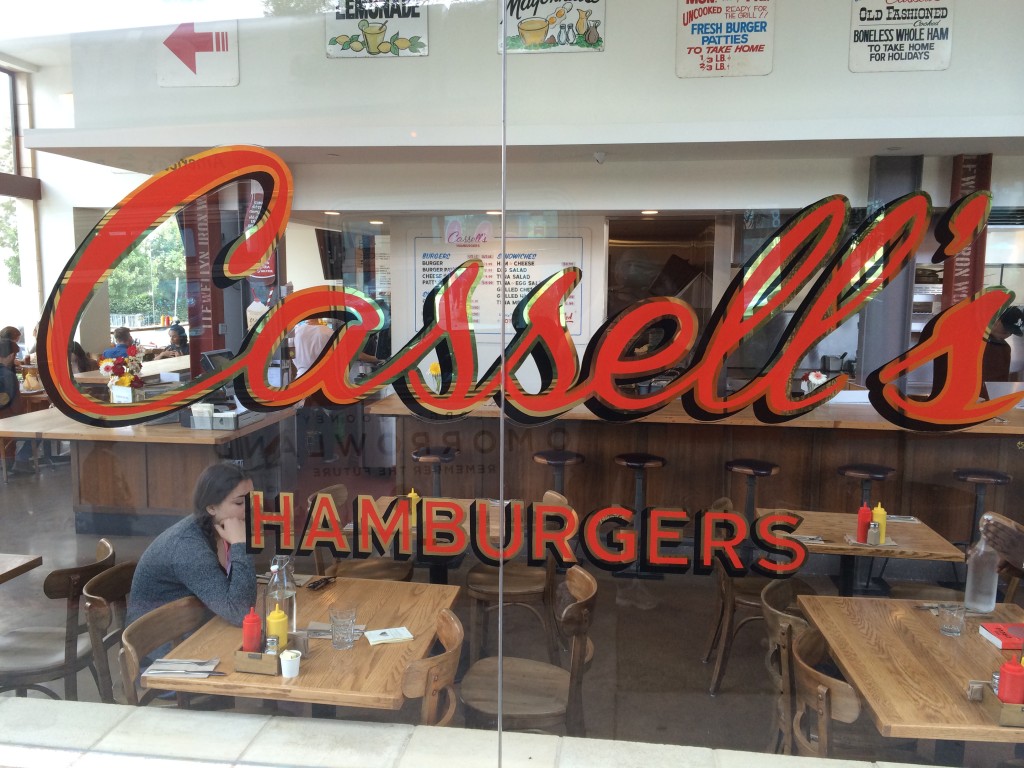 If there's one food that we excel at in Los Angeles, it's hamburgers. There are no shortage of excellent eateries in this city at which to celebrate the holy marriage of grilled meat patty and bun, preferably with a thick slice of melted cheese, a whole mess of sautéed onions and a couple strips of bacon in between. It has been a life-long mission of mine to identify the very best of these local burger establishments. Here are my top ten favorites:
10. The Golden State (426 N. Fairfax, Los Angeles) This little gem lies in the middle of all the hip hop shops and Jewish bakeries on Fairfax. All ingredients in their awesome burgers and other menu items are locally sourced from California including high-end Harris Ranch beef and award-winning Fiscalini cheddar.
9. Pono Burger (829 Broadway, Santa Monica) The funky looking metal structure that houses this joint (it looks like a mini airplane hanger) will draw you in. The Hawaiian-style burgers, sweet potato fries and salted caramel shakes will keep you coming back.
8. 26 Beach Restaurant (3100 W. Washington Blvd in Venice) There are several places that have an extensive menu of over-the-top themed burgers such as a Peanut Butter & Jelly Burger. 26 Beach is the best of that lot. They are especially known for their "Sushi Burgers" including a California Roll Burger, and Spicy Tuna Burger and a Mori Eel Burger.
7. Pie 'n Burger (913 E. California Blvd, Pasadena) This old school diner with a long winding counter is a mandatory stop for me when I go to the Rose Bowl or am otherwise in Pasadena. As you can glean from the restaurant's name, you're missing out if you don't order both a hamburger and a slice of one of their amazing pies.
6. Ledlow (400 S. Main St in Downtown) The newest restaurant of local superstar chef Josef Centeno (Baco Mercat, Bar Ama, Orsa & Winston), Ledlow is more than just a burger joint. However, their Griddled Cheeseburger seems to be the speciality of the house and has quickly drawn much-deserved acclaim from LA foodies.
5. In-N-Out (all over Los Angeles) Yes, it's a fast food chain, but don't hold that against it. At $3.60, the Double Double is the best deal in town and is better than most of the pricey burgers at nice restaurants. I like to add toppings from their secret menu, including chilies, grilled onions and pickles.
4. The Apple Pan (10801 W. Pico Blvd in Westwood) This 68-year-old diner is an LA landmark. All seating is at a U-shaped counter, where you're served by uber-efficient grumpy old men. It's super fun, especially late at night, and their Hickory Burgers are awesome.
3. Belcampo Meat Co (317 S Broadway in Downtown; also 1026 Wilshire Blvd in Santa Monica) It's perhaps more of a gourmet butcher shop than a burger joint, but the cheeseburgers sold at this stall in Grand Central Market are phenomenal. They're made with a special Wagyu-Angus meat blend and are served on fresh sesame seed buns. Belcampo just opened a fancier restaurant in Santa Monica where you can also get a burger, but I'm partial to the ones served downtown.
2. Umami Burger (multiple locations) In a short period of time, this revolutionary burger restaurant has expanded into a ubiquitous chain throughout Los Angeles and has been widely emulated. Their burgers are made from specially seasoned meat blends and their Portuguese-style buns are sweetened with milk and honey. It's a toss up for me as to which of their burgers is the best: the decedent truffle burger or the spicy hatch burger made with four types of green chilies.
1. Cassell's Hamburgers (3600 W 6th St in Koreatown) This is my new favorite burger joint in LA. First established in 1948, this restaurant recently reopened in a cool retro space in the historic Hotel Normandie. Now under new ownership, their burgers have some similarities to the ones which made Cassell's an LA institution, but are significantly improved. They are now the perfect combination of gourmet excellence and classic style.
IF YOU ENJOY CONSUMING LA, PLEASE SUBSCRIBE OR FOLLOW ME ON FACEBOOK, INSTAGRAM OR TWITTER BY CLICKING ON THE TOP RIGHT OF THIS PAGE, AND PLEASE REPOST ON FACEBOOK AND FORWARD TO YOUR FRIENDS!