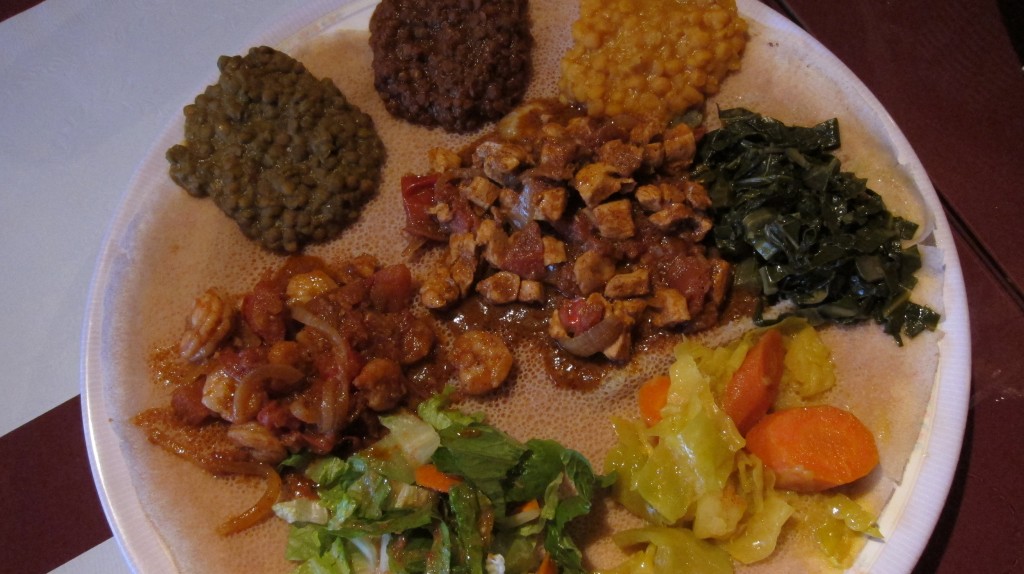 I love Ethiopian food. It's exotic, healthy and very tasty. My favorite Ethiopian restaurant in LA is Nyala. Nyala is located in "Little Ethiopia," the stretch of Fairfax between Olympic and Pico that is filled with Ethiopian stores and restaurants. Nyala is a great place to go for dinner after a day of shopping or movie-going at the Grove.
Ethiopian food is all about the spices and Nyala does not disappoint. For a first time visit, here's what I recommend ordering for the table: get the Vegetarian Combination (small portions of each of their vegetable dishes including Red Lentil Stew, Yellow Split Peas, Bean Stew, Collard Greens and Mixed Vegetables, which are carrots, potatoes and cabbage cooked with garlic and ginger), the Doro Tibs (boneless pieces of chicken breast sautéed with onions, garlic, tomatoes, seasoned red pepper sauce and seasoned butter) and the Shrimp Tibs (similar to the Doro Tibs but with shrimp). You can order the food as spicy or mild as you want. I also recommend trying an Ethiopian beer or Nyala's special iced tea. I'm not a big iced tea drinker, but I love the iced tea at Nyala; it's spiced and really unusual.
Your dinner at Nyala will start with a complimentary appetizer of spiced hummus and triangles of fresh baked pita. I could easily eat a few plates of this. The main course dishes are presented and/or poured on top of a large round piece of Injera Bread. Injera is the essential element of Ethiopian cuisine and is soft, spongy and slightly sour. It's not something that's amazing by itself, but it's the perfect accompaniment for the sauced Ethiopian vegetable, meat and seafood dishes. In addition to the large piece of Injera under your main course dishes, they bring you a basket of Injera to eat your food with. Essentially the bread is your edible eating utensil; you will not be getting a fork or spoon. You rip off pieces of Injera and use it to pinch and scoop up the rest of the food. Once you've eaten the meat, seafood and vegetables, you will want to enjoy pieces of the large round Injera at the bottom, which has soaked up the various sauces. Delicious.
Nyala is located at 1076 S Fairfax Ave, Los Angeles (in Little Ethiopia/Carthay neighborhood).