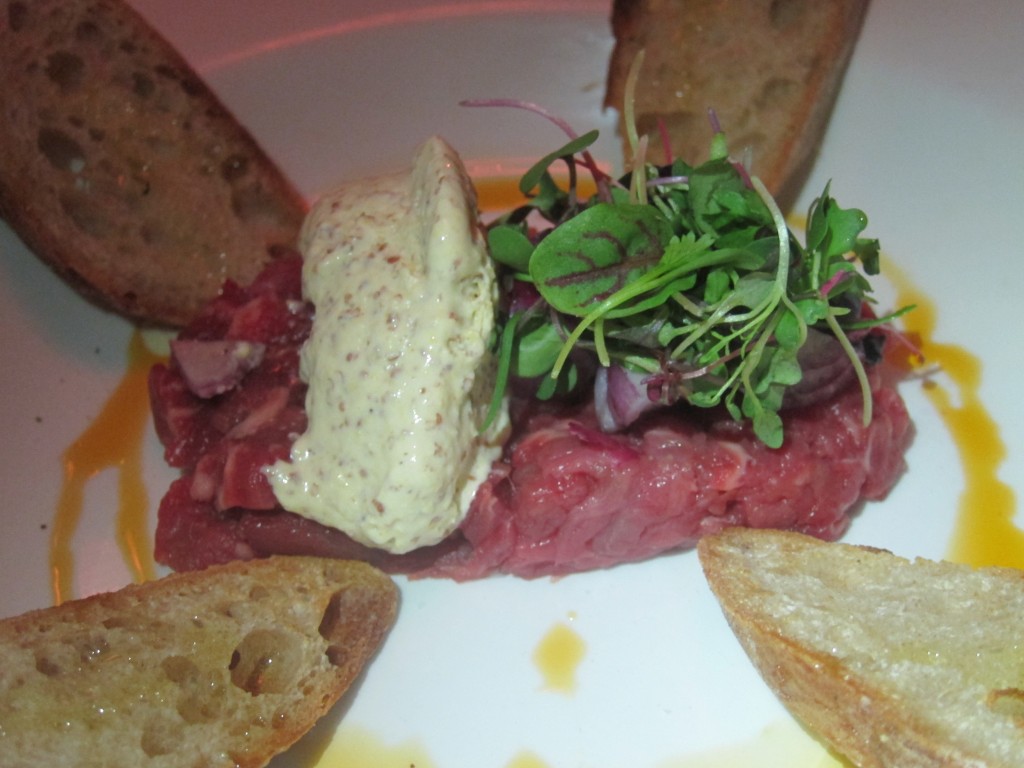 Many newly-formed couples made headlines in 2012: Kim & Kanye, Romney & Ryan, and Honey Boo Boo & TLC to name a few. But, to me, the most noteworthy new pairing of the year was Steak Tartare & Mustard Ice Cream. While raw beef and a scoop of frozen spicy dairy seem the unlikeliest of pairings, once mixed together, they transform into one the most incredible dishes I have ever tasted.
This ingenious coupling is the highlight of the menu at Eat Drink Americano, a cool little gastropub that opened downtown earlier this year. Located in an alley in the hipper-than-hip Downtown Arts District, just outside of Little Tokyo, the restaurant has a very cool industrial chic, steampunk-esque interior. It's cozy, dark and intimate, with exposed brick walls, a giant graphic mural and a wine bottle chandelier.
The menu is eclectic and some items are much better than others. Besides the Steak Tartare and Mustard Ice Cream, I recommend the Soft Shell Crab Sandwich with wakame seaweed and saffron aioli on an English muffin. Other dishes, such as their "Third Street Salad" and the Classic Ceviche, are nothing to write home about. I love that they have an open kitchen, but they can use more than just two people working in it, as the service can be extremely slow. But if you order correctly, it's definitely worth the wait.
Eat Drink Americano is located at 923 E. Third Street, Los Angeles (Downtown).