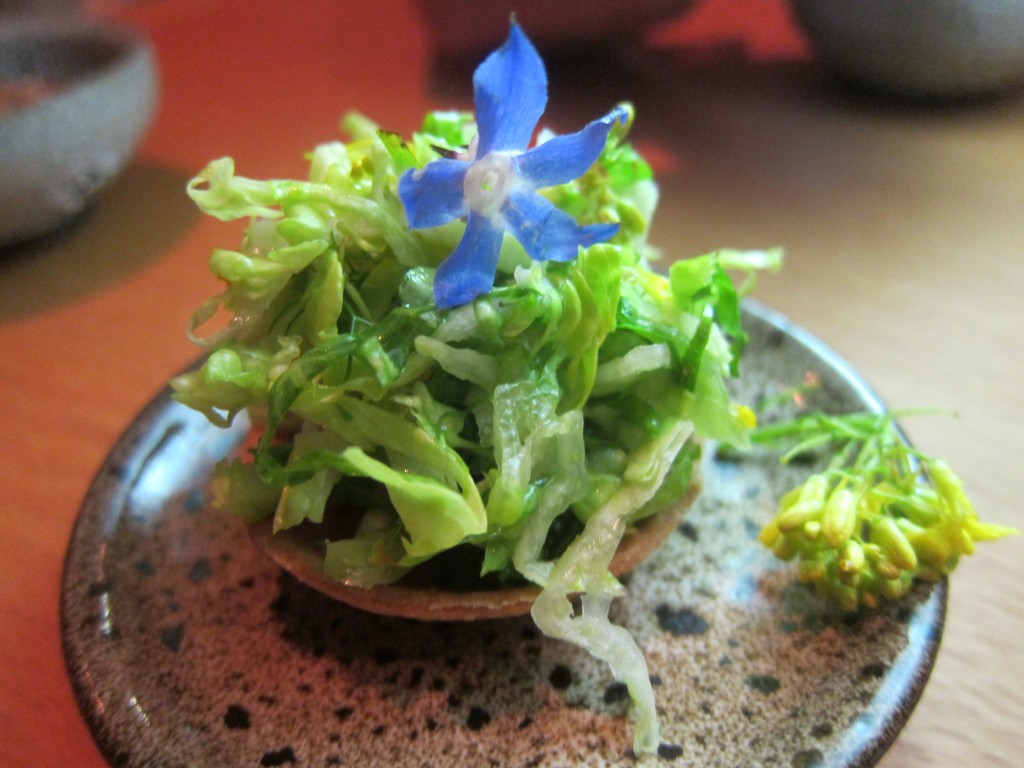 Brand-spanking new and already the hottest ticket in town, Trois Mec has arrived. Its name means "three guys" in French and it's the collaboration of three of LA's most beloved and talented chefs, Ludo Lefebvre of the Ludo Bites pop-ups and the tv show "The Taste," and Jon Shook & Vinny Dotolo of Animal and Son of a Gun. These three amigos have fashioned a truly magical dining experience. The only problem is that it's incredibly difficult to get in.
The modern and minimally designed restaurant is small and intimate. Â There are only four tables plus eight seats at the bar overlooking the open kitchen. Â It's cloistered away in a Hollywood strip mall behind frosted glass and has no signage other than the illuminated yellow sign of the previous tenant, Rafaello's Pizza. To dine at Trois Mec, you don't need a reservation; you need to buy a ticket. These tickets, which are transferable and can even be resold on Craig's List, go on sale once a week on the restaurant's website and currently cost around $97 for the prix fixe menu including tax and tip but excluding beer and wine. With such limited seating, competition for the tickets is fierce and I pity the poor Hollywood assistant tasked with procuring them for a demanding boss.
The seasonal menu (which can be vegetarian upon request) consists of five official courses and several additional tastes. My recent dinner there started with a virgin apéritif of chilled Aged Oolong Tea with Lemon Shrub in a sugar-rimmed glass and ended with a White Chocolate and Caramel Tart with Habanero Salt. In between was a parade of gorgeous, inventive and delectable small plates of gastronomic glory. Many dishes, such as the Herb and Flower Tart with Watercress Vinaigrette (pictured above), were similar to the modern French fare of Ludo Bites, while others, like the Boneless Chicken Wings with Mustard and Sesame Seeds, more closely resembled the reconceived comfort food of Animal and Son of a Gun. My favorites were the super light cheesy potato dish of Potato Pulp, Brown Butter, Bonito, Onion Soubise and Salers Cheese and an insanely good Rib Cap with Shallot Broth, Black Walnut and Clover Spelt. I also loved the unique Buckwheat Popcorn with Rice Wine Vinegar. If they sold this at Trader Joe's, I would eat a bag everyday.
Trois Mec is located at 716 N. Highland, Los Angeles (in Hollywood) and serves dinner Monday through Friday. Tickets can be obtained on their website.