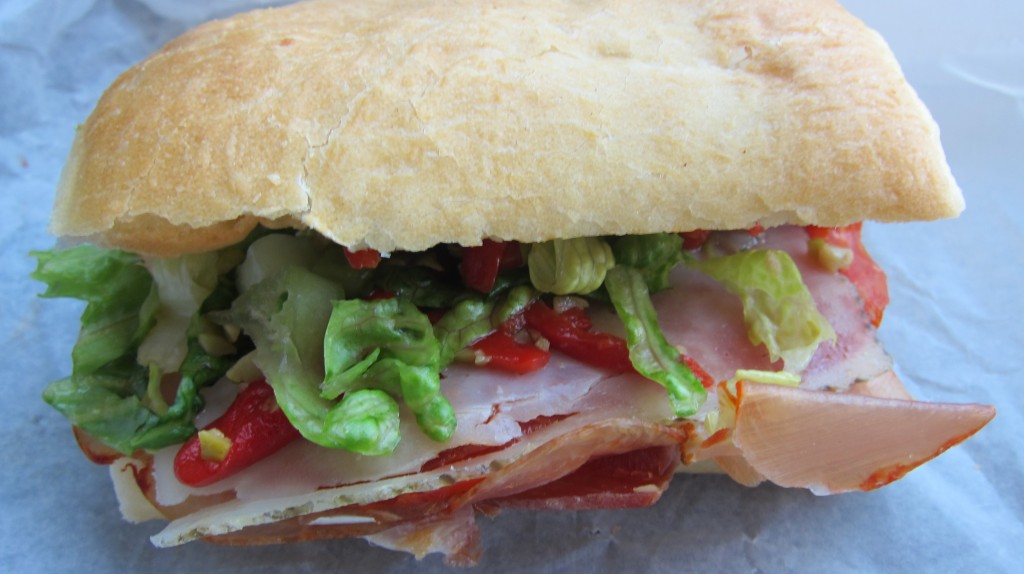 Los Angeles foodies have been eagerly awaiting the opening of ink, the new restaurant by uber-talented, bad-ass Top Chef winner Michael Voltaggio. While ink should finally open next month, Voltaggio surprised everyone recently by opening a gourmet sandwich counter called ink.sack a few doors down from his soon-to-debut fine dining restaurant on Melrose. I've been to ink.sack a couple times since it opened less than two weeks ago and I am already a huge fan. The sandwiches are inexpensive but small, so you need to order at least two (I could easily polish off three) to make a meal. This is a great feature because even if you go there alone, you're able to try different things without making a pig of yourself.
The seven sandwiches on the menu are what you would expect from Voltaggio; they're inventive, complex and fun. I've tried all of them (I have a duty to my blog readers, right?) and I liked all of them, although some more than others. My favorites are the Maple-Pepper Turkey Melt, a sweet and savory sandwich which includes Camembert, Mustarda (candied fruit in a mustard flavored syrup) and arugula, and The Jose Andres aka "The Spanish Godfather," which is named after the awesome chef of The Bazaar and includes Serrano, Chorizo, Lomo and Manchego. These sandwiches are must-haves. I also loved the messy but yummy, sushi-inspired Spicy Tuna with Miso-Cured Albacore and Sriacha Mayo, as well as Voltaggio's take on a Vietnamese Bahn Mi, which was made with pork cheeks, chicharrones (fried pork rinds) and pickled vegetables. Ink.sack's version of a classic Ruben is made with corned beef tongue, so when you taste it, it tastes you back (sorry; I couldn't resist). The "Ruben" is also made with Appenzeller cheese, kraut and Russian dressing and I thought it was very good. My least favorites were the Cold Fried Chicken with house-made ranch cheese and the C.L.T., which is Voltaggio's version of a B.L.T., made with chicken liver mousse, curried fried chicken skin, lettuce and tomato.
Whether you eat in (there is very limited seating) or take-out, sandwiches are given to you in a black paper bag with your name written on it. Make sure to order the salt, pepper and vinegar potato chips to go with your sandwich. Also worth getting is the refreshing "Street Fruit" (pineapple, jicama, mango and melon mixed with chile and lemon juice) or the watermelon with sriacha and lime. They also have Mexican chocolate chip cookies and a good selection of gourmet sodas.
Ink.sack is located at 8360 Melrose Ave, Los Angeles (in West Hollywood).