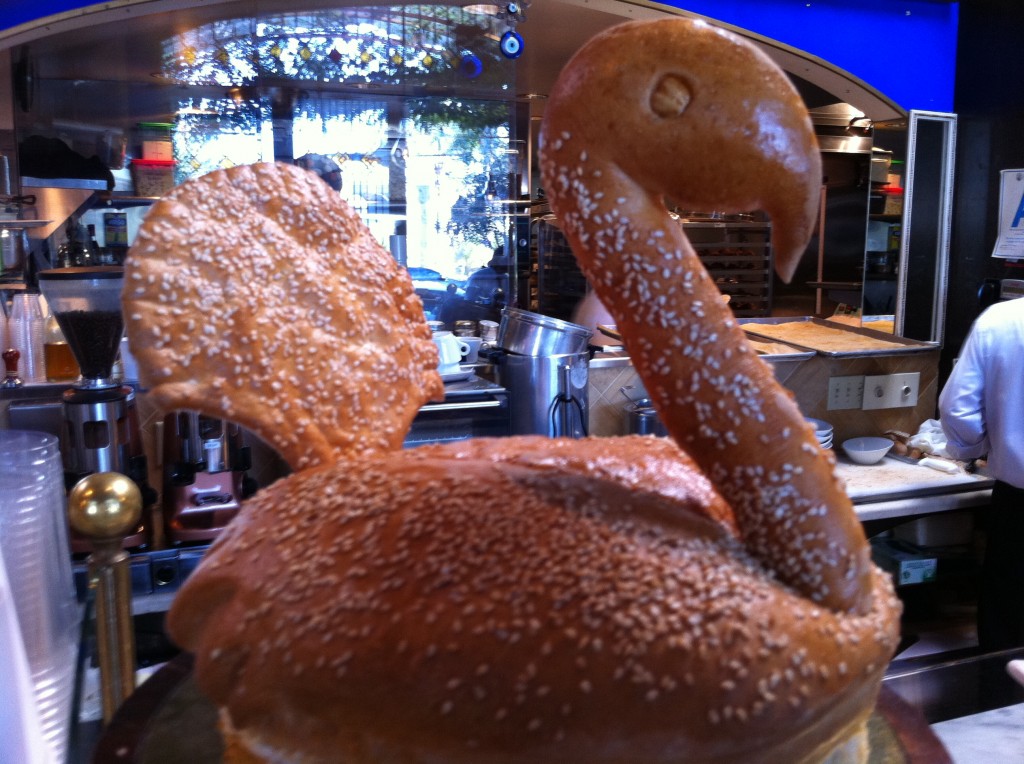 For most of us, the Thanksgiving meal is all about succulent roast turkey, savory herbed stuffing, buttery mashed potatoes, and tart and sweet cranberry relish. However, a great Thanksgiving meal should be like a great concert at the Hollywood Bowl; you need to end it with a fireworks finale! So whether you're hosting a Thanksgiving dinner or you're an invited guest thinking about what to bring, here are some really cool and unusual Thanksgiving desserts which are sure to impress.
1. Gourmet Thanksgiving Pies. These are probably the most beautiful, upscale and delicious Thanksgiving pies I have ever seen or tasted. Super talented French pastry chef Romain Drocourt of The Little Door and Little Next Door has created elevated versions of pecan and pumpkin pies with French flare. These elegant and sophisticated pies make the ones at Marie Calendar's and House of Pies look like their poor Hillbilly cousins. The Pecan Pie is made with toasted and caramelized pecans, a thin gingerbread spice tart shell and lemon mascarpone and maple syrup cream on top and comes with a side of Earl Grey sauce. The Pumpkin Pie is made with organic pumpkin, praline custard and yummy homemade cinnamon marshmallows. You can purchase them both (make sure to order in advance) at the bakery at Little Next Door, along with a really cool table centerpiece: a large French baguette bread with sesame seeds in the shape of a Turkey (pictured above). I like to call it a "Vegetarian Turkey." Little Next Door is located at 8142 W. 3rd Street, Los Angeles (in Mid-City near West Hollywood)
2. Thanksgiving Cupcakes. Starting this Monday, for only three days, Yummy Cupakes will bring back their Thanksgiving themed cupcakes. These Turkey Day-inspired flavors are Marshmallow Yam (yam cupcake filled with marshmallow fluff and frosted with a brown sugar buttercream), Lime Jell-O (lime cupcake filled with lime Jell-O and topped with lime whipped cream frosting), Pumpkin Pie (pumpkin cake topped with a pumpkin cream cheese frosting) and Turkey Gravy Cranberry (a turkey gravy cupcake seasoned with savory Thanksgiving gravy, filled with a fresh cranberry relish and topped with a cranberry cream cheese frosting). I haven't tried the Turkey Gravy ones but you can bet I will be first in line try one on Monday. Yummy Cupcakes has three locations: 2918 W. Magnolia Blvd in Burbank, 313 Wilshire Blvd in Santa Monica, and 220 26th Street, Santa Monica (near Brentwood).
3. Thanksgiving Ice Cream. One of my favorite ice cream shops in LA, Sweet Rose Creamery, is now selling several fun and delicious Thanksgiving flavors including Candied Yam, Cranberry Orange Sorbet, Spiced Pumpkin, Apple Cider and Quince with Manchego. I've tried them all and my favorites are Candied Yam (which has pieces of marshmallow in it) and Spiced Pumpkin. They also have three special holiday ice cream pies which look like traditional pumpkin, pecan and apple pies (make sure to order these in advance). The Pecan Ice Cream Pie has Salted Caramel Ice Cream and butter pecans in a chocolate cookie crust. The Pumpkin Ice Cream Pie has Spiced Pumpkin Ice Cream with whipped milk and pepitas and is dusted with cinnamon sugar in a ginger cookie crust. The Apple Pie Ice Cream Pie has Apple Pie Ice Cream topped with caramel sauce and is dusted with cinnamon sugar in a graham cracker crust. Sweet Rose Creamery is located in the Brentwood Country Mart at 225 26th Street in Santa Monica (near Brentwood).
Happy Thanksgiving!