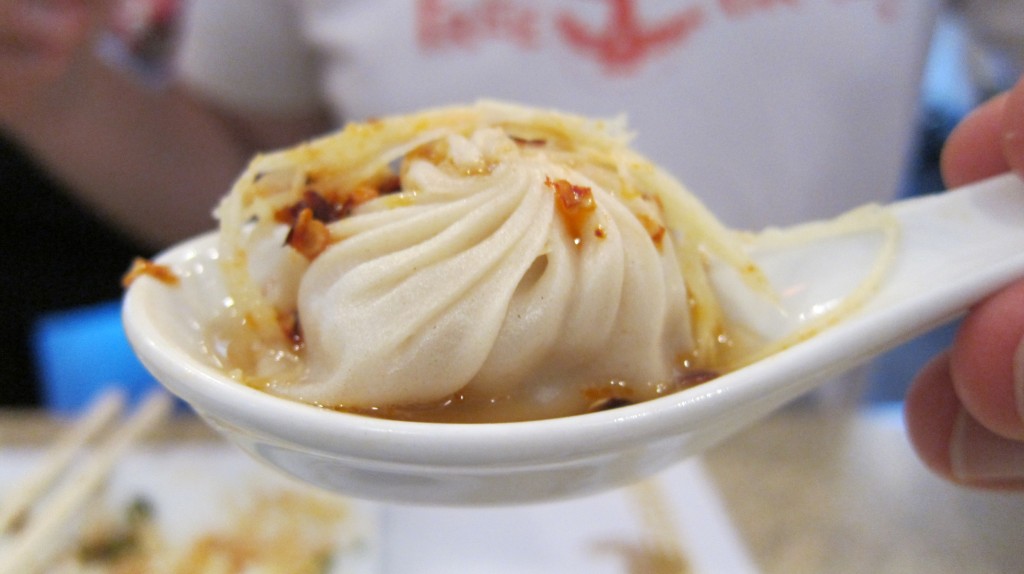 A soup dumpling is a wonderful thing. For the uninitiated, a soup dumpling is not a dumpling that is found in soup like a kreplach or wonton. It's the reverse; the soup is actually inside the dumpling. Soup Dumplings, also known as Shanghai Soup Dumplings or Xiao Long Bao, are a Chinese delicacy that were traditionally part of a Jiangnan-style morning tea. Nowadays, you can get them throughout the day and at restaurants located in places like Alhambra, Arcadia, Monterey Park and San Gabriel. My favorite place for soup dumplings is Din Tai Fung in Arcadia. Din Tai Fung serves over a dozen different kinds of dumplings, including chicken, melon & shrimp, shrimp & pork, vegetarian, sweet taro and red beans, but my favorite by far is the Juicy Pork Dumplings. These dumplings have a chewy and moist skin, which is wrapped around hot savory soup and delicious minced pork. They arrive at your table by the dozen, freshly steamed and ready to eat with vinegar, soy sauce, chili sauce if you are so inclined, and shredded ginger.
For novice soup dumpling explorers, here's some instructions on how to eat these tasty treats:
Step 1: Use your chopsticks to pick up a soup dumpling by its ridged tip and place it on a Chinese soup spoon.
Step 2: Add a few drop of vinegar, soy sauce and chili sauce, as well as a few strands of shredded ginger.
Step 3: Bite a small hole in the top of the dumpling to release steam (so you don't burn your mouth in Step 4!).
Step 4: Put the whole dumpling in your mouth.
Step 5: Bite into the dumpling, let the savory soup explode in your mouth and enjoy the hot, wet, doughy goodness.
Step 6: Repeat.
Din Tai Fung serves other things besides dumplings. They have pretty good noodles and decent fried rice. But why fill up on other carbs? Just eat more soup dumplings! Din Tai Fung is located at 1108 and 1088 S. Baldwin Ave. in Arcadia. UPDATE: Din Tai Fung is opening at the Americana in Glendale in September 2013. Now most of us won't need to make the long schlep out to Arcadia anymore to get our soup dumpling fix!