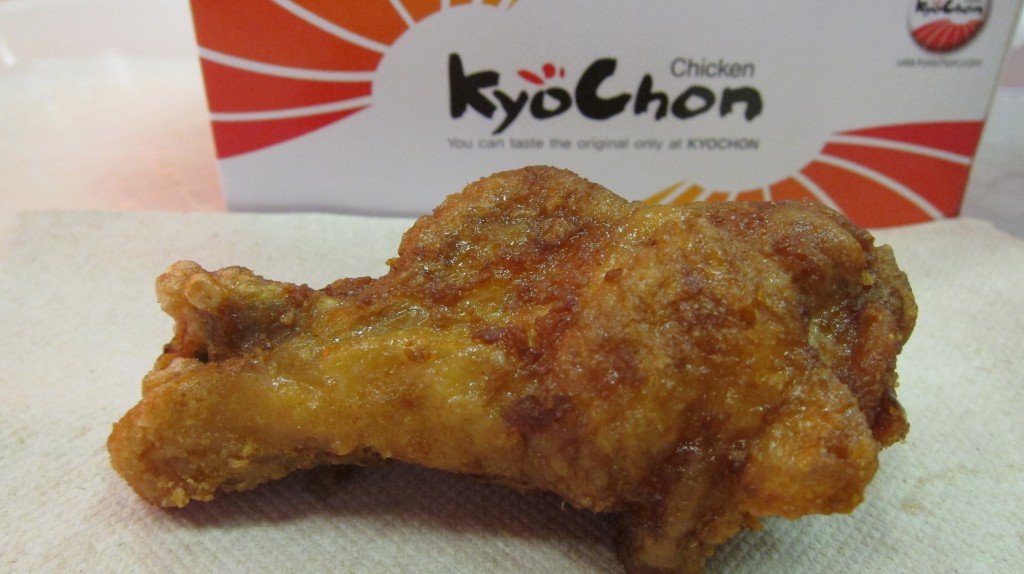 WARNING: DO NOT READ THIS POST IF YOU WANT TO AVOID DEVELOPING AN ADDICTION TO ONE OF THE TASTIEST THINGS IN L.A.
KyoChon serves Korean fried chicken and it is insanely good! This is not your run of the mill fried chicken and it is certainly nothing like the KFC variety. There are many different kinds of chicken at KyoChon. However, the most popular item is their chicken wings, which are very much like Buffalo wings, but with an incredibly delicious Korean-style sauce. Â You have your choice of three different flavors of wings including Spicy & Sweet Wings and Honey Wings but, by far, my favorite is the Original Soy Garlic Wings. I recommend the Soy Garlic even if, like me, you usually go for the spicy option; trust me on this one. The Soy Garlic sauce is so finger-licking-good and the fried chicken is so crispy and tasty. It's the perfect mix of saltiness, tangy sweetness, crunchiness and juiciness. You can also get bigger drumsticks and a whole fried chicken. Another option is the healthier (and less tastier) grilled wings, but really what's the point?
A new offering at KyoChon are the Sal Sal Strips, which are battered strips of white meat lightly fried and then coated with puffed rice crumbs and cooked to a golden crisp. They are served with your choice of dipping sauces and can also be included in a salad. The Sal Sal Strips are good, but I much prefer the wings. If you want to try all of the wings, they offer a sampler platter. I'm big on sampler platters, so if that's the way you want to go, I won't hold it against you. Side dishes include rice, potato wedges and my favorites, broccoli salad and sweet radish pickles. The broccoli salad is made with fresh broccoli, bits of bacon, green onions and raisins in a homemade sauce; it's really great.
KyoChon is a very popular chain in Korea with with over a 1,000 locations, only a few of which are in the United States. They opened their first Los Angeles branch in Koreatown, but there are three additional LA locations; in the Glendale Galleria, Westfield Culver City and Los Cerritos Center. It's surprising that one of the most delectable things in LA can be found in mall food courts. I often go to the Glendale Galleria location and it's every bit as good as the Koreatown location, although if you're looking for a whole fried chicken, you can only get that in K-town. KyoChon proudly advertises that their chickens are always fresh and hormone-free, so that makes it kind of heathy even it you don't go for the grilled option, right??
KyoChon is located at 3833 W 6th St., Los Angeles (in Koreatown) and in the Glendale Galleria, Westfield Culver City (formerly Fox Hill Mall) and Los Cerritos Center.