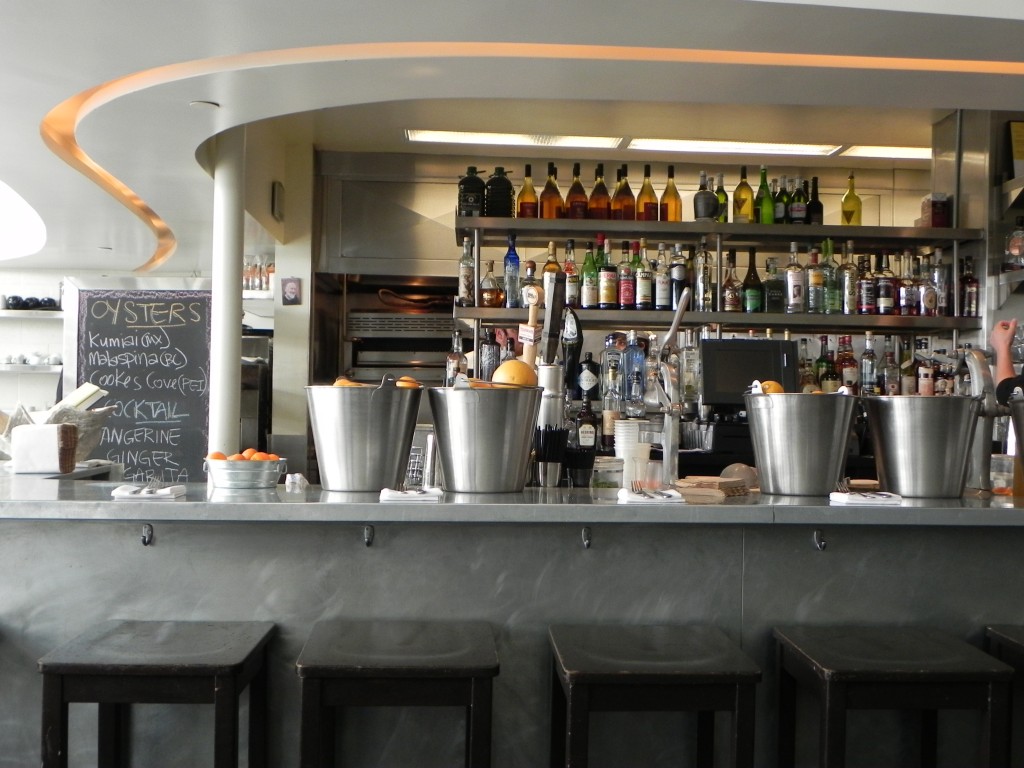 I have a friend who is an aspiring comedic screenwriter. He says things like "I'm on a seafood diet — I see food and I eat it." Not surprisingly, he doesn't sell a lot of screenplays. But he did introduce me to my favorite seafood restaurant in LA, The Hungry Cat. In stark contrast to stodgy, old school seafood restaurants like McCormick & Schmick's and Delmonico's, The Hungry Cat is cool, sleek and modern. It has the best raw bar in the city and amazing, creative seafood concoctions. The Hungry Cat is also a great place to drink and has some of the freshest and tastiest cocktails in town; cocktails such as the Dorian Grey (Earl Grey-infused Plymouth Gin, blood orange, lemon, Sombra Mezcal), the Petula Clark (Pimm's, Hayman's Old Tom Gin, lemon, egg whites & house-made absinthe bitters) and the Hot Tamale (Reposado Tequila, orange, and lime juice with Fresno chili simple syrup).
The menu at The Hungry Cat changes daily. I recommend starting with selections from the raw bar. The oysters, lobster and snow crab legs are delicious, but if you want to try something a little different, order the fresh uni served in the shell; if you've never scraped sea urchin out of its black, spiny, spherical carapace, you have been missing out! The super-fresh raw fish dishes are ingenious and I recommend ordering at least one. Favorites of mine include the Tandoori Cured Char with Spiced Lebani Yogurt, Cucumber, Pickled Pineapple, Pepper Cress & Dates and the Big Eye Tuna Tartare with White Miso, Pickled Mushrooms, Shiso, Peanuts & Nori Crackers. For entrees, I recommend the House-made Chorizo and Braised Clams with Shell Beans, Black Kale, Grilled Bread & Aioli, as well as the Sea Urchin Risotto with Chanterelles, Slow Cooked Egg and Pea Tendrils. Surprisingly, The Hungry Cat also has a fantastic burger called The Pug Burger, which has blue cheese, bacon, avocado and optional fried egg. I wouldn't normally order a burger at a seafood restaurant, but if you're splitting several things, this dog-dubbed dish makes a nice contrast to the Cat's coastal cuisine.
The Hungry Cat is located at 1535 N. Vine St. in Hollywood and 100 W. Channel Road in Santa Monica. If you enjoy Consuming LA, please subscribe, like me on Facebook and/or follow me on twitter at the top right of this page. And please forward to your friends!