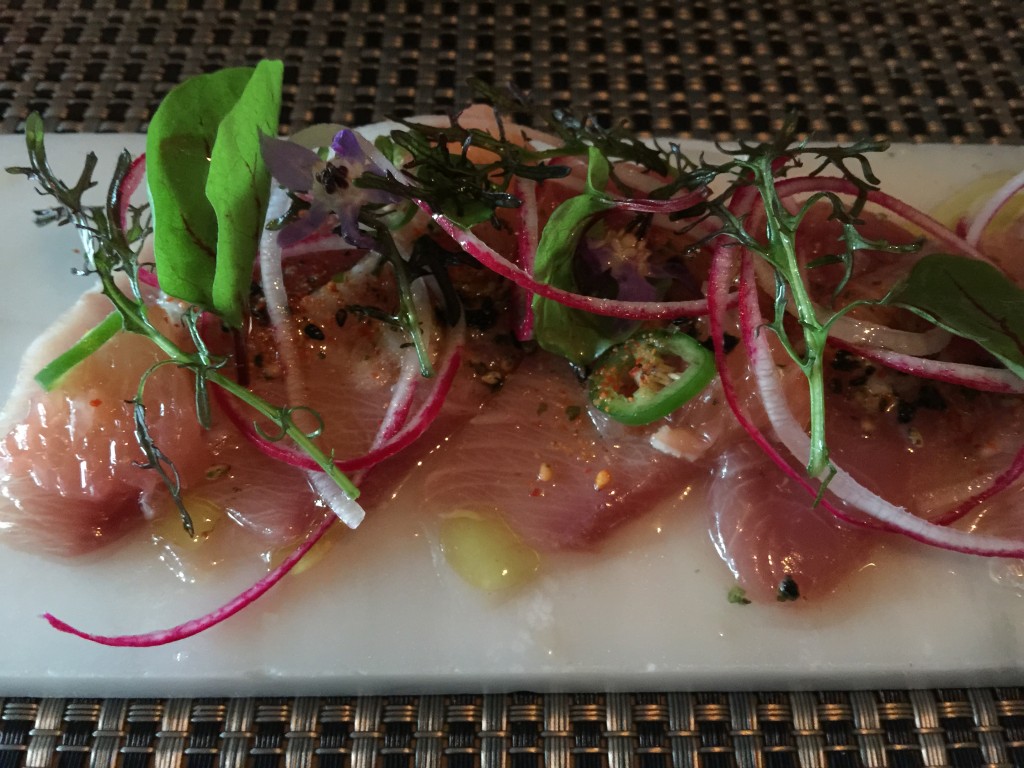 I've often heard that when God closes a door, he opens a window. I've recently found this to be true, except instead of God, it's Chef Brendan Collins, and the door he closed was at Waterloo & City, his now-defunct modern British gastropub in Culver City. The opened window is Birch, Collin's impressive new foodie haven of shared plates and creative cocktails. Nestled among the wood paneled bars and velvet-roped lounges of Hollywood, Birch and its stellar cuisine are welcome additions to a neighborhood where appearances are everything and, especially in the case of restaurants, form usually dominates at the expense of substance.
The menu is eclectic and seasonally driven. Of the dishes I've tried, my favorites are the Sweetbreads with Potato Gnocchi, Cauliflower and Preserved Lemon, the Hamachi with Grapefruit, Horseradish and Olive Oil (pictured above) and the Red Wine Foie Gros Risotto, which is so amazing it overshadows the Roast Baby Chicken that it accompanies. I also recommend the Rabbit Baklava with Bing Cherries, White Beans, Pistachios and Carrots. For dessert, the way to go is the hot Skillet Toffee Pudding with Burnt Sugar and Ice Cream "Defo Share." Everyone loves a Hollywood ending and this one does not disappoint.
Birch is located at 1634 N Cahuenga Blvd, Los Angeles (in Hollywood).