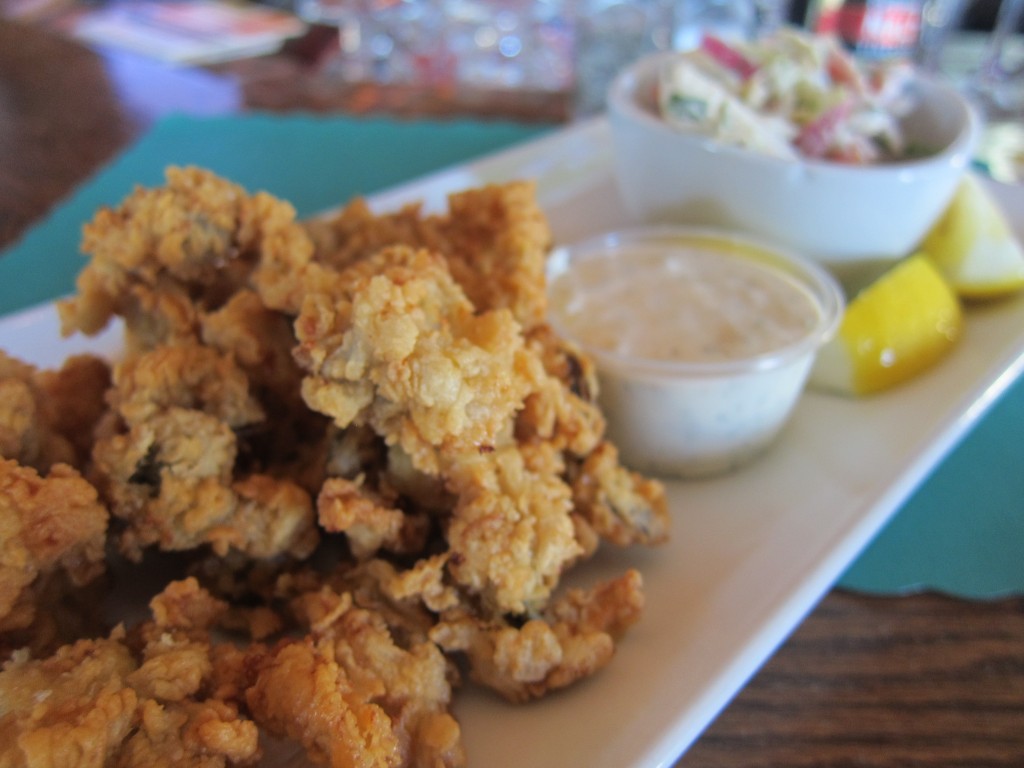 I was first introduced to the awesomeness of fried Ipswich "whole belly" clams as a student in Boston. Prior to this initiation, my experience with fried clams was limited to the fried clam strips I often ordered as a kid at Howard Johnson's. Fresh fried Ipswich clams are an acquired taste and totally different from the strips, which are often frozen before being fried and are missing the best part — the plump succulent belly. A good basket of fried Ipswich clams will have sweet, briny and juicy clams, which have been dipped in a delicious seasoned batter and fried to perfection until crispy and golden. When accompanied with wedges of fresh lemon and a good tartar sauce, there is nothing better in the World. Unfortunately, they're extremely difficult to find in LA. Here are four local places I've found where you can actually get the elusive shellfish treat:
Blue Plate Oysterette
(1355 Ocean Avenue in Santa Monica) This is a cool looking place and reminds me of some of my favorite oyster bars in New England. I was excited to see they had fried Ipswich clams on their menu, but I was ultimately disappointed with the dish. It was a very small portion for $18 and I didn't like the taste of the batter they used or the fact that they fried their clams along with lemon slices.
The Hungry Cat
(1535 N. Vine St. in Hollywood and 100 W. Channel Road in Santa Monica) Although their menu changes daily, The Hungry Cat has a Clam Roll made with fried Ipswich clams which seems to be offered most days. For $20, you get a toasted traditional split top roll filled with fried clams and cole slaw, along with a side of really excellent fries. It's a pretty good sandwich, but I prefer my clams straight up.
Sonny McLean's Irish Pub
(2615 Wilshire Blvd. in Santa Monica) This Boston-themed Irish Sports Bar totally surprised me by having the best fried clams in the city. The clams are so amazing and reminiscient of the clams you get in Boston that I wanted to jump up and shout "I PAHKED MY CAH IN HAHVAHD YAHD"! Plus at $14, their generous-sized appetizer of clams, which is pictured at the top of this post and served with tartar sauce, lemon and really delicious coleslaw, is the best deal in town. Since it's a Boston-themed pub, I suggest enjoying these clams with a Samuel Adams Boston Lager.
Roll 'n Lobster Truck
www.rollnlobster.com
If you don't live near one of the few LA restaurants serving fried Ipswich clams, you can wait for the clams to be brought to your part of town. Roll 'n Lobster is the newest LA food truck specializing in lobster rolls (I believe there are at least four of them now), and the only one that serves fried Ipswich clams. For $18, you can get a clam basket with fries. Although it's not a huge portion and a little on the oily side, I found the clams here exceptionally plump and juicy.
If you enjoy Consuming LA, please subscribe for free, like me on Facebook and/or follow me on Twitter at the top right of this page. And please forward to your friends!