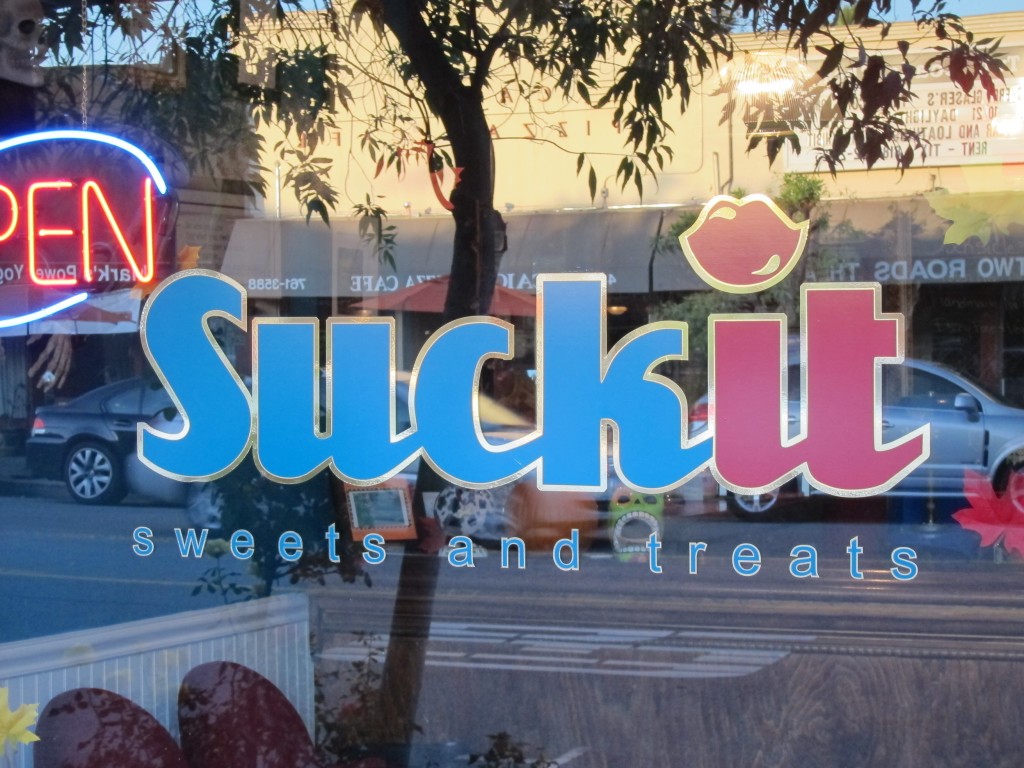 This place has a cool concept, gourmet popsicles, and an even cooler name, "Suck It Sweet & Treats." They sell homemade frozen treats called "Sucksicles" ("Popsicles" are apparently a trademarked brand), which are made from fresh, seasonal farmer's market ingredients and natural sweeteners; they have no artificial colorings, flavorings or preservatives. The Sucksicle is the invention of store owner, Keileigh Brelle, a trained pastry chef, who was looking for a special treat to fit within her gluten-free diet. Besides being gluten-free, many of the Sucksicles are non-dairy and vegan.
The flavors change everyday and are posted on Suck It's facebook page. Past and current fruit (and vegetable!) flavors include Raspberry Hibiscus, Lavender Lemonade, Pear Frangelico, Cucumber Lime Mint, Pumpkin Cheesecake, Peanut Butter Banana with Chocolate Chips, Baked Banana Walnuts, Pineapple Chile, Grapefruit Jalapeno, Mango Lassi, Kiwi, Plum, Key Lime Pie, Gazpacho, Spicy Avocado and Dill Pickle. Past and current non-fruit flavors include Coconut Cream, Saffron Pistachio, Chai Tea Latte, Mexican Hot Chocolate, Peppermint and Carmel Pecan. I haven't tried the Dill Pickle Sucksicle yet, but my favorites are the slightly spicy Mexican Hot Chocolate and the yummy Cinnamon Roll. The only flavor I haven't liked has been the Spicy Avocado. The Sucksicles are $4 each. On the weekends, they also sell gluten-free cookies and tarts. I haven't tried the baked goods yet, but I suspect they don't suck.
Suck It Sweets & Treats is located at 4361 1/2 Tujunga Blvd. in Studio City. UPDATE: SUCK IT SWEETS & TREATS HAS MOVED. THEY ARE NOW LOCATED AT 6801 HOLLYWOOD BLVD, LOS ANGELES (HOLLYWOOD & HIGHLAND CENTER) INSIDE THE SWEET! HOLLYWOOD CANDY STORE.