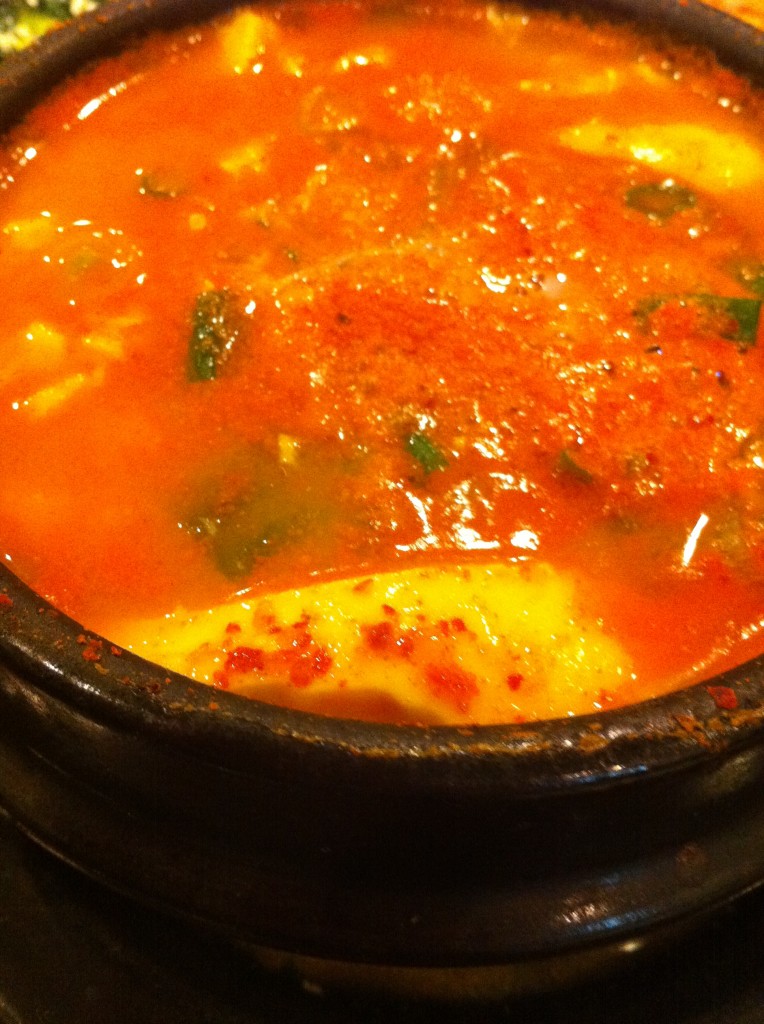 My wife is going to kill me for blogging about this place and letting more people in on our secret. Tofu Ya is one of our family's favorites and we go to this cozy little restaurant about once a week. It is the only Korean restaurant in a sea of Japanese eateries on Sawtelle Boulevard in West LA just north of Olympic (aka "Little Osaka" or "Japantown West"). They specialize in Soon Tofu, an incredibly delicious spicy tofu soup that they prepare in about 10 different ways including with seafood, beef, pork, dumpling (my favorite), chicken, kimchee or mushroom. The Soon Tofu is served to you bubbling hot in clay pots with an optional raw egg which you immediately crack open and cook in the soup. You also tell them how spicy (or mild) you want it. The meal starts with complimentary Banchan (small plates of traditional Korean appetizers) such as kimchi, marinated cucumbers and broccoli, glass noodles and fishcakes. They also serve very good Korean barbecue including Kalbi (shortribs) and Pork Bolgogi (my favorite; sweet and spicy barbecued pork). The best way to experience Tofu Ya is to get a combo with a small bowl of Soon Tofu and either one of the barbecued meats or the Dolsot Bibimbap (traditional Korean rice dish served in a clay pot).
There is nothing better than a piping hot bowl of Soon Tofu on a cold or rainy night! The cherry on top is that Tofu Ya is surprisingly inexpensive. After dinner, we like to visit one of the many dessert places on Sawtelle like Beard Papa, a Japanese bakery specializing in cream puffs. There are also many unique stores to check out on Sawtelle before or after your meal, such Black Market (best place in all of LA to buy cool t-shirts), Giant Robot Store (collectible vinyl toys, art books and graphic novels) and Tokyo Japanese Outlet (all kinds of cool Japanese imports). It's also fun to explore the aisles of Nijiya Market, a Japanese grocery store with all kinds of interesting Japanese foods. And you could hit up the street's Karaoke bars for sake shots and the obligatory duet of "I Got You Babe" if you're so inclined…
Tofu Ya is located at 2021 Sawtelle Blvd, Los Angeles (in West LA).