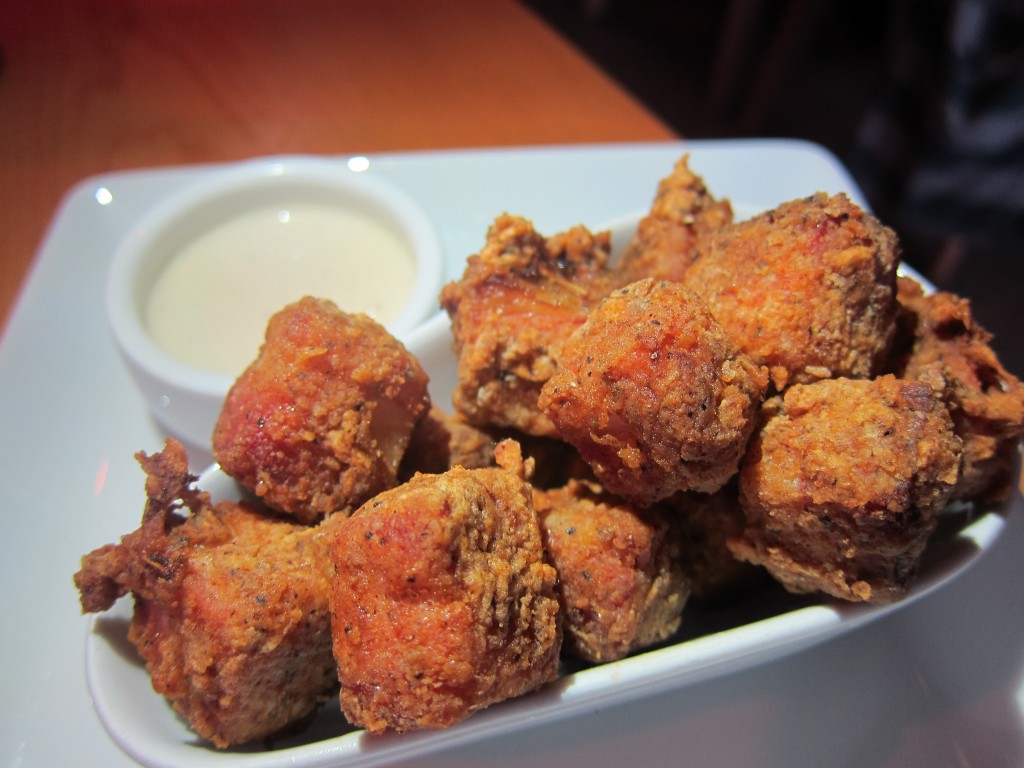 If dining out was a sport, then eating at Black Hogg would be referred to as "Extreme Gastropubbing." Debuting a few months ago in Silverlake, but awaiting its liquor license, Black Hogg is not for timid (or healthy) eaters. Their signature dish is "Popcorn Bacon" (pictured above), small chunks of bacon which have been battered and deep fried just like Popcorn Shrimp. It's good (how could it not be?), but undeniably hardcore.
Other small plates include Fried Olives with Honey Goat Cheese, Roasted Marrow Bones with Breakfast Radishes, Longaniza Sausage Hash with Fried Egg, Ale-Battered Cod with Ruffle Chips, and Spicy Chicken Liver on Toast with Chicken Cracklin'. On a recent visit, my favorite dish was the Pork Belly Tacos with Fuji Apple Slaw and Jalapeno Relish. It's very spicy and insanely good. I also really liked the Brussels Sprouts with Anchovy Citronette and Gremolata, although maybe I just felt good about eating a vegetable dish among all the rich indulgences.
The deep fried fun continues with dessert, where you can order Chai Spiced Churros with Warm Walnut Oil Ganache. Crispy on the outside and gooey on the inside, these are possibly the best churros I have ever tasted. The other dessert on the menu combines three of my favorite things (tres leches, rhubarb and bread pudding), but it was disappointing. The restaurant space itself is surprising. With this kind of fare and the Silverlake location, I was expecting dark and ornate, but the room is actually light with mostly modern decor.
Final verdict on Black Hogg: it's quite good and very fun, but you might want to get your cholesterol checked first. Black Hogg is located at 2852 W. Sunset Blvd, Los Angeles (in Silverlake).