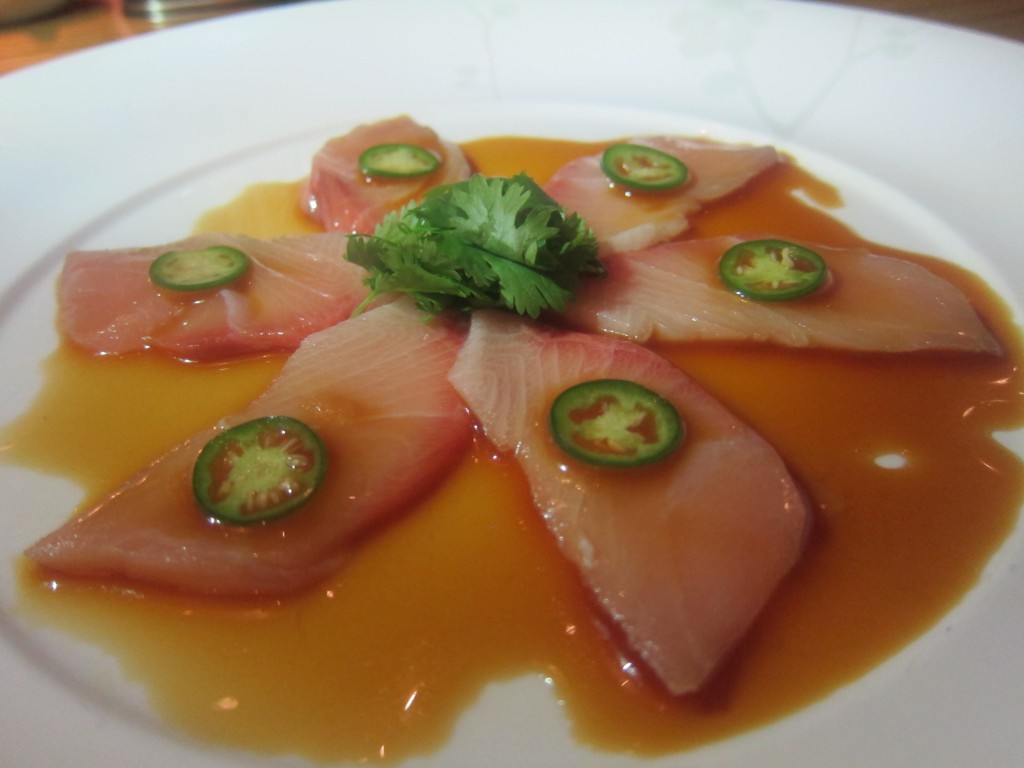 Nobu is a high-end sushi restaurant chain intent on world domination. It has 26 locations around the globe including Cape Town, Hong Kong, Milan and Moscow, and will open its first Nobu Hotel in Las Vegas in the next few weeks, with additional hotels to come in London, Riyadh and Bahrain. In LA, we have two locations; one in West Hollywood, which has the feel of a posh Vegas restaurant, and one in Malibu, which recently moved to fancier, beachfront digs and reminds me of a luxurious resort on a tropical island. Both locations have beautifully designed interiors, impeccable service and exorbitant prices.
The Nobu empire is helmed by Nobuyuki "Nobu" Matsuhisa, a master of modern Japanese-Peruvian fusion cuisine, who blends traditional Japanese dishes with South American ingredients to spectacular effect. One of my favorite such dishes is Taradito (fluke or other sashimi with Peruvian rocoto sauce, lemon yuzu dressing and soy salt). I also love the Yellowtail Sashimi with Jalapeno (pictured above), Black Cod with Miso and Rock Shrimp Tempura with Creamy Spicy Sauce. But while I'm a big fan of Nobu's innovative fusion dishes, I'm less enamored of Nobu's traditional sushi and can think of at least a dozen sushi bars in LA that serve better fish. Nobu does, however, have great desserts, such as the PB&J Satandagi with Warm Peanut Butter, Chocolate Satandagi, Peanut Butter Ice Cream and Plum Wine Gelee.
I don't go to Nobu that often, mainly because my fusion-style sushi restaurant of choice is Katsu-ya, which is more casual and has many similar but more reasonably priced dishes. But for a special occasion when you don't mind splurging and want to consume your sashimi concoctions in an oppulent setting, Nobu really can't be beat. Nobu is located at 22706 Pacific Coast Highway in Malibu and 903 North La Cienega, Los Angeles (in West Hollywood).