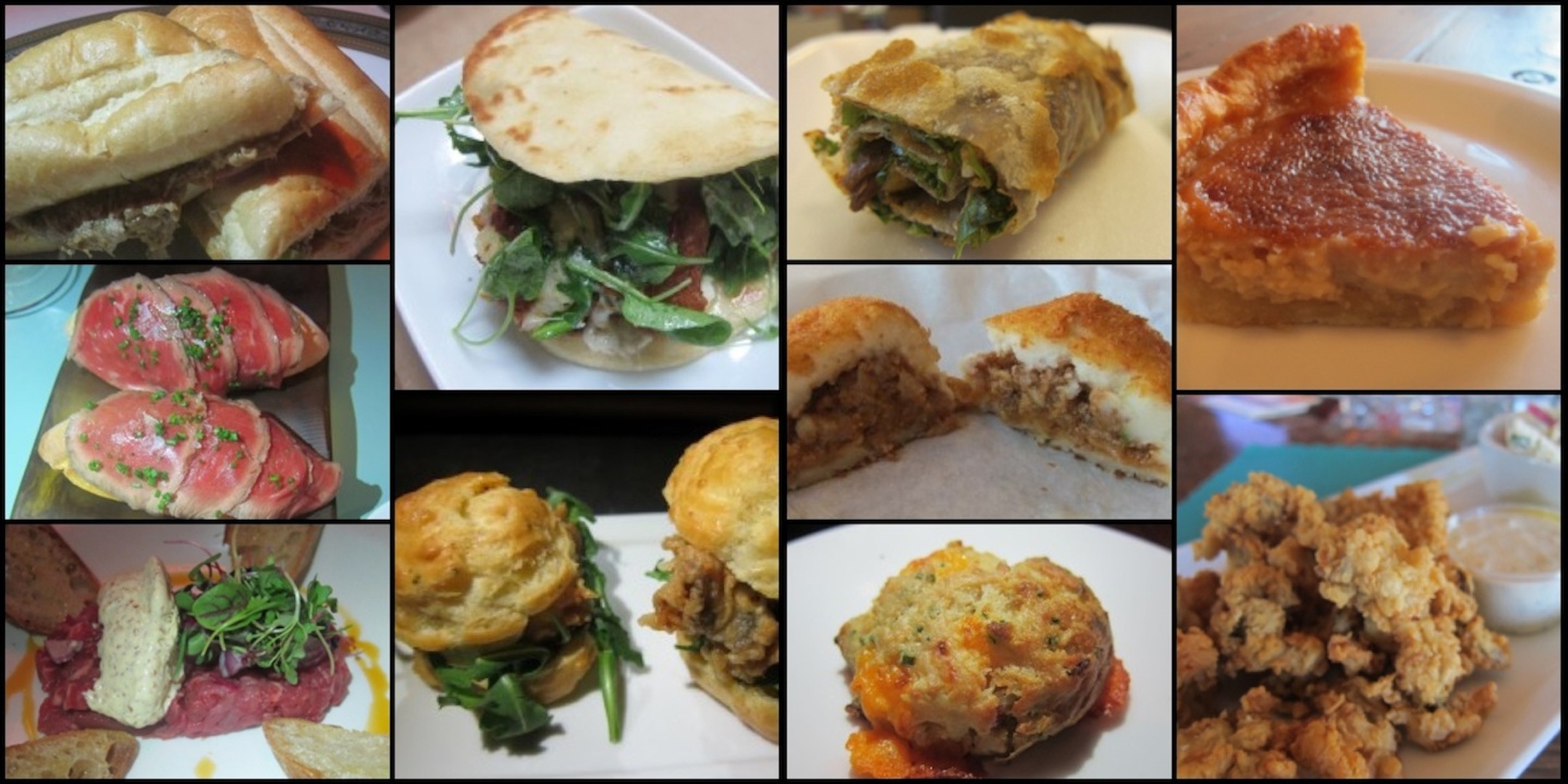 2012 was a banner year food-wise in the City of Angels. Angelenos have never before had so many amazing restaurant options and I have tried to cover many of them on this blog. Of all the dishes that I wrote about in 2012, the following are my ten favorites; the ones that I happily dream about and crave pretty much all the time. Some of them were introduced at exciting and cutting-edge new local eateries this past year, while others are things that I have loved for years. Most are not "healthy choices," so if you're planning to make a New Year's resolution to watch your weight, get to work; you only have a few days left to indulge!
10. Beef Roll at 101 Noodle Express I'm crazy about this Northeastern Chinese delicacy made of thinly sliced and braised fatty beef with fresh chopped cilantro and sweet bean sauce rolled in a fried doughy Chinese pancake. It's salty, crispy, beefy and incredibly delicious!
9. Papa Rellena at Porto's Bakery & Cafe This Cuban treat (which I finally wrote about this past year) is essentially a ball of mashed potatoes which has been filled with seasoned ground beef and deep fried; kind of a spherical mini Shepherd's Pie. Muy delicioso!
8. Bacon Cheddar Buttermilk Biscuit with Maple Butter at MB Post Even if you live in the Valley or the Eastside, these biscuits are reason alone to travel to Manhattan Beach. Served hot out of the oven with soft and sweet maple butter, they are outrageously good.
7. Maple Custard Pie at The Pie Hole The only dessert to make the list, this is possibly the best pie I have ever had. It is the perfect combination of a sublime buttery not-too-sweet crust and an incredible caramelized custardy filling. I only wish they sold it year round!
6. Fried Clams at Sonny McLean's Irish Pub I went on a mission this year to find authentic New England-style battered and fried "whole belly" Ipswich clams (not strips!) and was surprised to find the real deal at this little Boston Irish sports bar in Santa Monica. They're wicked good!
5. Cuban Torta with Pork Terrine, Prosciutto, Provolone, Pickled Jalapeno & Mustard at Sunny Spot Of all the amazing dishes at Chef Roy Choi's creative Caribbean-themed restaurant, this mouth-watering, non-traditional version of a Cuban sandwich is my favorite.
4. "Philly Cheesesteak" at The Bazaar The Bazaar is one of my favorite restaurants in the city and my favorite dish is this playful take on the Philadelphia classic sandwich. It's made with "air bread" and cheddar cheese, and covered with thin slices of Wagyu beef and finely chopped chives.
3. Steak Tartare and Mustard Ice Cream at Eat Drink Americano Savory and spicy mustard ice cream may not sound appealing on its own, but once mixed with a delectable steak tartare, the resulting flavor combination is unlike anything I've ever tasted before and out of this world!
2. "The Touron" Bäco at Bäco Mercat Each of Chef Josef Centeno's original sandwich creations called "Bäcos" are works of culinary genius. However, the best in my opinion is The Touron with oxtail hash, pickle, potato & cheddar cheese on Bäco Mercat's signature flatbread.
1. Gougere Sliders with Fried Oysters, Tartar Sauce, Applewood Smoked Bacon and Arugula" at Little Bear These little sandwiches on Greyere cheese puffs combine cheese, dough, bacon and fried oysters, so it's not a total surprise that they are my favorite dish of the year. I love them!
If you enjoy Consuming LA, please subscribe, like me on Facebook and/or follow me on Twitter at the top right of this page. And please forward to your friends!