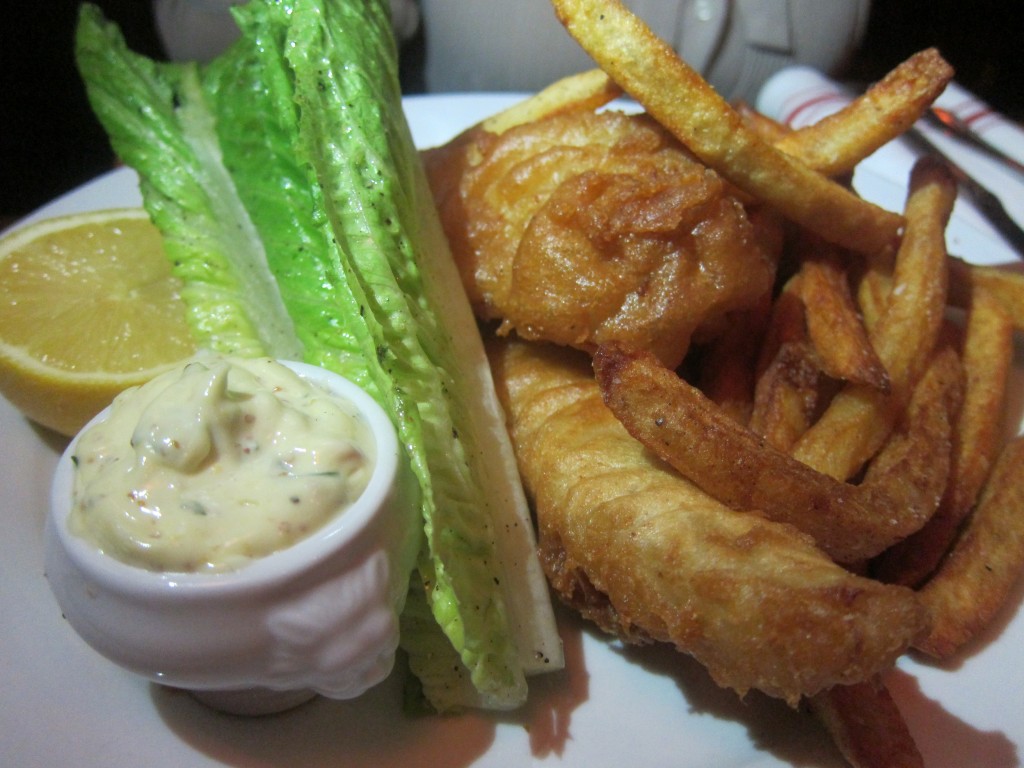 Call it the "New British Invasion." Â Modern English gastropubs have been regularly opening on this side of the pond for the past couple of years. Â My favorite in Los Angeles is The Pikey. Â Its dark wood, brass rail and mirror-laden decor reminds me of the pubs I frequented when studying abroad in England during college; the perfect place to down a pint of ale. Â But The Pikey is more than just a cool-looking place to drink, and is not, as they say in London, "all fur coat, no knickers." Their elevated British pub grub is abso-bloody-lutely delicious!
My favorite dish is the Fish and Chips. Â The golden battered snapper is crispy on the outside and tender and juicy on the inside, and the thrice cooked chips (what we Yanks refer to as "fries") are gobsmackingly good. Â I'm also a fan of the Curried Cauliflower, Mary's Vinegar Chicken, and the brilliant Crispy Pig's Ear Salad with Young Kale and Mustard. For dessert, I suggest getting either the Sticky Toffee Pudding with Butterscotch and Clotted Cream or The Pikey's "Fool" of the day, a smashing concoction of puréed seasonal fruit, whipped cream and sugar. Â Blighty-themed cocktails such as the "Laddie Dill" (vodka, cucumber, dill, lime, salt and pepper) and "The Guvnor" (gin, lemon juice, egg whites and bitters) will have you saying things like "it's the dog's bollocks!" and "Bob's your uncle" in no time.
The Pikey is located at 7617 W Sunset Blvd, Los Angeles (in Hollywood).