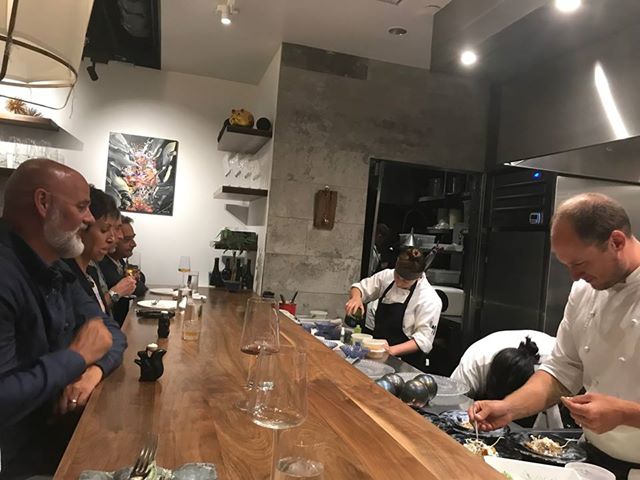 Hidden behind a door marked only with the letter "K" on the second level of the Third Street Promenade food court, an exciting adventure is being had by foodies. One of Chicago's top chefs, Dave Beran, has relocated to LA and opened an intimate restaurant that serves only a tasting menu of approximately 18 course of New American cuisine with French and Japanese influences. The menu completely changes every three months with only a single dish linking each quarterly menu to the next.
The experience each night is akin to storytelling as Beran weaves an epic culinary tale that progresses through the seasons of the year with many surprises along the way. The attention to detail at Dialogue is staggering and while not every dish is a standout, many are excellent and all are interesting and thoughtful. This is a meal best appreciated by thinking about it as a whole rather than focusing too much on any of its many small parts.
You will need to purchase a ticket for this adventure rather than secure a traditional reservation. Gastronomic excellence of this nature never comes cheap and this experience will cost you between $175 and $200 plus tax (all service charges are included in the ticket price), but not including optional wine pairing for an additional $125-175 plus tax. Although there are a few tables in the restaurant, my recommendation is to go with just one other person and sit at the bar where you can converse with Beran as he and his staff compose each dish right in front of you. This kind of experience makes it well worth the splurge.
Dialogue is located at 1315 Third Street Promenade in Santa Monica.