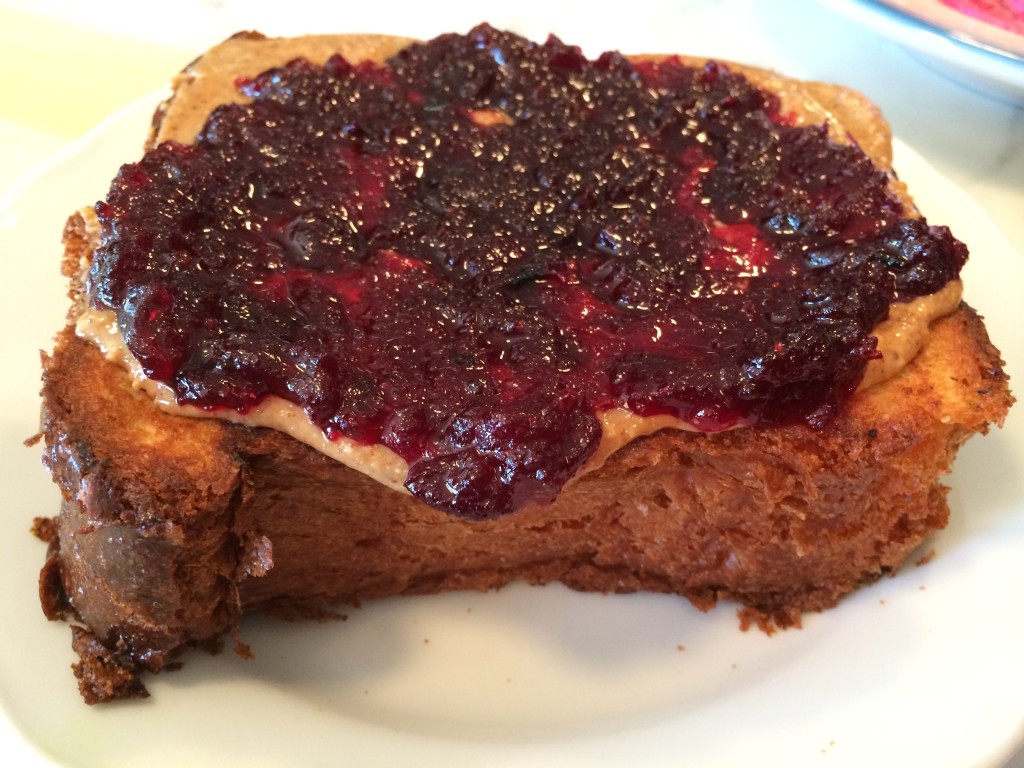 Located on ungentrified Virgil Avenue in East Hollywood, SQIRL is an exceptionally good breakfast and lunch joint and one of the biggest hipster haunts in the city, packed with more vintage-clad, irony-obsessed, artisan-loving neo-bohemians than an organic food co-op in Williamsburg. The name of the restaurant is a combination of "squirrel" and "girl," and refers to owner Jessica Koslow, a former producer of American Idol and a girl who "squirrels" things away by making jams and other preserves. SQIRL'S homemade jellies, jams and marmalades feature prominently in the menu and come in such flavors as Blackberry + Meyer Lemon, Pakistan Mulberries + Thai Magic Basil, and Moroblood Orange + Tonga Vanilla Bean.
One the best ways to sample the preserves is by ordering an obscenely thick slice of brioche toast slathered with nut butter and jam. While I love this open-faced PB&J, as well as SQIRL's Malva Pudding, a decadent spongy caramelized pudding-cake, my favorite dish is their breakfast rice bowl. It's unlike any rice bowl I've consumed before and made with Kokuhu Rose Brown Rice, Sorrel Pesto, Preserved Meyer Lemon, Lacto Fermented Hot Sauce, French Feta, Pickled Radish and a Poached Egg. It's one of those perfect dishes where artisanal ingredients with disparate flavors are creatively fused together to produce something that seems both harmoniously simple and wonderfully complex. I'm completely obsessed.
SQIRL is located at 720 N. Virgil Ave., Los Angeles (in East Hollywood near Silverlake).