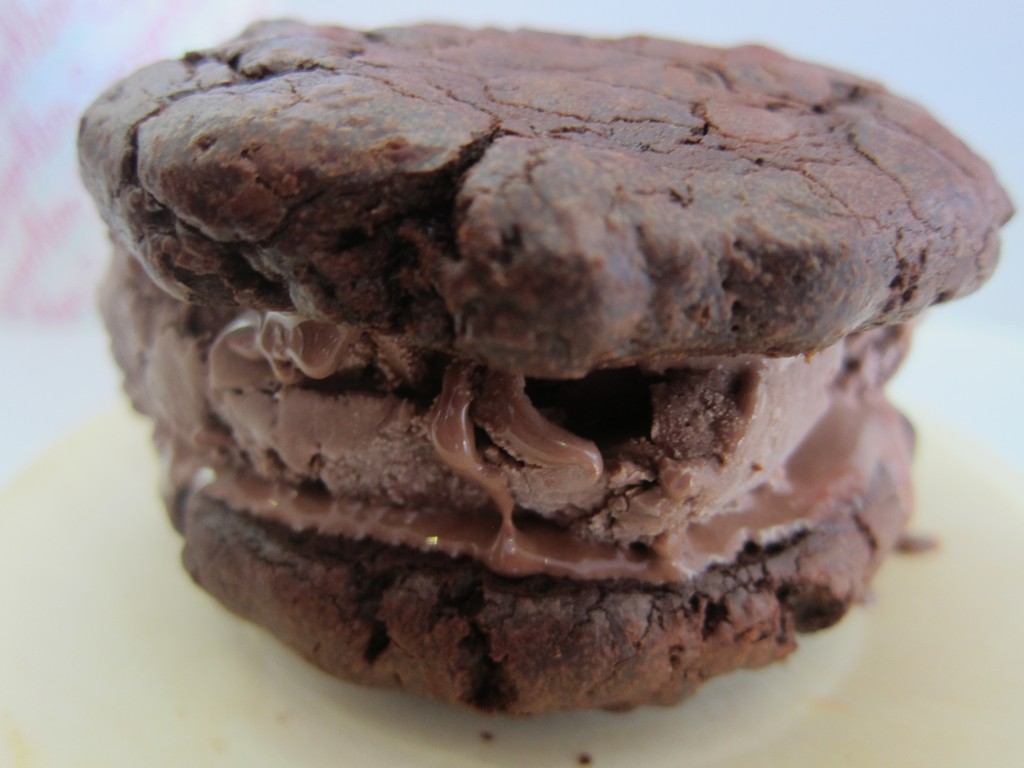 Not content with cupcake supremacy, Sprinkles has now branched into ice cream. Sprinkles Ice Cream opened recently in Bevely Hills next door to Sprinkles Cupcakes and the awesome Sprinkles Cupcake ATM, a vending machine where you can buy cupcakes at any time day or night. I'm a huge fan of Sprinkles Cupcakes so I was very excited to see what pastry chef/owner Candace Nelson does with ice cream. As with their cupcake shop, the cornerstone of Sprinkles Ice Cream is red velvet. They have red velvet ice cream, red velvet cones, red velvet crumb topping and you can get a scoop of ice cream sandwiched between two halves of a red velvet cupcake. I thought the red velvet ice cream, which is essentially vanilla ice cream with red velvet crumbs mixed in, was pretty good but not amazing.
In addition to red velvet, there are eleven daily rotating flavors, as well as six different kinds of homemade cookies. I liked some of the ice cream flavors such as dark chocolate and salted caramel, but found other flavors to be disappointing. As a peanut butter fanatic, I had to try Sprinkles' peanut butter cup ice cream, as well as their peanut butter pretzel chip cookie. Sad to say, I was not impressed with either. I did, however, absolutely love their gooey double chocolate cookie. It should also be mentioned that all of these treats are quite expensive. A single scoop costs $3.50 and a double scoop is $5.75. Toppings and cones are an extra dollar each and an ice cream sandwich will set you back $6.50 if it's on cupcake "muffin tops" or a whopping $8.50 if it's on cookies. There is a super miniature ice cream cone that you can get for $1.75, but it's not much more than a taste and you can eat it in about two bites.
The most interesting (and annoying) thing about Sprinkles is their long lines. It's not so much the number of people in line, but that the lines are incredibly slow-moving. You would think that the long lines would hurt business because many people would not want to wait, but I suspect the lines have the opposite effect. I'm pretty certain that Sprinkles intentionally tries to keep its lines long to reinforce their reputation of being highly in demand and to attract passersby, most of whom appear to be tourists eager to try something that is so seemingly sought-after in posh Beverly Hills. The store is completely understaffed and it seems as if each employee is required for some reason to disappear into a backroom for a period of time either while preparing each order and/or between waiting on each customer. It's rather genius. But for me, while I'm willing to wait in line for a short while for Sprinkles Cupcakes, Sprinkles Ice Cream is just not worth it.
Sprinkles Ice Cream is located at 9631 S. Santa Monica Blvd. in Beverly Hills. If you enjoy Consuming LA, please subscribe, like me on Facebook and/or follow me on twitter at the top right of this page. And please forward to your friends!