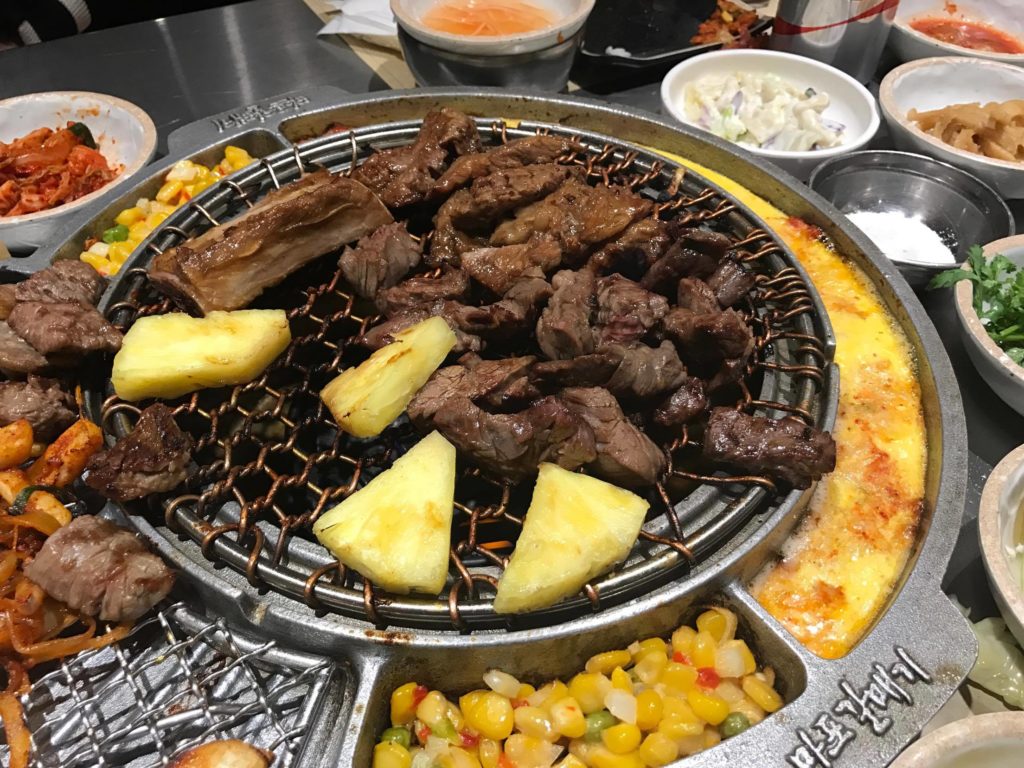 There are few things in the world that I love more than Korean BBQ. Nothing beats gathering around a fiery tabletop grill with your friends while marinated meats are cooked to perfection right in front of you. Grab a hot piece of caramelized short rib with your chopsticks and pop it in your mouth followed by a swig of cold Korean beer. Yes, life is good.
After years of extensive research, here are my 10 favorite Korean BBQ restaurants in LA:
1. Kang Ho Dong Baekjeong (3465 W 6th St, Los Angeles) Part of a chain from Seoul owned by a comedian/wrestler, this place has everything you want in a Korean BBQ joint: a super fun and bustling atmosphere, fantastic service and incredible food. The only downside: they don't take reservations and there is always a long wait.
2. Chosun Galbee (3330 W Olympic Blvd, Los Angeles) While the food here is authentic and traditional (and absolutely amazing), I've found Chosun Galbee to be very accessible for Korean BBQ novices and it's where I usually bring first-timers. Everything here is big — the menu, the restaurant (including a large patio) and the flavors. There are private rooms in the back which are perfect for parties. My favorites here are the chadol (thiny sliced brisket), spicy pork bulgogi and marinated galbi.
3. Magal BBQ (3460 W 8th St, Los Angeles) Magal is the cool new kid in town. It's a recent import from a successful chain in Korea and has a party-like atmosphere. Make sure to check out their signature Beef Sushi and Volcano Fried Rice.
4. Genwa Korean BBQ (5115 Wilshire Blvd, Los Angeles and 170 N La Cienega Blvd, Beverly Hills) The big draw here is the banchan, the little side dishes of kimchi and other fermented vegetables, sliced pancakes, potato salad, boiled peanuts, braised beef and other Korean delicacies. While most Korean BBQ places give you between 4 and 7 different kinds of banchan, Genwa gives you around twenty different varieties and, as with virtually all Korean restaurants, they're all refillable upon request.
5. Park's BBQ (955 S Vermont Ave, Los Angeles) This joint is the top choice for ballers and foodies who demand the highest quality meats and don't mind paying the highest prices. Their heavily marbelized Wagyu beef may ruin you for all other Korean BBQ.
6. Soowan Galbi (856 S Vermont Ave B, Los Angeles) While the decor of this small strip mall eatery is a bit plain and the atmosphere is a bit staid, the BBQ is anything but dull. The quality of the food here is incredible and their marinated meats are among the best in town.
7. Hanjip (3829 Main St, Culver City) Owned by celebrity chef Chris Oh and LA restaurant maven Stephane Bombet, Hanjip is one of the few great LA Korean BBQ places outside of Koreantown. It's also my favorite of the all-you-can-eat joints. In addition to the meats, make sure to order their incredible Kimchi Fried Rice, Uni Steamed Egg and Bone Marrow Corn Cheese. For extra fun, enjoy Soju poured into your mouth through a marrow bone "luge."
8. Quarters Korean BBQ (3465 W 6th St, Los Angeles) Located in historic Chapman Plaza in the center of K-town, this is where I usually wind up when the line is too long at neighbor restaurant Kang Ho Dong Baekjeong. It's fun and modern and they have great banchan and excellent bulgogi.
9. Soot Bull Jeep (3136 W 8th St, Los Angeles) The pork baby back ribs here are insanely good. All of the meat is cooked at your table on charcoal grills, which adds a great smokey flavor to your food. The charcoal smoke fills up the restaurant and creates a magical atmosphere on a cold wintery night. The fact that the smokey smell remains in your clothes and hair when you leave is a small price to pay for all of that charcoal grilled goodness.
10. Chung Ki Wa (3545 W Olympic Blvd, Los Angeles) This traditional looking joint has old school charm and solid BBQ. The galbi is especially good here. Make sure to also order their famous cold buckwheat noodles.
If you enjoy Consuming LA, please subscribe, like me on facebook and follow me on twitter and instagram at the top right of this page. And please forward to your friends!