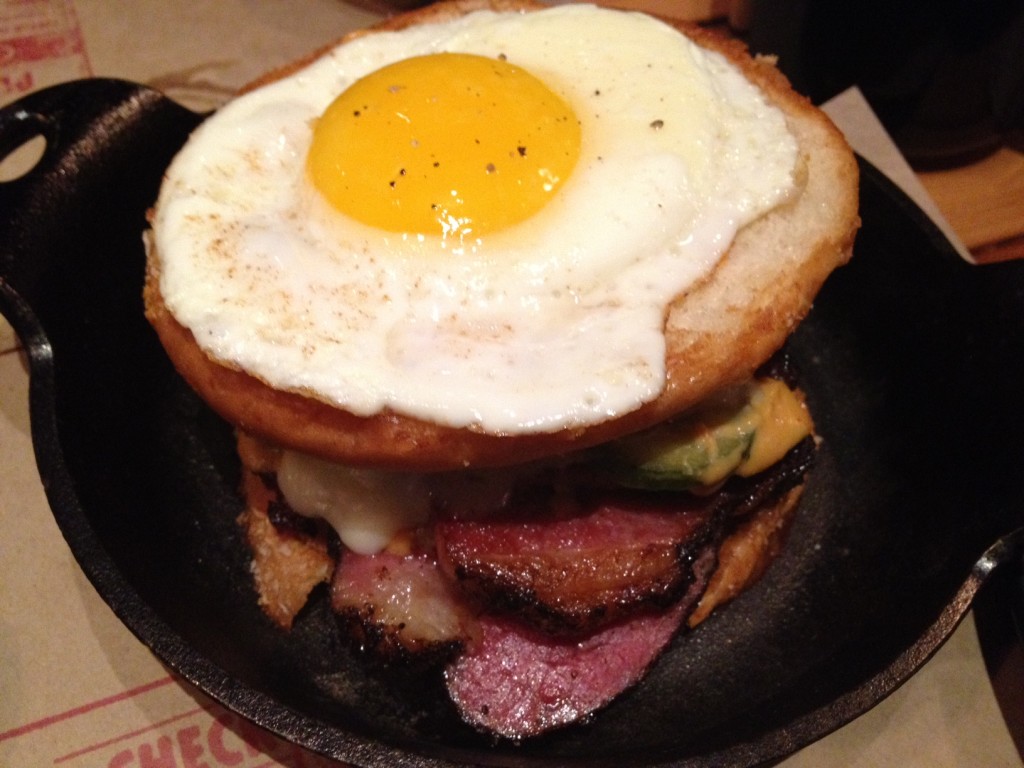 What do you get when you pair a former Umami Burger executive chef with a local real estate developer turned restauranteur who takes inspiration from a municipal office charged with overseeing construction? You get Plan Check Kitchen + Bar, a great new gastropub which officially opens today in the Westside's Japanese restaurant mecca known as Little Osaka. Plan Check is located adjacent to the Department of Building and Safety, which inspired Plan Check's name and industrial-chic decor. Once you've been seated, the hostess carries out the theme further by stamping part of the drink menu onto the paper covering your table, using a large ink stamp like the ones used next door to approve architectural plans.
Besides its unique building plan approval motif, a couple things distinguish Plan Check from most of its neighbors on Sawtelle. First of all, although there is house-made yuzu soda and a dish made with rockshrimp tempura, this isn't a Japanese restaurant. Plan Check serves elevated versions of traditional American comfort foods like Burgers and Fries, Pot Roast and Fried Chicken with exotic and unusual touches. Their eponymous burger is made with Akaushi Red Wagyu Beef and "Americanized" cheese, served on a crunch bun, and dressed with a strip of ketchup leather (like a fruit roll-up), savory onions and house-made pickles. It's delicious, as is their "Pastrami Nosh" (pictured above), which has double smoked pastrami, Swiss cheese, kimchi mustard, pickles and is served with a fried egg on top. I also recommend the PC Tots (tater tots stuffed with cheddar and parmesan cheeses), which are served with smoked milk gravy and, upon request, an amazing house-made ketchup.
Another thing that sets Plan Check apart from most of the other eateries in Little Osaka is its cool bar and array of fun and tasty cocktails. You can order a Spaghetti Western (made with Vida Mezcal, Tapatio, Red Bell Pepper, Lime, Agave and Beer), a High & Low (which I assume is named after one of my favorite Akira Kurosawa films and is made with Zaya Rum, Fino Sherry, Cointreau and Grenadine), or one of their house-made sodas spiked with "moonshine." Plan Check is as much a bar as a restaurant and is a great place to meet friends for drinks on the Westside. Whether you're there for lunch, dinner or a late-night drink, I highly recommend getting dessert. The Cruller Donuts, which are cooked to order and served with cream and fresh bananas, are not to be missed.
Plan Check Kitchen + Bar is located at 1800 Sawtelle Blvd. in West LA.

If you enjoy Consuming LA, please subscribe, like me on Facebook and/or follow me on twitter at the top right of this page. And please forward to your friends!