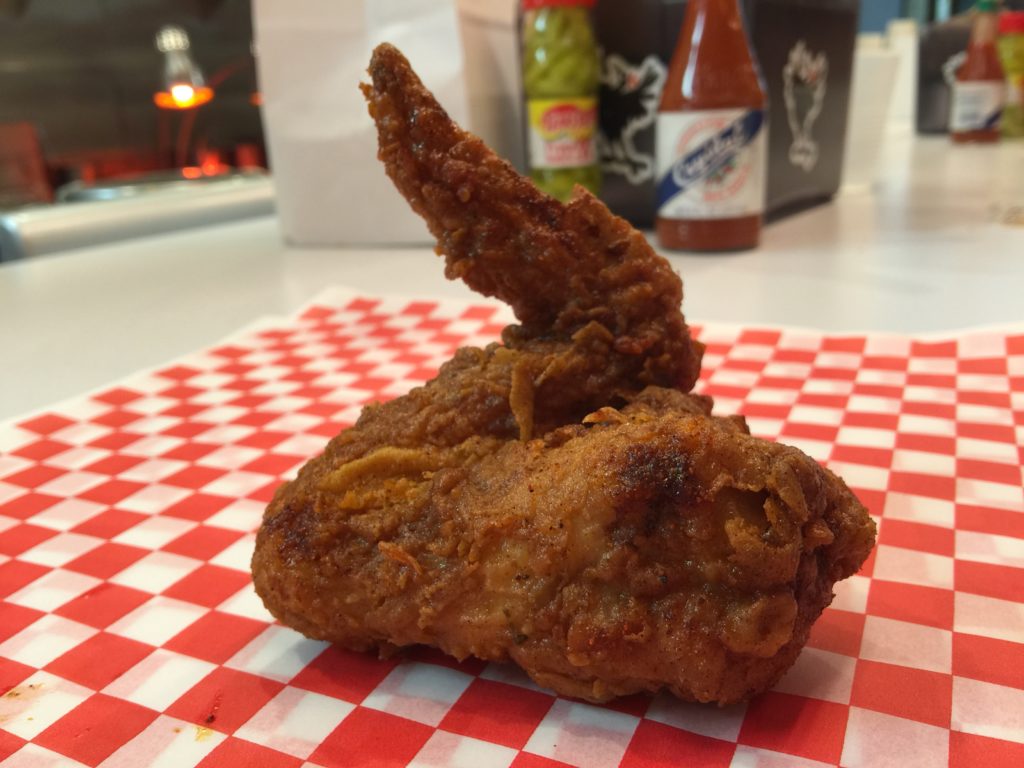 There is no better comfort food than fried chicken. Crispy and unctuous on the outside and hot and juicy on the inside, it makes you forget your troubles with every bite.
However, all fried chicken is not created equal. In our sprawling metropolis, there are several blue-ribbon eateries producing truly exceptional finger-lickin'-goodness that stands out from the rest. After conducting years of extensive research on the topic, here are my top 10 favorites:
#1 (tie) Gus's World Famous Fried Chicken (1262 Crenshaw Blvd in Mid-City Los Angeles, 509 S Glenoaks Blvd, Burbank, and 2580 Long Beach Blvd, Long Beach). Gus's, a small chain originating in Tennesee, serves Memphis-style spicy fried chicken which is perfect in every way. Served atop a slice of white bread, these insanely amazing drumsticks, wings, thighs and breasts are accompanied by traditional Southern sides such as mac n cheese, greens and baked beans.
#1 (tie) Plan Check Kitchen + Bar (1800 Sawtelle Blvd in West LA, 351 N Fairfax Ave in Mid-City LA, 1401 Ocean Ave #104 in Santa Monica, and 1111 Wilshire Blvd in the Westlake district adjacent to Downtown). While Gus's fried chicken is a traditional Southern type, the other top winner on my list, the Smokey Fried Chicken at Plan Check, is the opposite. It's an elevated gourmet version of the dish marinated in buttermilk brine, fried in beef tallow and severed with Smoked Milk Gravy, Yam Preserves and Spicy Pickled Okra. It's my favorite dish on the menu and real show-stopper.
#3 Howlin' Ray's (727 N Broadway #128, Los Angeles in Chinatown/Downtown). Located amid the souvenir shops and Chinese herb merchants in the Far East Plaza in Chinatown, Howlin' Rays serves Nashville-style Hot Chicken. This place is so popular — and so incredibly good — that the wait in line can often take two hours or more. I don't love waiting in lines, but this place is definitely worth it.
#4 OB Bear (3002 W 7th St, Los Angeles in Koreatown). This tavern in K-town serves the most awesome Korean fried chicken. Enjoy it with pickled radish, cabbage salad, a seafood leek pancake and a couple of nice cold Korean beers.
#5 Honey's Kettle Fried Chicken (9537 Culver Blvd, Culver City). This Culver City mainstay serves expertly cooked and super yummy Southern-style fried chicken made with high-end ingredients. I order mine with biscuits, honey, mashed potatoes and gravy.
#5 Dave's Hot Chicken (970 N Western Ave, Los Angeles in East Hollywood). Spice is the name of the game at Dave's and if you love your chicken eye-tearing, lip-burning, brow-sweating spicy, then this is the place for you. But even if you wimp out and order your bird mild, you will be impressed with the deliciously seasoned Nashville-style chicken.
#7 Golden Bird (8300 S Western Ave in Inglewood, 2847 Crenshaw Blvd in West Adams, and 13501 S Avalon Blvd in Gardena). This Southern fried chicken chain in South LA is a sentimental favorite of many Angelenos and has been serving delicious fried chicken and soul food sides and desserts (including Sweet Potato Pie and 7-Up Cake!) since 1953. The mouth-watering batter here reminds me of my personal childhood favorite, Pioneer Chicken.
#8 Pikunico (767 S Alameda St Suite 122, Los Angeles in Downtown). Newly opened in the uber-hot Row DTLA complex, Pikunico serves excellent gourmet Karaage (Japanese Fried Chicken) which is free range, gluten-free and made with locally sources ingredients. It's served with house-made assorted pickles, three gourmet sauces (Daikon Ponzu Oroshi, Lemon Aioli, and Parsley Sesame Sauce) and your choice of Ginger Onigiri or Fingerling Fries.
#9 Dinah's Family Restaurant (6521 S Sepulveda Blvd, Los Angeles in Westchester). This old school diner is an LA institution famous for their fried chicken (as well as their giant German pancakes). It's perfect for a meal of fried chicken and waffles or as your first stop after landing at nearby LAX.
#10 Anzu Japanese Gourmet (11270 La Grange Ave in West LA) Even if you are a frequent visitor to the Japanese restaurants and shops on Sawtelle, you may not be aware of Anzu. Located just off of the main drag, it's simply a tiny window with very limited seating outside where you can purchase some of the best Japanese fried chicken in the city.
If you enjoy Consuming LA, you can see more by subscribing on the right hand side of this blog and/or by liking my page on Facebook or following me @ConsumingLA on Instagram or Twitter. And please forward to your friends!