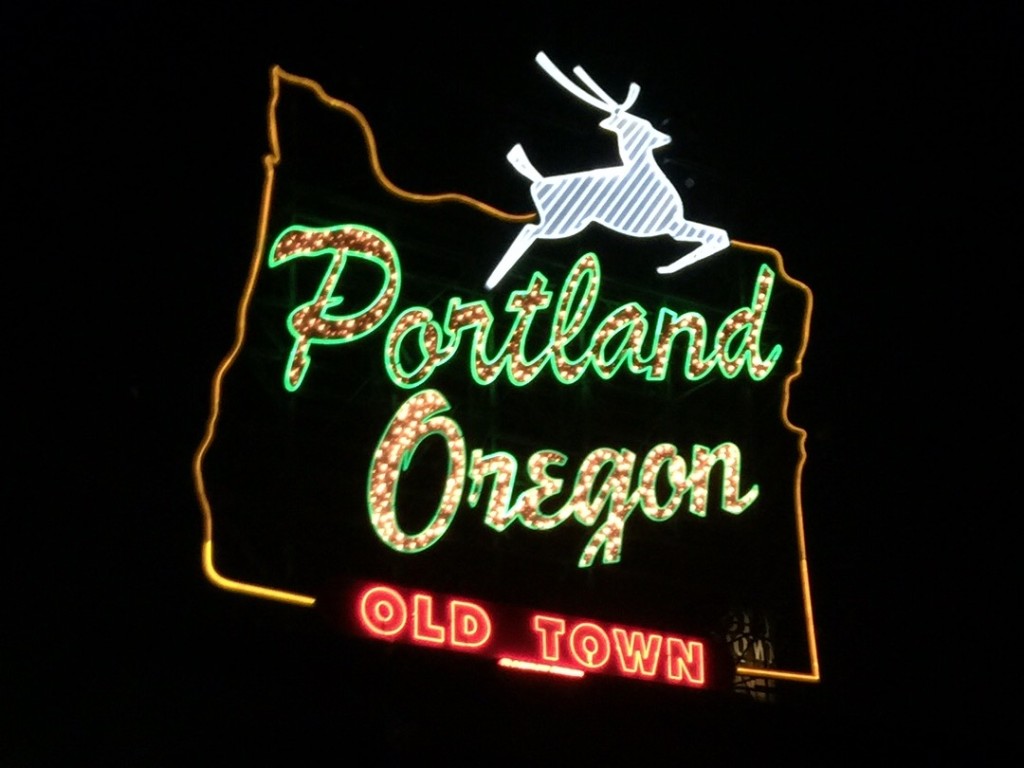 My daughter Chloe and I recently spent a long weekend in Portland, Oregon. It was the first time there for both of us. Chloe wanted to see Portland because her favorite television show is "Portlandia." I went for the food.
In the past several years, Portland, just like LA, has been touted as one of the top food cities in the country. After completing a rigorous schedule of seemingly non-stop eating over the three days of our trip, I was not disappointed. I found Portland's reputation as a foodie haven to be well deserved and I look forward to my next visit to this awesome city.
If you're thinking about planning your own food trip to Portland, here are the places that I recommend visiting:
Voodoo Doughnuts It's undoubtedly the most popular food destination in Portland, with long lines usually outside its door. The kitschy and over-the-top decor and doughnut varieties are great fun, with the added bonus that the doughnuts are actually really good.
Ava Gene's This rustic Italian restaurant is owned by the founder of Stumptown Coffee Roasters and has quickly become one of most venerated spots in town. Although we had fantastic meat dishes here, the stars of the menu were their spectacular vegetable dishes.
Beast We were lucky to get into this tiny restaurant that has two seatings a night and serves everyone in the house the same extraordinary meat-centric tasting menu at the same time. The experience was intimate and magical. The food was divine.
Lardo This gourmet sandwich shop was our first stop in Portland; we went directly there from the airport. Even better than the sandwiches were their hand-cut and crispy "Dirty Fries," which are topped with chunks of pork, marinated peppers, fried herbs and parmesan.
Blue Star Donuts This is the refined adult version of Voodoo Doughnuts. It sells small batch donuts made with the best ingredients in such varieties as Blueberry Bourbon Basil and Valrhona Chocolate Crunch. I was happy to learn that an LA location is opening on Abbot Kinney in Venice soon.
.
Pine State Biscuits
It's the hippest, coolest restaurant chain in PDX. It specializes in biscuit sandwiches and other biscuit concoctions and is perfect for breakfast or an afternoon snack. We went there twice.
The Woodsman Tavern A great place for Portland hipster watching, as well as consuming some super-tasty gastropub fare. We did some major carbo-loading here.
Pok Pok We had our favorite meal in Portland here. My daughter said it was the best meal of her life. Pok Pok has an extensive menu of insanely amazing creative Thai cuisine. The Vietnamese Fish Sauce Wings are other-worldly. Lucky for us, they are opening an LA branch in the next few weeks.
Salt & Straw Ice Cream This shop had some of the best artisan ice cream I've ever tasted and was well worth the 45 minute line we had to wait in. Their regular flavor are excellent, but their special seasonal vegetable flavors like Carrot Carrot Cake and Green Fennel & Maple were even better.