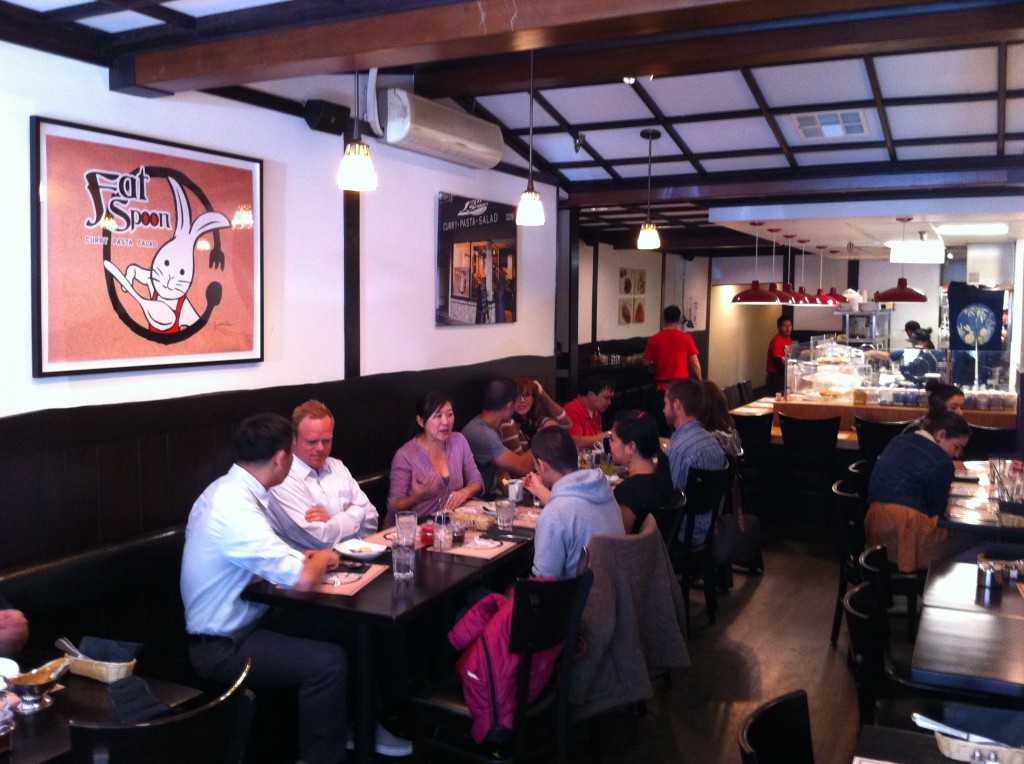 Fat Spoon is my favorite restaurant in Little Tokyo. Sitting right next door to the perennially packed Daikokuya Ramen, it's a fun and inexpensive little cafe specializing in Japanese curry and pasta dishes. Japanese curry is one of the most popular foods in Japan and is quite different from other types of curry. It's thicker and sweeter than its Indian cousin and usually milder as well, although it can be made spicy upon request. Fat Spoon offers a wide variety of curry dishes served atop rice or noodles, including ones with shredded Jidori chicken, pork cutlets, seasonal vegetables and seafood. My favorite curry dish there is the Hamburger Curry, which I recommend getting in the Hawaiian "Loco Moco" style with a fried egg on top.
But Fat Spoon's menu is not just limited to curry dishes. Their appetizer of Mini Kobe Beef Corn Dogs is a must-have. They also offer several salads and pasta dishes. In fact, Fat Spoon's most acclaimed dish is not one of their curries, but rather their Uni Pasta, an incredibly delicious bowl of spaghetti with an uni (sea urchin) and mushroom cream sauce. They also have a great Pasta Carbonara with pancetta, egg yolk and parmesan cheese, as well as a tasty Tarako Pasta with salted cod roe, cream, dried seaweed and chopped green onions. For dessert, I highly recommend the Baked Sweet Potato which has been transformed into an edible bowl holding a scoop of vanilla ice cream topped with caramel sauce. It's truly outstanding! After your meal, you can burn off some of the carbs walking and shopping the streets of Little Tokyo, one of the coolest neighborhoods in the city.
Fat Spoon is located at 329 E. First Street, Los Angeles (Downtown, in Little Tokyo). UPDATE: I was shocked to find out that Fat Spoon has closed, especially since the food was so good and it was always crowded when I was there. The owner says it might reopen, perhaps on the Westside. Fingers crossed!