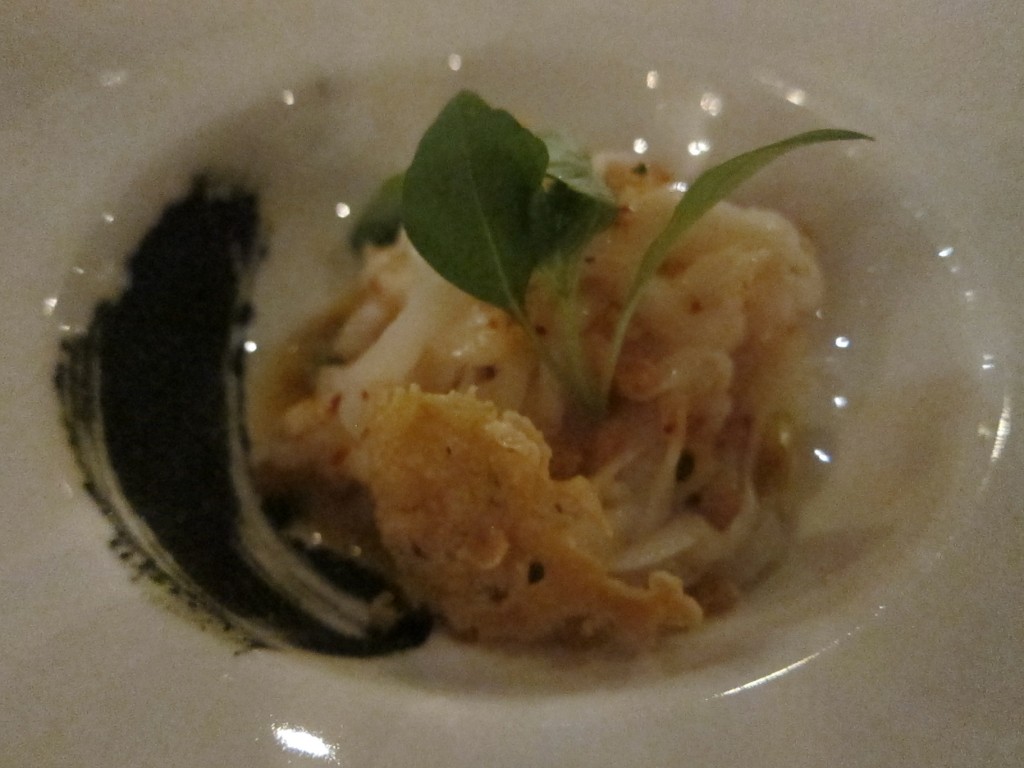 The opening of Ink in West Hollywood two weeks ago has been one of the most eagerly anticipated restaurant openings in the country. Ink is the creation of Michael Voltaggio, the heavily tatted and touted bad-ass winner of season six of Top Chef and former chef at The Dining Room in the venerable Langham Huntington Hotel in Pasadena. In August, Voltaggio opened a small sandwich shop called ink.sack a few doors down from Ink (read my review here), which I have fallen in love with and frequented over the past several weeks, so I was more excited than ever to try Ink. Against all odds, I was able to score an 8pm reservation for a party of four last Saturday night.
The atmosphere of the restaurant is one of frenetic excitement. The decor is modern and the restaurant is dimly lit. There is an "omakase" bar on one side which accommodates eight people per night. There is a boisterous cocktail bar which serves creative and delicious libations and is presided over by talented mixologist Devon Espinosa, who served as chief wingman to molecular gastronomist Marcel Vigneron on the short-lived Syfy TV series Marcel's Quatum Kitchen. And most notably, there is an open kitchen were you can see the chefs hard at work, including Voltaggio who works on the line with his staff.
The menu at Ink consists entirely of small plates; American tapas which Voltaggio describes as "modern Los Angeles cuisine" inspired by the myriad of cultures that make up LA. On the waiter's recommendation, we ordered the whole menu — literally! Over the course of two and half hours, we were treated to a procession of beautiful, creative, cerebral and perfectly executed dishes. The flavor profiles were complex and interesting, although I thought some combinations worked better than others. My favorites were the Beef Tartare (with Horseradish, Hearts of Palm and Sea Bean Chimchurri), the Halibut Cheeks (with Red Pepper Dashi, Shishito Peppers and Kelp Pasta), the Berkshire Pork Tenderloin (with Charcoal Crust, Macaroni & Cheese and Leeks) and the "Spaghetti" (which was actually giant squid prepared to look like spaghetti, accompanied by squash, hazelnut-ink pesto and piment d'Espilette). Each of these were incredible! My least favorite dishes were the Dungeness Crab (with Smoked Mayo and Bok Choy "Kimchi") and the Quail (with Banana Polenta, Beet Juice and Sorrel Salad), although I thought they were two of the most beautiful dishes. The desserts were equally creative, fun and delicious, with the stand-out being a dessert of Apple, Creme Caramel, Burnt Wood Sabayon and Walnuts, which was unlike anything I have ever had before.
Ink is located at 8360 Melrose Ave., Los Angeles (in West Hollywood).