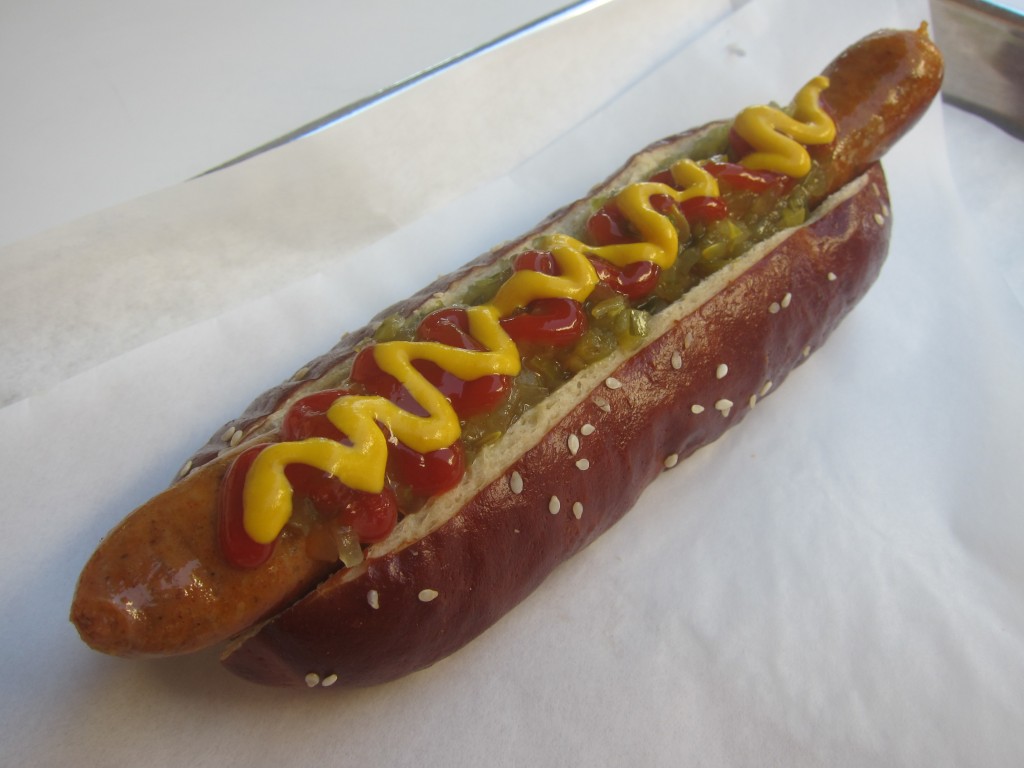 Like every great American city, Los Angeles has its fair share of wieneries; gastronomic temples dedicated to finely seasoned and cured processed meat cylinders served on long soft buns with a variety of condiments including mustard, relish, sauerkraut, onions, cheese and chili. Pink's is the most famous in town, but hardly the best. Dodger Dogs are overrated. When I want a truly spectacular red hot — a juicy dog that snaps with every bite and explodes with flavor in my mouth — I head to one of my five favorites listed below.
#5 Carney's (8351 W Sunset Blvd, West Hollywood and 12601 Ventura Blvd, Studio City). This dive restaurant in an old yellow train serves amazing hot dogs, including a spicy "New Yorker," a traditional "Chicagoan" and a "Red Baron" with spicy mustard and red cabbage. If you like your dogs slathered with messy, meaty chili, there's simply no better place.
#4 Fab Hot Dogs (19417 Victory Blvd, Reseda) Well worth the drive to Reseda, Fab Hot Dogs are perfection. You can get grilled pastrami or BBQ baked beans on your dog and their speciality is a crunchy deep-fried "Bald Eagle Ripper" with housemade spicy mustard relish. It's also well worth the risk to your arteries.
#3 The Slaw Dogs (720 N. Lake Ave, Pasadena; 19801 Ventura Blvd, Woodland Hills; 1355 Huntington Dr, Duarte) Their bacon-wrapped LA Street Dog topped with grilled peppers and onions, garlic mayo and pico de gallo is one of the best things ever. There's also a Chicharron Dog with pork belly and kimchi and a Thai Dog with peanut curry satay sauce.
#2 Vicious Dogs (5231 Lankershim Blvd, North Hollywood) The most fun and creative hot dogs in LA can be found here. I love the "Hot Chick," which is bacon-wrapped and topped with mozzarella, chopped chicken tenders, ranch dressing and spicy Buffalo wing sauce. There's even a hot dog with peanut butter and jelly.
#1 Fritzi Dog (in the Original Farmer's Market, 6333 W 3rd St, Los Angeles) Newcomer Fritzi Dog has become my favorite hot dog place in the city. It's truly gourmet and elevates the hot dog to a whole new level. Their eponymous dog served on a fresh soft pretzel bun (pictured above) is not only insanely delicious, but a work of art. I also love their juicy "Porker" dog served on a sweet and doughy "Parker" bun (they have buttery brioche and gluten-free buns as well). Best of all, you can get a tasting sampler of mini dogs to make your hot dog selection a little easier.
If you enjoy Consuming LA, please subscribe, like me on facebook and/or follow me on twitter at the top right of this page. And please forward to your friends!