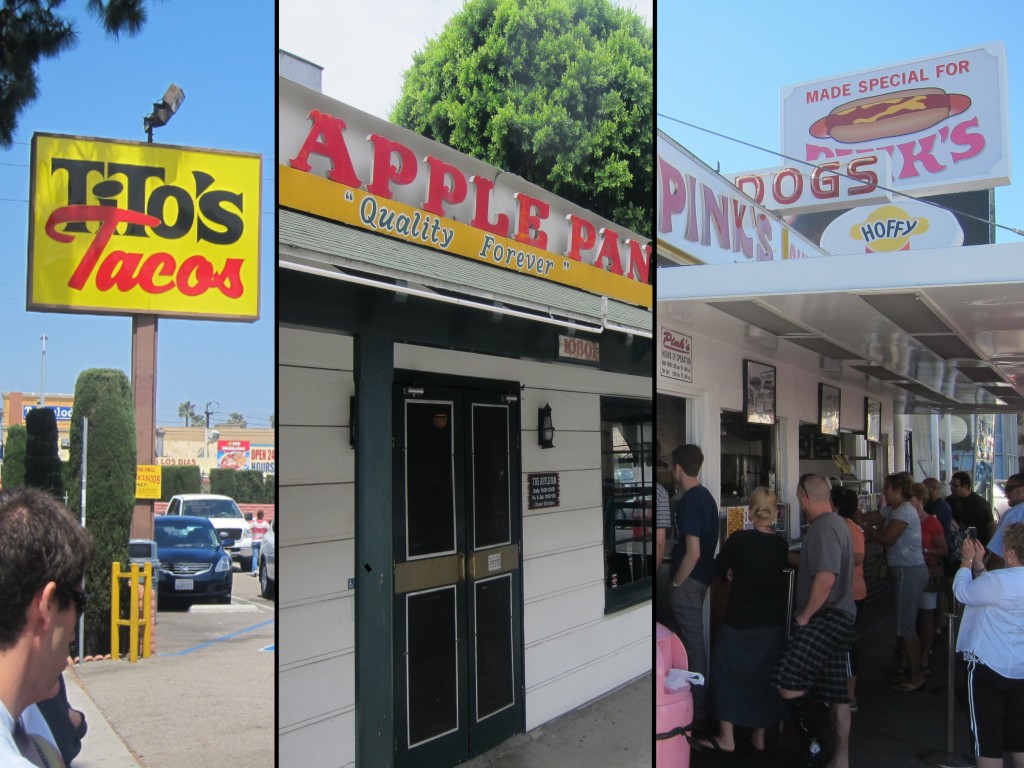 Every city has its landmark diners and food stands, perenially popular places that have survived the test of time and become local institutions. Growing up and going to college in Los Angeles, I would frequent many of this city's landmark eateries back in the day, often late at night with my fraternity brothers. Feeling nostalgic last week, I decided to revisit three such restaurants, two of which I had not been to in over 25 years. I was curious to see whether these iconic eateries would live up to my memories.
My first stop was Pink's Hot Dogs. Pink's was founded by Paul and Betty Pink, who started selling hot dogs from a pushcart in 1939 and upgraded to their current brick and mortar location in 1946. As evidenced by the perpetually long lines, Pink's is the most popular hot dog stand in the city. They specialize in chili dogs and also offer numerous hot dog creations named after celebrities such as Ozzy Osbourne and Martha Stewart. A lesser known fact is that they have incredibly delicious slices of coconut and marble layer cakes. I have great memories of midnight "hot dog runs" to Pink's, but rarely go there anymore. However, my opinion of Pink's has not changed. Pink's hot dogs aren't the best in Los Angeles, but they're still very good and Pink's is a fun place to go.
My next stop was Tito's Tacos, LA's most famous taco stand. Tito's Tacos opened in 1959 and is known for their inexpensive hard shell tacos and close proximity to the airport. I hadn't been to Tito's since I was at UCLA. I'm not sure whether the restaurant has gone downhill since then or my palette has become more sophisticated, but I was incredibly disappointed when I recently visited Tito's. I certainly didn't remember very dry and flavorless shredded beef, rubbery cheese and watery salsa and guacamole (which should more appropriately be referred to as "avocado sauce"). There are probably 100 better taquerias in LA. I guess some memories are better left alone.
My final stop was The Apple Pan. Around since 1947, The Apple Pan is a diner famous for their burgers and pies. All seating is at a long U-shaped counter which surrounds the cooking area. The servers are grumpy old men who provide uber efficient, no-nonsense service. There is usually a wait. Eating at The Apple Pan again after a quarter of a century, I was still impressed with their Hickory Burger. It's not UmamiBurger, but really tasty nonetheless. I was less enamored of my apple pie, which had a burnt crust. But all in all, The Apple Pan was a fun experience — a real blast from the past — and I'll probably not wait another 25 years to go back.
Pink's Hot Dogs is located at 709 N. La Brea, Los Angeles (Mid-City). Tito's Tacos is located at 11222 Washington Place in Culver City. The Apple Pan is located at 10801 W. Pico Blvd., Los Angeles (in West LA). If you enjoy Consuming LA, please subscribe, like me on Facebook and/or follow me on twitter at the top right of this page. And please forward to your friends!