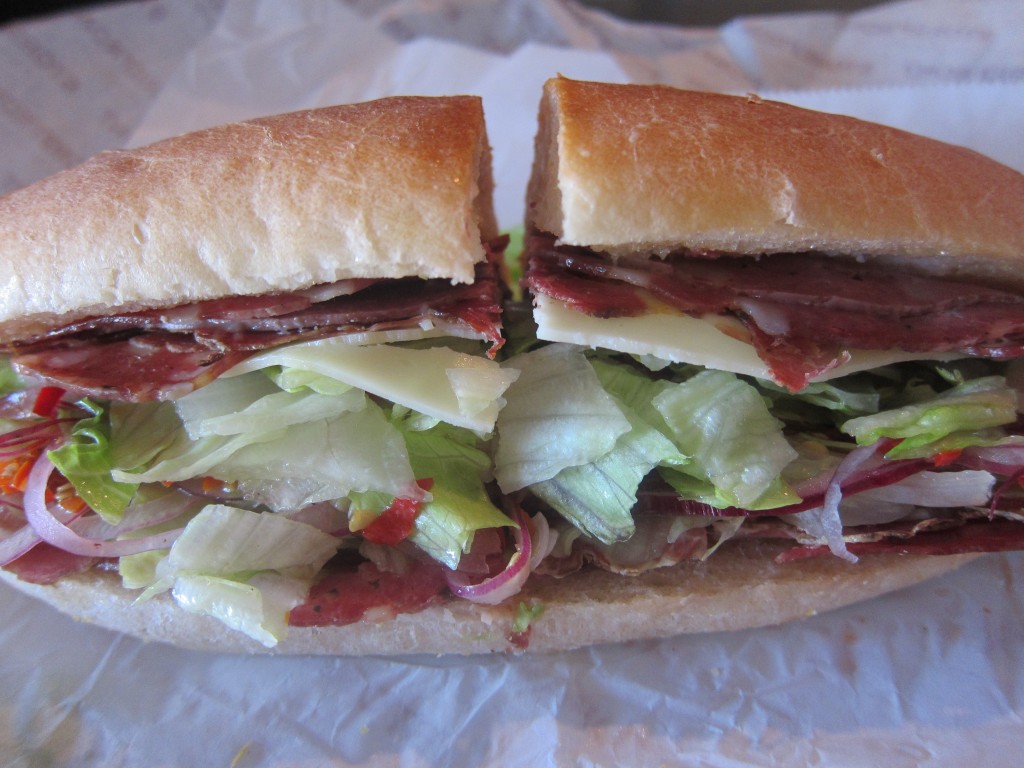 Subs, Grinders, Hoagies, Po-Boys, Heroes, Submarines. Whatever you call them, they're a central part of the national diet, especially for lunch. A long roll filled with deli meats and/or cheese along with toppings such as lettuce, tomatoes or peppers, and condiments such as mustard and olive oil sounds like a simple thing to make, but discerning eaters know that not all deli sandwiches are created equal.
When I started this blog, I declared the Godmother at Bay Cities Italian Deli & Bakery the best sandwich in LA. While I still believe this is true today, for other varieties such as a Caprese or Pastrami sub, I prefer All About the Bread on Melrose Ave., which was clearly inspired by Bay Cities but has shorter lines. Both places have unbelievably amazing, crispy and chewy artisan bread which is baked fresh every 20 or 30 minutes, use Boar's Head meats and fashion extraordinary combos of bread, meat and cheese using the freshest and tastiest ingredients. While these two places are my clear favorites, there are several others in this city worth visiting. After an extensive amount of carb-loading research, here are my top ten favorite sub sandwich joints in LA:
#1 (tie) All About the Bread (7111 Melrose Ave, Los Angeles near West Hollywood) The name pretty much says it all. I've loved every sandwich I've had here, but my favorite is the Buratta with Sundried Tomatoes, Fresh Basil, Homemade Pesto, Tomatoes and Roasted Peppers. It's one of the best things ever.
#1 (tie). Bay Cities Italian Deli & Bakery (1517 Lincoln Blvd, Santa Monica) The insanely good bread is the secret to their huge success. My favorite sub is The Godmother (Genoa Salami, Mortadella, Capicolla, Ham, Prosciutto and Provolone) with "The Works." I challenge you to find a better sandwich.
#3 Dan's Super Subs (22446 Ventura Blvd, Woodland Hills) It's one of the only restaurants that I love in the West Valley. Their delicious bread has sesame seeds and is steamed for each order. Subs are completed with Dan's signature chopped tomatoes and pickle spears. Not open on Sundays.
#4 Ink Sack (8360 Melrose Ave., Los Angeles in West Hollywood) Celebrity Chef Michael Voltaggio's sandwich shop serves creative versions of classic subs. My favorite is The Jose Andres aka "The Spanish Godfather," which is named after Voltaggio's mentor and former boss at The Bazaar. It's made with Serrano Ham, Chorizo and Manchego Cheese.
#5 Storefront (4624 Hollywood Blvd, Los Angeles in Los Feliz) This Eastside hipster sandwich shop is the new kid on the block and was opened only a few weeks ago by the chefs of Salt's Cure. I am already impressed with "The Mousa" (pictured above), their Italian deli meat sub which includes picked cayenne peppers.
#6 Larchmont Village Wine Spirits & Cheese (223 N Larchmont Blvd., Los Angeles in Mid-City) This gourmet wine and cheese shop has some of the city's best Italian sandwiches, which are served on either a crusty baguette or soft ciabatta. They all come with a nice little side of olives and cornichons.
#7 Mike's Deli 4859 W Slauson Ave, Los Angeles in South LA) There are very few tables and it's generic and fast food-esque in appearance, but this simple deli makes simply great subs with top-notch ingredients including Boar's Head meats and cheeses. A second location opened recently in Little Tokyo.
#8 Mario's Italian Deli & Market (740 E Broadway in Glendale) A Glendale institution, Mario's is an old-school Italian market with all sorts of imported goodies and a very popular deli. They cut their sub rolls in thirds lengthwise, so that there is a "mezzanine" layer of bread in your sandwich between two layers of filling.
#9 Busy Bee Market (2413 S Walker Ave, San Pedro) If you're in the South Bay, it's the place to go. This unassuming deli counter in a small and rundown-looking neighborhood market turns out excellent subs on super-soft bread. But be warned: it's cash only, take-out only, and they're closed on Sundays.
#10 Roma Italian Deli & Grocery (918 N. Lake Ave, Pasadena) Enter this little Italian market, go to the counter on your right and ask diminutive elderly Rosario to make you "The Sandwich." Watch as he prepares it with fresh meats and cheese and no toppings or condiments other than olive oil. Consume and enjoy.
UPDATE: I'm sad to report that Storefront has closed. If you enjoy Consuming LA, subscribe for free at the top right of this page and you'll get an email once a week when I post. And please forward this to your friends, repost on facebook and retweet!