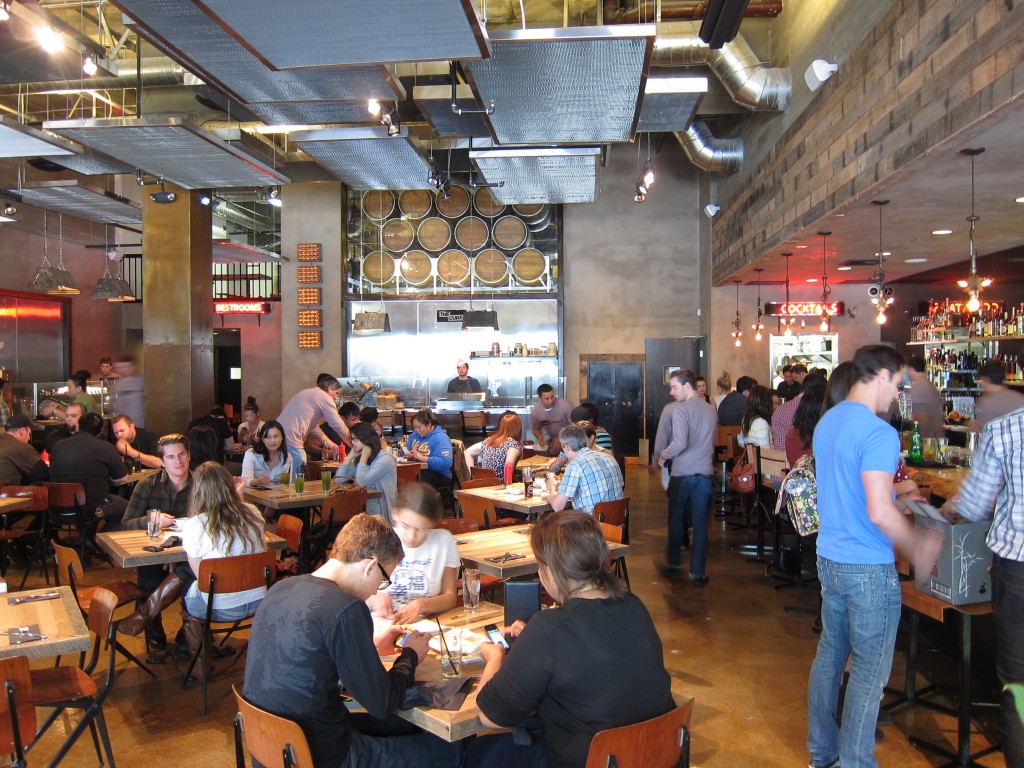 If UMAMIcatessen was the punchline of a joke, it would begin "A rabbi, a donut-maker and a pig walk into a bar." Grand in scope and extremely ambitious, this highly anticipated deli adaptation of the uber-successful Umami Burger chain opened Downtown over the weekend and one cannot help but be impressed. Although you order at your table from a single menu, UMAMIcatessen is essentially four restaurants in one (plus a coffee bar and a cocktail bar), each with separate counters around the perimeter of its large industrial-chic dining room. These sub-restaurants are:
The Cure, whose name is no doubt a reference to the alleged medicinal qualities of its matzo ball soup. It features Kosher-style deli sandwiches such as pastrami on rye and turkey on challah. Other noshes include bagels with smoked fish, potato knishes and chopped liver.
Umami Burger, which features the restaurant chain's awesome signature hamburgers. I almost always go for the amazing Truffle Burger made with housemade truffle cheese and truffle glace, or the equally excellent spicy Hatch Burger made with four types of green chiles and housemade American cheese. However, UMAMIcatessen has some burgers that you can't always get at the other Umami Burger locations. These include the yummy Shrimp Burger with Yuzu-Kosho and burgers which are on the "Secret Menu" such as the delicious Spicy Bird, a turkey burger with hatch chilies, crispy onion strings, beer cheddar cheese and a spicy diablo sauce.
P!GG, which is a tribute to pork all around the world from San Francisco celebrity chef Chris Constantino, the Overlord of Offal. It features high-end prosciutto and other charcuterie, as well as lard fried snacks such as Crispy Pig Ears with parsley and lemon, Pork Corn (popcorn) with juniper and rosemary and tasty P!GG Style Fries with pickled peppers, ham puree and "brainaise," a scrumptious sauce made with mayonnaise and pig brains! I also highly recommend the Little Gems Salad with pork cracklins and an incredible nduja vinagrette, made with Constantino's famous spreadable pork sausage.
& a Donut, which serves six different varieties of gourmet donuts fried to order, including an amazing soaked Tres Leches Donut with cajeta and ceylon cinnamon and the sinfully delicious "FG&J," a playful spin on a jelly donut, made with foie gras mousse, forest berry jam and crushed peanuts. They also have homemade soft serve ice cream and sorbet.
With so many great things going on, UMAMIcatessen is an incredibly fun experience; one that I will no doubt repeat often. It's located at 852 Broadway, Los Angeles (Downtown).
If you enjoy Consuming LA, please subscribe, like me on Facebook and/or follow me on twitter at the top right of this page. And please forward to your friends!