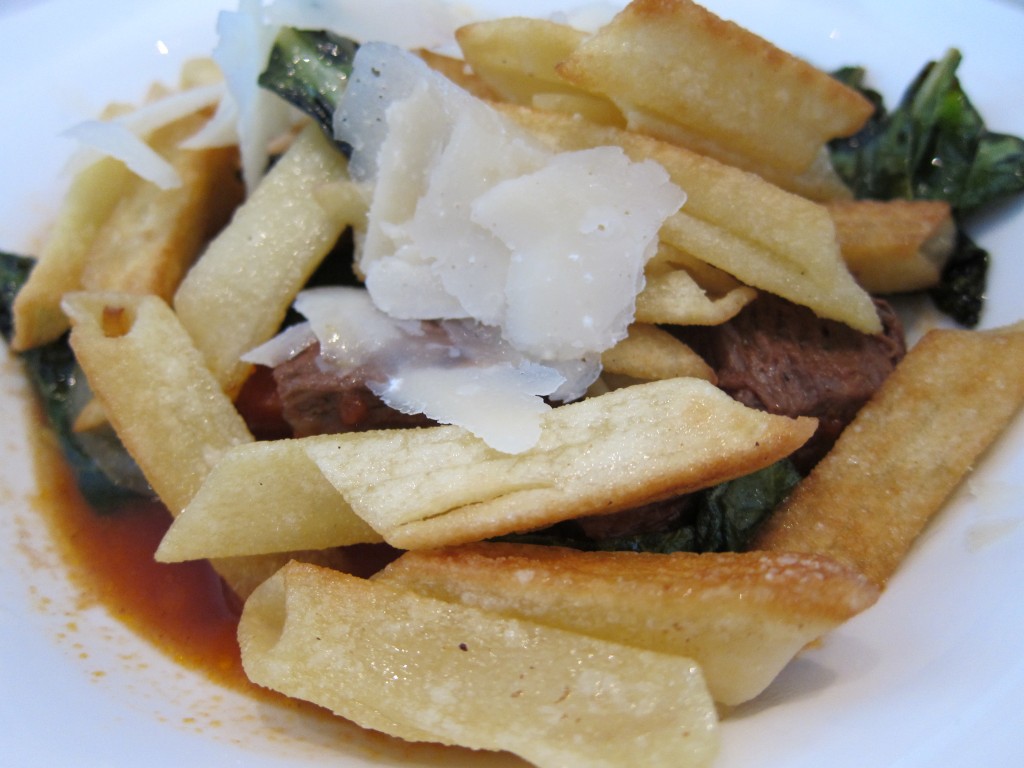 For the past few years, there has been a restaurant renaissance going on Downtown and it all seemed to start with Bottega Louie. With high vaulted ceilings and marble floors, this perennially packed-to-the-gills eatery is the loudest restaurant in LA, but it is also one of the most fun. It's the place I picked for the past couple years to have lunch with my family on my birthday. Bottega Louie resides in a cavernous bright space with an open kitchen, bar and dining area flanked on one end by a big wood burning pizza oven, and on the other end by a small gourmet bakery and market which reminds me of NYC's Dean & DeLuca and sells some of the city's best French macarons. I don't recommend Bottega Louie for a quiet or romantic dinner, but if you're looking for a festive and boisterous atmosphere, this is the place for you.
The menu at Bottega Louie is extensive and features mostly Italian fare with a few French dishes mixed in. While the food is not uniformly amazing, it's all at least very good. The Portobello Fries are exceptional and an absolute must-have. Other small plates include delicious Tomato Bruschetta, Brussels Sprouts & Pistachios and Clams Casino. Salad options include a delicious Lyonnaise Salad with frisee, watercress, shallots, chives, lardons, a poached egg and a warm red wine vinaigrette. There are many pasta dishes on the menu and my favorite is the Trenné which is pan sautéed until crispy and topped with braised prime rib eye, Tuscan black kale & shaved grana parmesan (pictured above). Entrees are solid and include Roasted Chicken, Shrimp Scampi and New York Strip Steak. I also recommend ordering one of their Neapolitan pizzas. Save room for dessert, and specifically the Butterscotch Budino. It is one of my favorite desserts in the city and rivals that of Gjelina.
Bottega Louie is located at 700 S. Grand Ave., Los Angeles (Downtown).