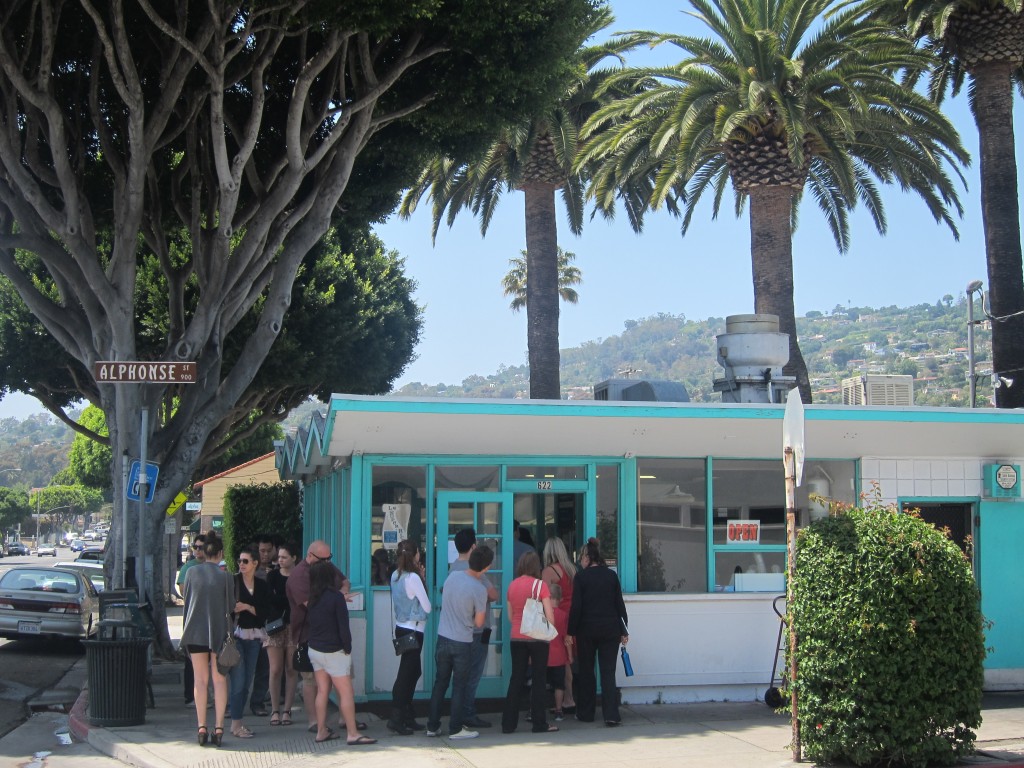 When the weather is nice, one of my favorite things to do is drive up the coast to Santa Barbara with my family for the day. Â Although it's only ninety minutes away, when I arrive at this beachside paradise of white-washed Moorish architecture and palm trees, my cares slip away and I feel as if I'm on vacation. Â There are a few good places to eat in town and one incredible one — a dilapidated white and teal taco stand called La Super-Rica Taqueria. Â This little shack was the favorite Mexican restaurant of Julia Child, who lived in Santa Barbara at the end of her life, and it's my favorite too.
Don't think twice about getting in the line that usually runs out the door; it is well worth the wait. Â When you get to the counter, you have your choice of over twenty Mexian specialties. Â The plates are small (and inexpensive) and I usually order three or four things just for myself. Everything is homemade and super fresh. Â The corn tortillas are perfection and you can even watch them being made by an abuela behind the counter. Â The chorizo is fried, fatty and well seasoned. Â The guacamole is pure bliss.
My favorite dish is the No. 16, "Super-Rica Especial," an awesome mix of marinated and grilled pork and a roasted chile pasilla stuffed with gooey melted cheese. Â To drink, I recommend the sweet, cinnamony horchata or the watermelon agua fresca. Â You can enjoy your food and drink on the restaurant's large covered patio, where you can help yourself to spicy pico de gallo with jalapenos and tasty salsas. Â Muy fantastico!
La Super-Rica Taqueria is located at 622 N. Milpas St, Santa Barbara.