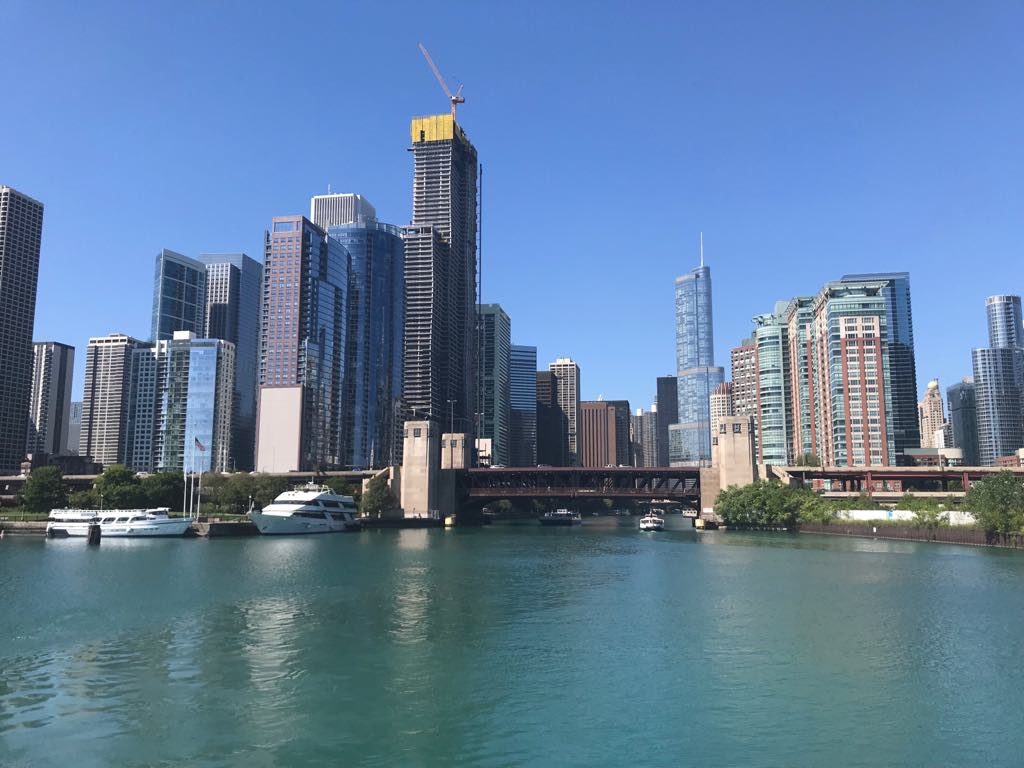 Chicago is known for horrible weather, a population of friendly, unpretentious sports-loving folks and some of the best restaurants in the country. I recently spent five glorious, gluttonous days there. Together with my good pal Sandy, who directs TV shows in the Windy City and is a regular on the local foodie circuit, we went on an epic food adventure. Thankfully, I had gone on a diet for a month as preparation for the damage I would do on this short trip. Here are the rapacious details:
Welcome to The Second City: Nuts on Clark
Upon arriving at O'Hare Airport, I smell something amazing. My nose led me to an airport shop right outside my arrival gate that sells gourmet popcorn, a Chicago favorite, including this "Chicago Mix" of incredible savory Cheese Corn and sweet Caramel Corn (the latter of which is hidden below the Cheese Corn in the photo). It was the perfect way to kick off my food trip.
Meal #1: Mott Street
This is Sandy's favorite restaurant in Chicago and I could see why. The restaurant has awesome Asian-influenced cuisine, super-tasty cocktails and the coolest vibe in town.
Meal #2: Fat Rice
I loved the global-inspired Macanese cuisine at this uber cool eatery in Chi-town's Logan Square Neighborhood. It has its own bakery next door for Portuguese Egg Tarts and Taro Morning Buns.
Meal #3: Next
I have been wanting to go to Chef Grant Achutz's restaurant Next since it opened seven years ago and I finally go the chance on this trip. The menu, cuisine and dining experience at Next completely changes every four months. The menu while I was there was a retrospective on the first five years of Alinea, Achutz's ever evolving and groundbreaking restaurant which I dined at the next night, providing an interesting contrast.
Snack Time: Do-Rite Donuts
After having viewed chef and owner Jeff Mahin's mouthwatering donut porn on instagram for many years, I knew I had to include Do-Rite Donuts in my itinerary. I was not disappointed.
Meal #4: Au Cheval
This small hipster diner has been touted frequently for having the best cheeseburger in America. Of course I ordered one and added the optional thick-cut bacon and a fried egg. I was massively impressed.
Meal #5: Alinea
Grant Achutz's renowned restaurant is one of the best in the world and the first place I made a reservation at when I booked my trip. It's molecular gastronomy mixed with magic, insanely fun and creative, and a once in a lifetime experience. I was blown away.
Meal #6: Pequods Pizza
I did a ton of research before selecting which pizza joint I would visit in a city which is famous for its thick crust pies, and I think I chose well. The individual pies at Pequods are baked to order and we waited a crazy long time to get our food, but the wait for these amazing culinary feats was worth it. The best part of the pizza was the caramelized cheese on the side of the crust.
Meal #7: Gibson's Bar & Steakhouse
Sandy and I went old school at this iconic joint in the "Viagra Triangle" neighborhood. Our massive steaks did not photograph as well as they tasted so I'm posting this Tomato and Onion Salad.
Meal #8: Portillo's
Chicago-style hot dogs are another must-have for any visit to the Windy City. The ones at this famous and cavernous restaurant are perfect. I also consumed one of their famous Italian Beef sandwiches, as well as a vanilla frozen custard.
Meal #9: Giant
Having dined at mostly Chicago classics during this trip, I wanted to visit one of the newer hotspots. Giant impressed me with with its fantastic New American Cuisine and amazing pasta dishes.
Meal #10: Publican Tavern
My biggest regret leaving Chicago was that I could not squeeze in a dinner at The Publican. Fortuitously, on my way home, I discovered an O'Hare Airport location of the restaurant, where I enjoyed not only some damn fine charcuterie, but also the best spicy pork rinds I have ever consumed.
If you enjoy Consuming LA, please subscribe, like me on facebook and follow me on twitter and instagram at the top right of this page. And please forward to your friends!