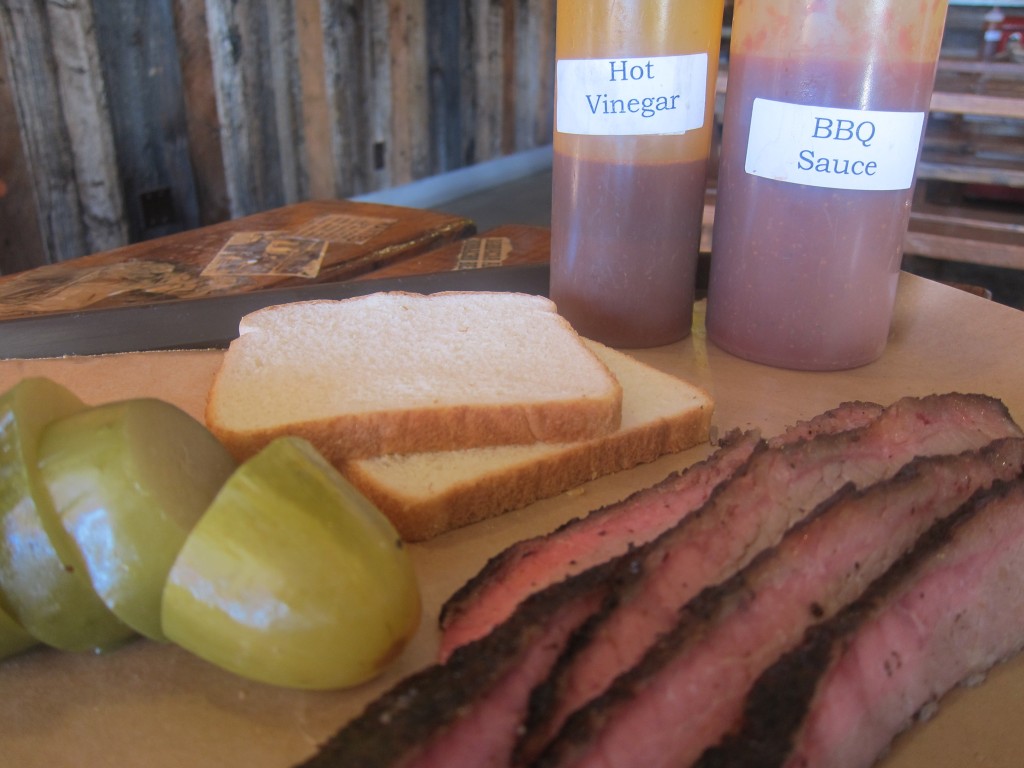 Everyone has a different opinion about American barbeque. Some love the pork-centric Southern-style, while others prefer Kansas City-style which uses a variety of meats glazed with sauce. But if you're a fan of the dry-rub, beef-heavy Texas style, then I've got the place for you, Cowpoke. Smoke City Market in Sherman Oaks has some of the best Texas-style barbeque outside of the Lone Star State and certainly the best I've ever had in LA. Everything about Smoke City Market reminds me of barbeque joints I've eaten at in Texas. You order at a counter, where the meat is sold by the pound and carved to order. There are no plates; your meat is placed on butcher paper and sides are served in plastic containers. There are no napkins, but rather rolls of paper towels on the wall. All the barbeque is accompanied by slices of white bread.
The brisket at Smoke City Market is incredible and is an absolute must-have. There are two kinds: moist and lean. I'm partial to the moist, but love the lean (pictured above) as well. The brisket is made with an incredibly tasty rub and smoked for over twelve hours. The result is a flavor that's "big as all hell and half of Texas." Like any respectable Texas barbeque restaurant, sauces are served on the side. Smoke City Market also has awesome beef ribs, pork ribs, chicken, turkey and sausage, as well as great sides which are all made from scratch. I love the Tomato and Cucumbers salad, which is super fresh, as well as the German Potato Salad. The Longhorn Mac (mac 'n cheese) is also excellent. Other favorites of mine include the Red Cabbage, Pit Beans and the Chili. For dessert, I recommend the Cobbler and the Banana Pudding.
Smoke City Market is located at 5242 Van Nuys Blvd. in Sherman Oaks. UPDATE: WITH A HEAVY HEART, I MUST REPORT THAT SMOKE CITY MARKET IS NOW CLOSED. THE VALLEY JUST CAN'T CATCH A BREAK.

If you enjoy Consuming LA, please subscribe, like me on Facebook and/or follow me on twitter at the top right of this page. And please forward to your friends!