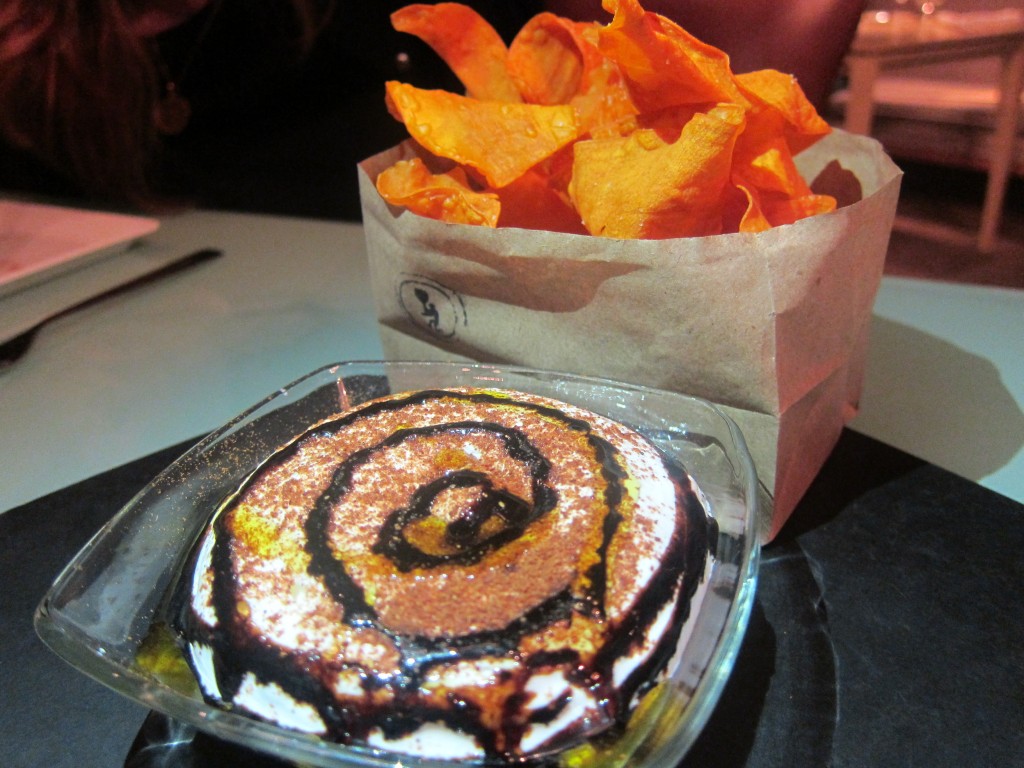 Serving creative small plates of culinary genius in an ultra-cool setting, The Bazaar is one of the best and most unique upscale restaurants in the city. Helmed by master chef Jose Andres, the restaurant is situated adjacent to the uber-funky and modern lobby of the SLS Hotel, and consists of two contrasting dining areas: Blanca (white) which is sleek and elegant and Rojo (red) which is dark and intimate, like a lively little restaurant in Spain. There is an open kitchen and the whole restaurant exudes a party-like atmosphere.
I suggest starting your meal with one of The Bazaar's innovative libations such as the Magic Mojito, which is poured into a glass filled with cotton candy, or the Liquid Nitrogen Caipirinha, which is prepared tableside. An order of Sweet Potato Chips with Yogurt, Tamarind and Star Anise (pictured above) and the Pa'amb Tomaquet (Catalan-style Toasted Bread with Manchego Cheese and Tomato) are perfect complements to your cocktails.
Like the restaurant's interior, the extensive menu at The Bazaar is bifurcated into two distinct sections. Half of your choices are expertly prepared traditional Spanish tapas, and the other half are "modern tapas" which include whimsical dishes, molecular gastronomy and other avant-garde offerings. I recommend ordering with a sense of adventure and getting a mix of dishes from both sides of the menu. On the traditional side, my favorite things are the Jamon Bechemel or Codfish Fritters and the Rossejat (Paella-style Pasta with Shrimp). On the modern side, the "Philly Cheesesteak" made with "air bread," cheddar and Wagyu beef (or the vegetarian version with mushrooms called the "Hilly Cheesesteak") is an absolute must-have. I also love the Tortilla de Patatas "New Way," a deconstructed version of the typical Spanish dish made with potato foam, egg and caramelized onions, as well as the "Not Your Everyday Caprese," a salad of cherry tomatoes and liquid mozzarella balls which dissolve in your mouth.
For dessert, you are moved (literally) to the Patisserie, which is situated in the rear of the hotel lobby and features a candy/pastry bar that looks like it's right out of "Willy Wonka and the Chocolate Factory." As with the savory part of your meal, the idea here is to order and experience an assortment of small bites, which includes tarts, cookies, bonbons and pates de fruits, as well as a few plated desserts. After dinner, it's fun to explore the lobby's unusual gift shop with museum-like displays of idiosyncratic art objects.
The Bazaar is located in the SLS Hotel at 465 S. La Cienega, Los Angeles (Mid-City near Beverly Hills and West Hollywood).