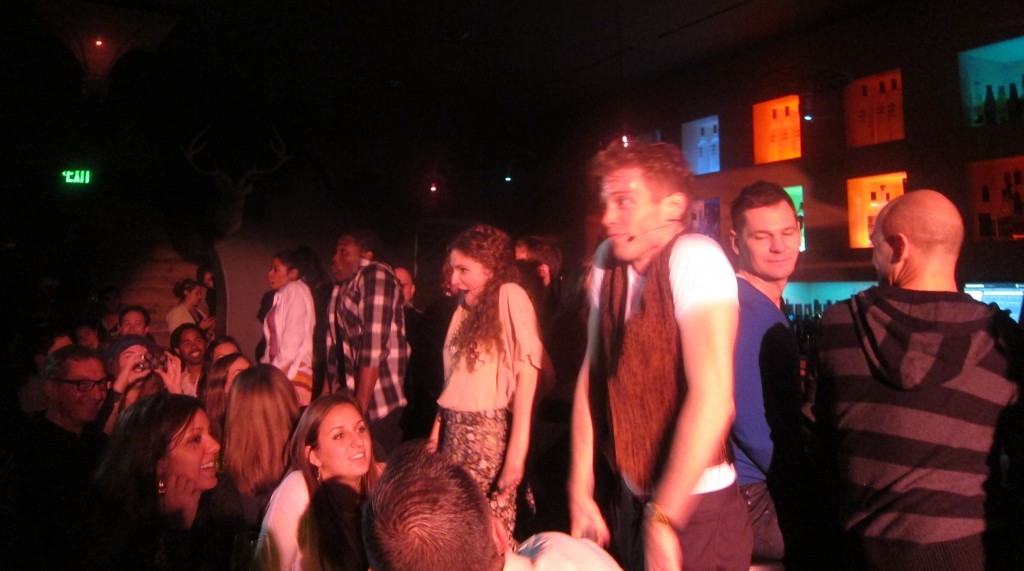 For me, there's nothing better than following a great meal with live entertainment. However, with driving and parking hassles in LA, it's often too much of a schlep to go from a nice restaurant to a live concert or show in the same evening. The 1714 Vermont Group has provided the perfect solution. Their beautiful building in Los Feliz has three separate spaces: Vermont Kitchen and Bar, an elegant fine dining restaurant; Rockwell VT, a cool and casual multi-level bar with a beautiful patio and a seasonal small plate menu; and Show at Barre, a fun and intimate cabaret-style space which puts on incredible shows and also serves food and drinks. This past weekend, my wife and I had a great dinner at Vermont and then walked into the room next door and saw one of the most enjoyable shows I have ever seen in Los Angeles.
I hadn't eaten at Vermont in several years and although I always liked it, I think the food is better than ever now. All of the things we ordered were very good and some dishes were excellent. I absolutely loved the Harvest Red Quinoa Salad with tangerines, Granny Smith apples, dried cranberries, scallions, baby arugula and toasted pecans with a blood orange-lime vinaigrette. The butternut squash soup was also great. For entrees, we ordered two winners: Asian Ahi Tuna, which was lemon grass marinated, seared rare and served with stir-fried vegetables, basmati rice and a mushroom soy sauce; and Muscovy Duck Medallions, which were stuffed with apples, wrapped in bacon and served on top of celery root puree and calvados sauce. The menu also offers Rib Eye, a Double Cut Pork Chop, Pan Seared Mahi Mahi, Port Wine Braised Short Ribs, Butter-Poached Jidori Chicken Breast, and Goat Cheese and Truffle Ravioli. For dessert, I highly recommend the decadent "Chocolate Chip Cookie," which is baked and served piping hot in an individual skillet with a scoop of vanilla bean ice cream and chocolate caramel sauce on top. Vermont also has a very nice wine list and great signature cocktails.
As much as I enjoyed the dinner, what really blew me away was the show. It's called "For the Record: John Hughes Holiday Road" and it's hard to describe. It's essentially a musical revue of songs from the soundtracks of John Hughes films such as The Breakfast Club, Ferris Bueller's Day Off, Pretty in Pink and Weird Science, as well as Hughes' holiday classics such as Home Alone and Christmas Vacation. There's a rockin' live band and an uber-talented cast of six including, in some performances, NCIS-LA and Broadway star Barrett Foa who perfectly portrays all of the Anthony Michael Hall characters (as well as Ferris Bueller) and performs a hilarious version of "Bust a Move." The actors not only perform the mostly '80s songs, but also snippets of memorable dialogue from the films. The cabaret-style space is small and intimate and the cast utilizes the whole room, performing in the aisles, on top of the bar, and on a couple small stages throughout the room, so, as an audience member, you almost feel as if you're actually in the show. The producers refer to it as a "360 degree live theatrical concert and dining experience" and it's hard to imagine anyone who wouldn't love this show. Keeping with the John Hughes theme, they serve speciality cocktails before and during the show with names such as the "Griswold" and the "Long Duk Dong." Past "For the Record" shows have had the same format and included a Quentin Tarantino show and a Coen Brothers show. I hope they bring those shows back again because I can't believe I missed them. A Baz Lurrman show starts in January which I can't wait to see.
The current John Hughes show runs until December 30th. Tickets can be purchased on their website and are $35 each (plus a two drink or food item minimum), but you can get them for $20 right now by using the code GRISWOLD. Vermont Kitchen and Bar, Rockwell VT and Show at Barre are all located at 1714 N. Vermont, Los Angeles (in Los Feliz).
UPDATE: Vermont Kitchen & Bar and Show at Barre have been combined into one large dining/cabaret space. It is now called Rockwell Table & Stage and while the food is good (not amazing) the shows are better than ever! In addition to the John Hughes show, I have now seen shows based on the movies of Quentin Tarantino, the Coen Brothers, Baz Luhrmann and Paul Thomas Anderson. Each show was fantastic. I highly recommend this place.