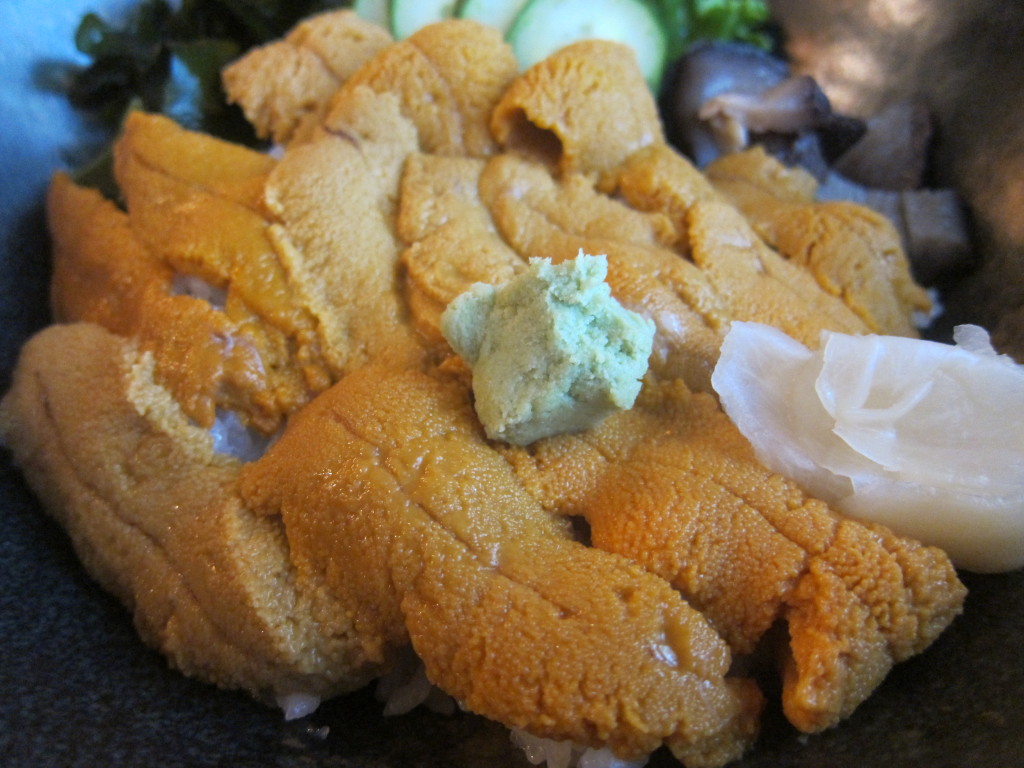 Uni (aka Sea Urchin) is one of my favorite luxury ingredients, right up there with foie gras, truffles and lobster tail. So when I heard of Maruhide Uni Club, a new Japanese restaurant in Torrance where almost every dish is made with uni, it was hard to contain my enthusiasm. I was further excited by the fact that this restaurant calls itself a "club." If Los Angeles had an uni fan club, I could envision myself running for president, or at least sergeant-at-arms. That's how much I love uni. Naturally I made a beeline down to the South Bay to check it out.
Maruhide Uni Club is owned by a processing company and wholesaler of Santa Barbara uni. As a result, the uni at the restaurant is super fresh and the same quality you would get from a high end sushi restaurant. It's creamy and tastes of the ocean (but not in a fishy way) with a slight sweetness and nuttiness. Dishes at Maruhide Uni Club include an Uni Rice Bowl, Uni Soup, Shrimp and Scallop Gratin with uni on top, Uni Croquettes, Tuna and Uni Carpaccio, Uni Omlette and a Marinated Uni and Squid Roll; basically everything except for Uni Ice Cream.
But while I love the concept of the restaurant and the food was surprisingly inexpensive for the generous amounts of uni in each dish, I didn't love Maruhide Uni Club as much as I thought I would. Despite the use of one great ingredient, the dishes I had were, on the whole, disappointing. Also, the restaurant's decor left a lot to be desired; it looks like it was decorated by Levitz and Lamps Plus. Service was not great either. Maybe I'll bring these things up at the next club meeting…
Maruhide Uni Club is located at 2130 W. Redondo Beach Blvd., Torrance.