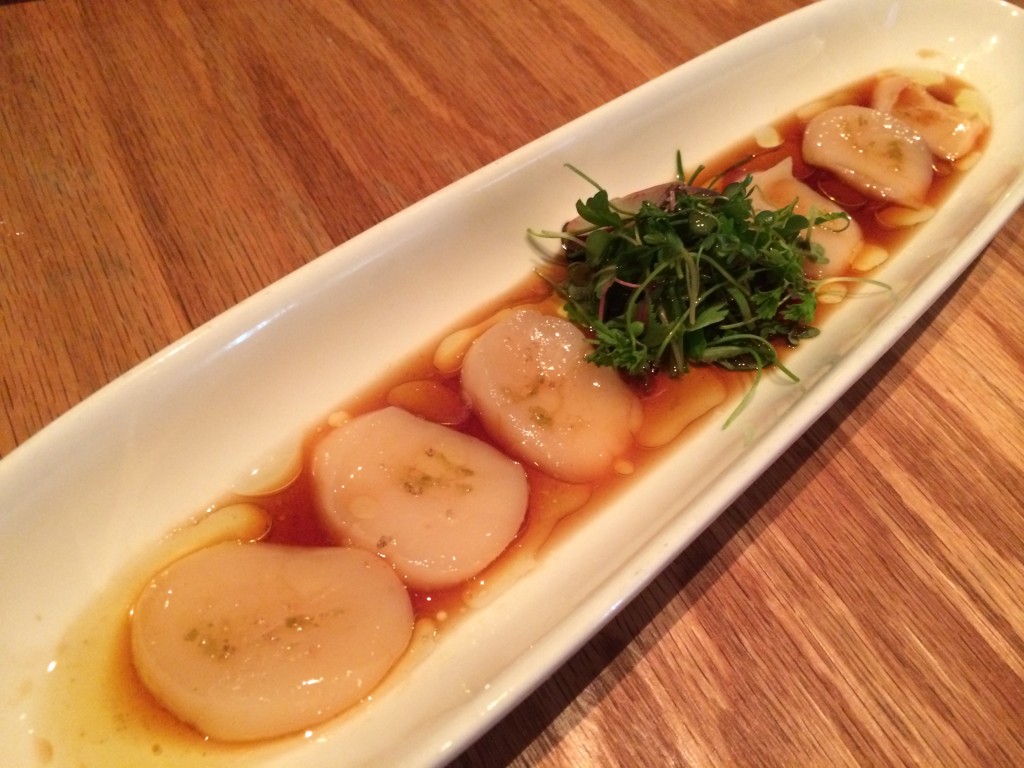 Hipper and more mainstream than most K-town eateries, EMC Seafood & Raw Bar is a fun place for cocktails and iced shellfish of all sorts. It's located in the City Center mall, home of the awesome Zion Korean supermarket, as well as one of the best Korean spas in the city. The atmosphere is boisterous and party-like, especially during happy hour, which features $1 oysters and $5 draft beers.
Despite its location in the heart of Koreatown, the food at EMC isn't actually Korean, although it does have a strong pan-Asian influence. My favorite menu item is the velvety Uni Pasta with Cream, Fish Roe and Dried Seawood. I've ordered this dish at many Japanese restaurants and the version at EMC is one of the best I've ever had. I also love the tasty Congee (rice porridge) with Abalone and the super-fresh Hokkaido Scallop Carpaccio with Yuzu Kosho, Ponzu, EVOO and Smoked Salt (pictured above). I am less enamored of the Crispy Garlic Clams and recommend avoiding the overly-battered and fried Crispy Soft Shell Crab.
EMC Seafood & Raw Bar is located at 3500 W 6th St, Los Angeles (in Koreatown).