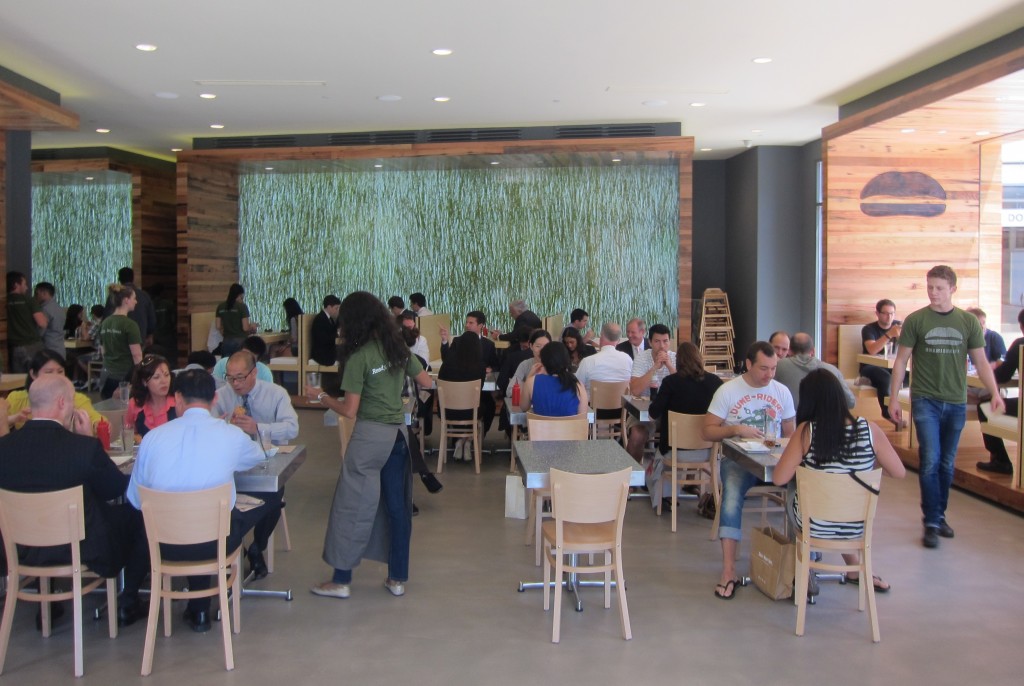 While New York is a pizza city, LA is all about the burgers. Whether it's In-N-Out, Father's Office, Golden State, The Apple Pan or one of hundreds of other places, everyone has their favorite burger joint in this city. My favorite is Umami Burger. Named after the Japanese term for a pleasant savory taste believed to be the fifth basic taste (in addition to salty, sweet, sour and bitter), Umami Burger opened their flagship restaurant (pictured above) this week in The Grove, which is the twelfth location of the ubiquitous chain.
Having been a frequent customer at the original restaurant, I am not at all surprised by Umami Burger's success. The food is across-the-board excellent and the basic hamburger has been elevated here to something extraordinary. The burgers are made from specially seasoned meat blends grilled rare (unless requested otherwise) and served with cheese and other toppings on signature Portuguese-style buns sweetened with milk and honey. My favorites are the spicy Hatch Burger (beef with four types of green chilies and house cheese) and the decadent Truffle Burger (beef with house-made truffle cheese and truffle glaze). There are also pork, turkey, veggie, and occasionally seafood burgers, with each location offering different specialty burgers such as the Carnitas Burger in Hollywood and the Baja Burger (tempura fried cod, crushed avocado, cabbage slaw, fire roasted salsa and chipotle lime aioli) in Hermosa Beach.
All the burgers are on the smaller size so I often order two or split an extra one with a friend. There is a restaurant policy of no substitutions, although you can delete toppings upon request. Umami Burger has amazing sides such as sweet potato fries and tempura onion rings, plus there are secret menu items including truffle cheese fries and cheesy tater tots. Most locations serve beer and wine, and some have a full bar. For dessert, there are ice cream sandwiches and delicious treats from Cake Monkey Bakery such as Cherry Almond Pie and a Peanut Butter & Marshmallow Cakewich.
The new flagship Umami Burger is located in The Grove at 189 The Grove Dr., Los Angeles (Mid-City). The original location is at 850 S. La Brea Ave., Los Angeles (Mid-City). There are other locations in Hermosa Beach, Studio City, Santa Monica, Los Feliz, Hollywood and Thousand Oaks. UPDATE: SGVers rejoice! Umami Burger is now in Pasadena at 49 E. Colorado Blvd. Their specialty burger is the Le Cordon Bleu Burger, named after Pasadena's famous culinary school.