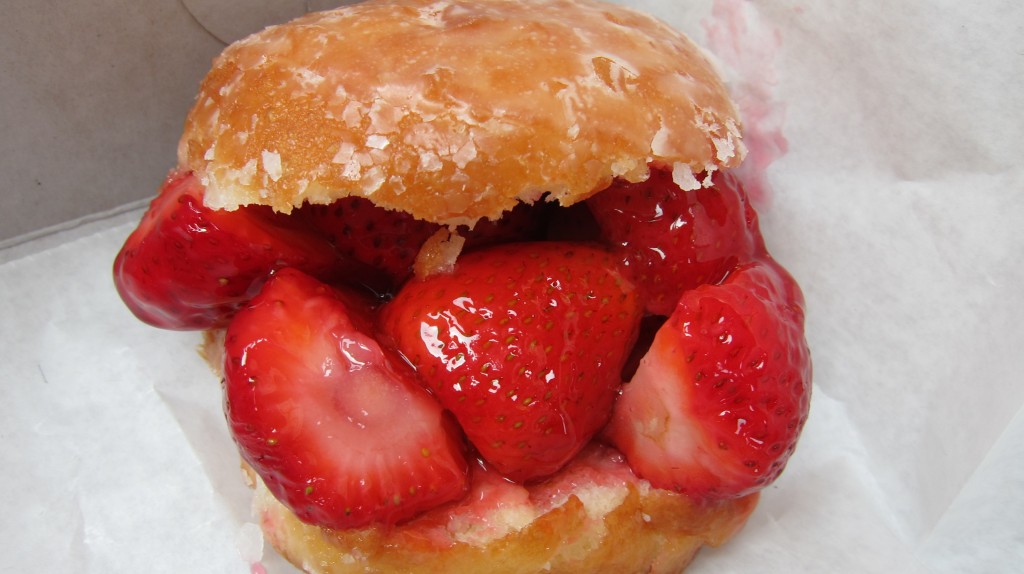 The Donut Man is one of LA's treasures. It is consistently ranked among the top five donut shops in the country and it has unbelievably amazing donuts. Â  But here's the catch: Â it's located in Glendora (off of historic Route 66 and not far from Raging Waters in San Dimas), which, although technically in Los Angeles County, means a 45 minute to one hour drive in non-rush hour traffic for most people reading this blog. Â Is it worth it? Â I definitely think so. Â  Mainly because of their amazing and famous Fresh Strawberry and Fresh Peach Donuts. Â The Fresh Strawberry Donuts are made between February and mid-July each year. Â This weekend is probably the last weekend of the year to get them (I recommend calling first to make sure). Â The Donut Man stuffs fresh sweet and tart strawberries coated in a light glaze (similar to the fresh strawberry pies at Marie Calendar's) in between the top and bottom halves of the most delicious not-too-sweet glazed donuts to make these awesome concoctions.
But if you can't make it there in time to get the last Strawberry Donuts, don't worry. Â The Donut Man is starting to sell their Fresh Peach Donuts (which are the same concept as the strawberry ones, only with fresh peaches), and they will have these peach ones until mid-September. Â The Fresh Peach Donuts should start being available later this afternoon and the next few days will be the only days during the year when you can get both Fresh Strawberry and Fresh Peach Donuts. Â That's right; it's a rare intersection of strawberry and peach glazed donut goodness! Â The Donut Man is open 24 hours, so what are you waiting for?! Â While you are there, you will definitely also want to sample their famous Tiger Tail, a twisted glazed donut about a foot long which contains a delicious stripe of chocolate. Â They have dozens of other varieties. Â I can't resist their Peanut Butter and Jelly Donuts. Â  My mouth is watering just writing about this. Â So much for the summer diet…
The Donut Man is located at 915 East Route 66 in Glendora.