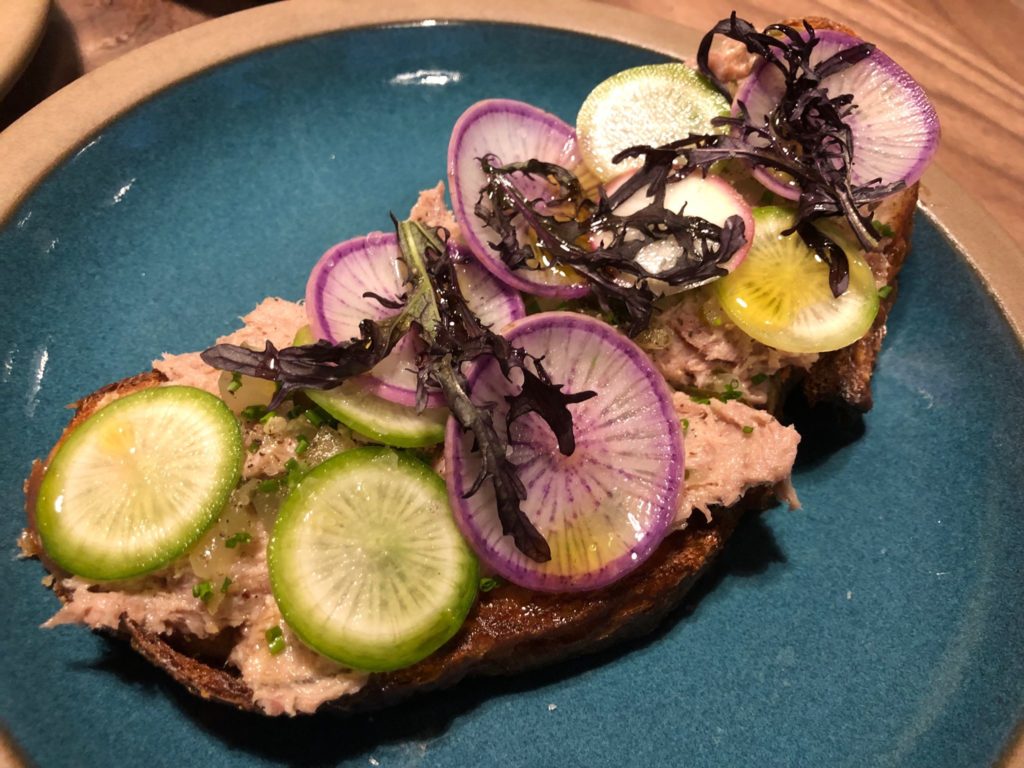 Tartine in San Francisco is the best bakery in the country and for over two long years I have eagerly awaited the opening of Tartine's first LA venture. It has finally arrived.
The Manufactory is a collaboration between the Tartine folks (James Beard Award winners Elisabeth Prueitt and Chad Robertson) and nationally acclaimed Phoenix pizza chef Chris Bianco. It's a giant industrial chic complex that houses a production bakery, a coffee roastery, a specialty food market, a coffee and ice cream window, a "Market Bar" that features Chris Bianco's flatbreads, and an amazing restaurant called Tartine Bianco. The whole magilla is housed in ROW DTLA, the uber cool and newly gentrified shopping and restaurant complex in the warehouses of LA's historic Downtown produce market.
Not surprisingly, the seasonal menu of Tartine Bianco centers around Tartine's insanely good bread. The Pork (Rillette) and Pickle Toast with Mustard and Radish (pictured above) and the Chicken Liver Toast with Kumquat and Blood Orange are absolute must-haves. So is one or more of the the Smørrebrøds, Danish-style open-face sandwiches on Rye Bread. The Uni Smørrebrød with Kohlrabi, Mustard Seed and Lardo is particularly phenomenal.
If you have room after all those carbs, order the Sweetbreads with Crispy Red Rice, Yam, Fermented Chili Amaranth and Mustard Frill, as well as the Farro & Chickory Salad with Winter Squash and Tahini Yogurt. I also recommend washing your glutinous feast down with one of Tartine Biano's creative cocktails or a Young Ginger Kombucha with Grapefruit and Star Anise, which is made in The Manufactory's own basement fermentation room.
The Manufactory and its Tartine Bianco restaurant are located in ROW DTLA at 757 S. Alameda St., Los Angeles (Downtown).